Art History Week
Depiction of human body has deep roots in history. In this article I would like to introduce you to various Bronze Age anthropomorphic figurine traditions from several archaeological sites and to put them into broader historical and artistic context. Modern archaeologists resent the aesthetic-driven appreciation of the ancient objects, as such attitude leads towards biases against incomplete or broken items, and most importantly encourages looting of archaeological sites in search of 'treasures'. Even if the object form a disturbed site eventually reaches archaeologists, the context of the find is irreversibly lost, and without context, the object loses a lot of its scientific value. Having said that, I still believe that there is nothing wrong in admiring the aesthetic value of these items, and in drawing inspiration from them. As more than 3000 years divide us from the Bronze Age societies, we may never know for sure how the figurines were used and regarded by the people of the time, but their appeal is long-lasting nonetheless.

I am not trying to cover the topic of Bronze Age figurines exhaustively, and for this article I have chosen clay figurines from just a couple of sites out of personal preference.

Bronze Age of Cyprus
An amazing place to start looking at Bronze Age figurines is Cyprus. This island has a long and distinct tradition of anthropomorphic and zoomorphic figurines as well as object models.
In the Chalcolithic, or the Copper Age, that preceded the Bronze Age, spectacular
Cruciform figurines
were the most common type of anthropomorphic images. During the Bronze Age, several styles of figurines have come and gone. These styles encompass not only the figurines of different types, but also pottery: some figurines are attached to vessels or are vessels themselves.
Most types have been found both in settlements and in burials, speaking for various uses of these items.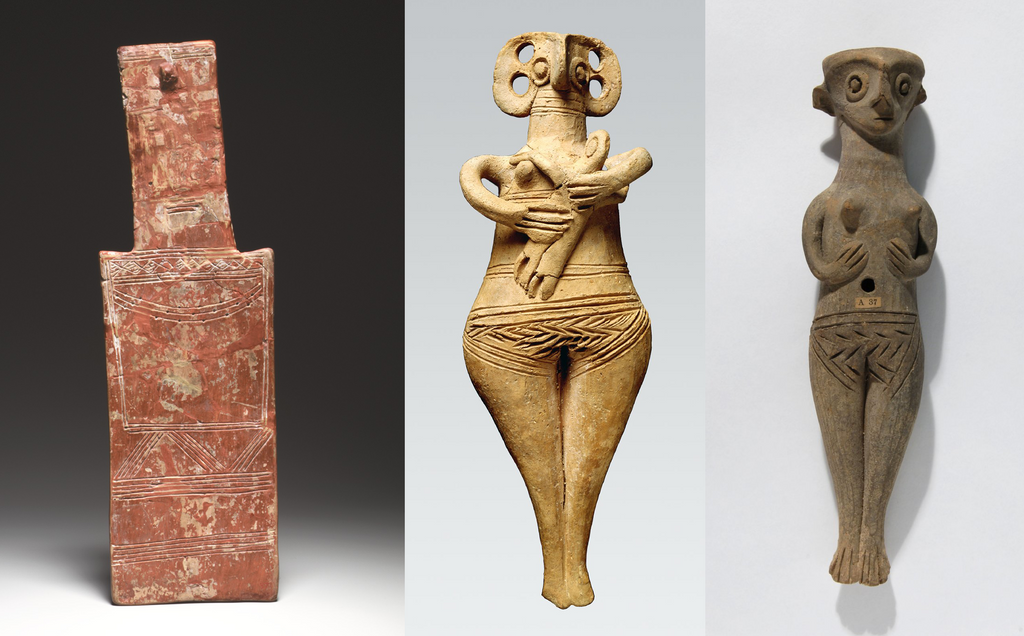 Early/Middle Bronze Age (c. 2000-1600 BC) is characterized by plank figurines. They are rectangular highly stylized depictions of human body with a narrower neck and head or sometimes a pair of necks. Facial features are incised or painted similar to the decorations on contemporary vases. Plank-shaped figurines do not have any clear gender-specific features, although some have breasts and some later examples are holding an infant. However, it does not allow to assign any gender to them as a group. There are object models of combs adjacent to this tradition and
some scholars
argue that these figurines were associated with textile production.
This tradition evolved in the Late Bronze Age through transitional anthropomorphs into two distinct styles: figurines with pierced ears (sometimes called bird-faced for their squished faces and
'Astarte type' due to assumed stylistic influences),
and flathead figurines. Both types are clearly female in shape with modeled breasts, incised pubic triangles, and some figurines hold an infant. Earring figurines have big ears often with several earrings, and flathead figurines have small ears modelled in the same way as in Base Ring Bulls. It was proposed that this style was influenced by the Aegean figurines (below) or the depiction of the Egyptian goddess Hathor.
Here are some further resources:
The collection of KHM in Vienna (in German, but pretty intuitive, search filter 'Zyprisch' and a time period).
Online collection of the National Archaeological Museum (Athens)
An amazing PhD thesis of Daisy Knox, discussing all these things in detail, full text is available online together with plenty of illustrations.

Mycenaean figurines

Anthropomorphic figurines of Mycenaean Greece are classified into three types: psi, phi and tau, according to their shape. Psi-type are reminiscent of the Greek letter ψ and have arms above their head, phi (
φ
) type are painted with wavy lines, perhaps, showing folds of a dress. Tau (
τ
) type have arms on their waist and a long dress. All types depict females with modeled breasts, their faces are squished and eyes are painted as simple dots.

Psi-, phi-, and tau- types
More figurines at:

Oxus civilization

In 1972 Victor Sarianidi discovered
a site Gonur Depe ('Gray Hill') in the Karakum desert and tied this Bronze Age settlement to the ancient country of Margush known from a Persian inscription. Sarianidi called this site 'Bactria-Margiana Archaeological Complex', associating the toponyms known since antiquity to the material culture. It is now also called Oxus civilization after the ancient name for Amu Darya River. Ignoring the vast fortified city, let us dive into the tombs, where figurines were found.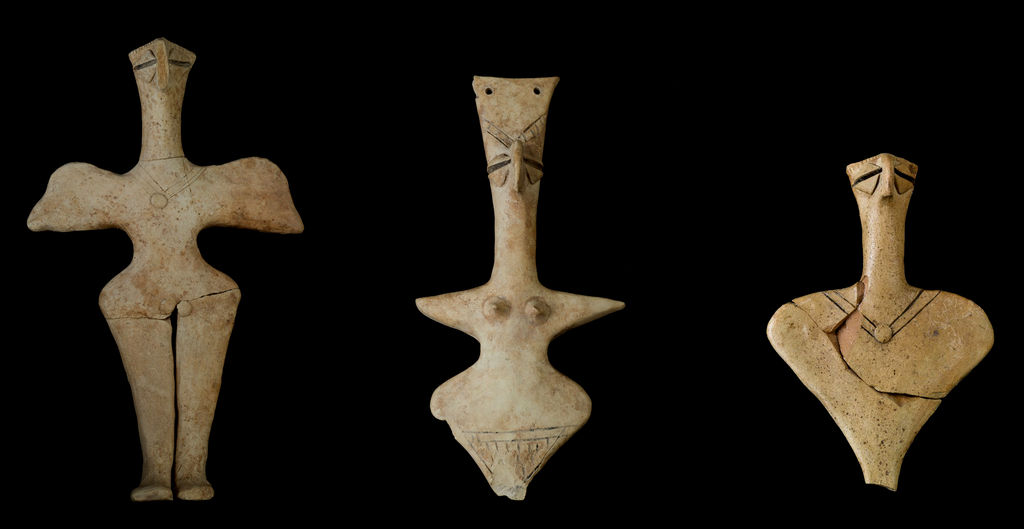 © Staatliche Museen zu Berlin, Museum für Vor- und Frühgeschichte / Herlinde Koelbl

The figurines have slit eyes, protruding noses and bird-like features. The wings on the male figurine enhance this impression. Their sex is immediately obvious from their shape.
These figurines are permanently kept in
Mary Museum
, Turkmenistan, that unfortunately does not have a website. The pictures above come from an exhibition at the Neues Museum in Berlin, where I was lucky enough to see them.


In Altyn-Depe, a related site, some similar, yet distinct figurines were discovered:
What makes a figure anthropomorphic? It turns out that you do not need much to see a face or a body in an object. As humans are social animals, and other people are vitally important for us, human brains are wired to detect faces and to interpret them. If you record electrical activity of the brain with scalp electrodes (electroencephalogram) you can detect event-related potentials associated with face processing. Our visual processing has been so well trained to see faces, that we can see them everywhere:
on toasts
or
on Mars
. Seeing familiar patterns in randomness is called pareidolia, and it happens not only to people, but to
monkeys
as well. In the hominin lineage there is a documented progression from just finding pareidolia-inducing natural objects (as early as australopiths) though modification of already human shape-like objects to their creation
de novo
by our species.
Why is this important for artists? Because people see human-like shapes in things that are very far from realistic representations. On one hand, one should be cautious to avoid unwanted 'faces' and 'bodies' in otherwise inanimate objects, as they might create a comic effect, on the other hand, one can push stylization to its extremes, creating expressive shapes that still can be read as human characters.