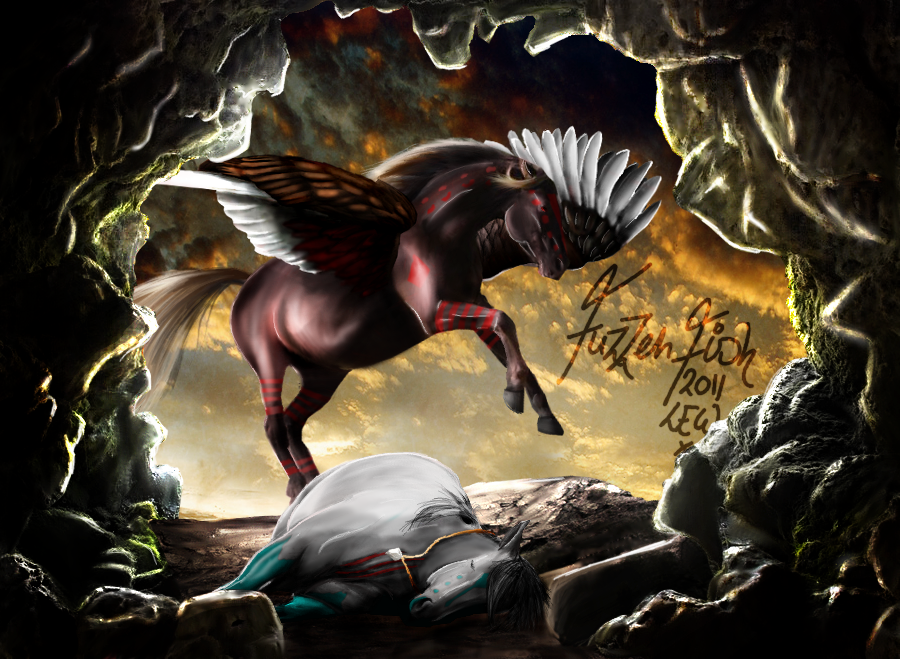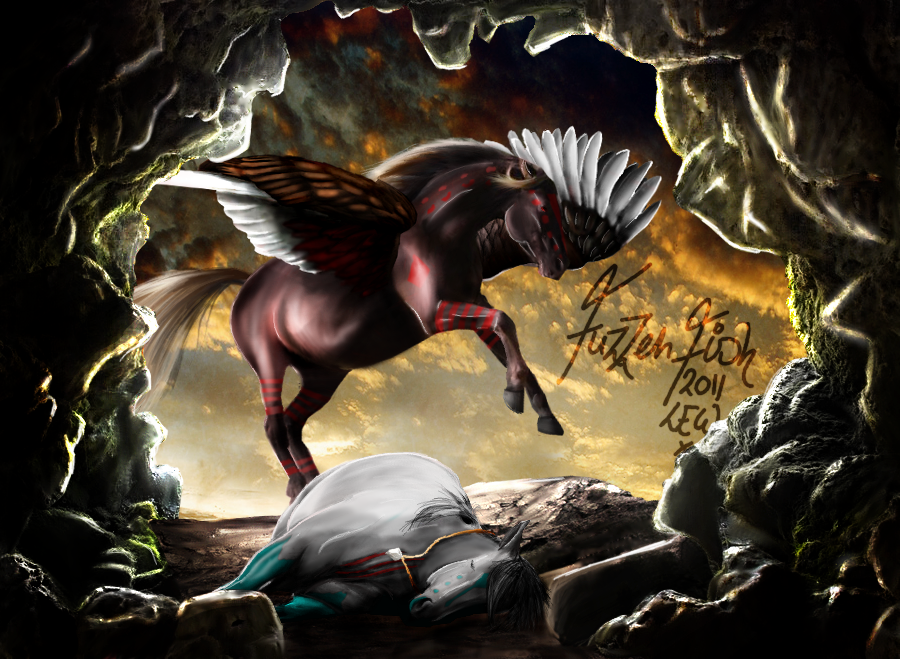 Watch
This took the best part of 2 weeks

IKR!
I AM SO PLEASED WITH THIS.
This initial idea was the grey there licking her wounds after a fight, with a pegasus watching over her, then I found the bay horse which looked dead (colour changed to grey SUCK ON THAT GIMP) and HAD to use it, then it turned into...
The grey went up to the cave to recover, but died, and the pegasus found er dead

I have a twisted mind.
Haahaa no I dont.
Do I??
Maybe so.
This wasn\'t really inspired by music, but I was listening to Jar Of Hearts SO MUCH.

FTW!
Stock: (this ought to be fun...)
\"Grey\" : ~
Nylak-Stock
Pegasus horse front: ~
FineEquine
Pegasus horse back legs : ~
Kabu-Stock
\"Cave\": ~
EveLivesey
Sky ~
RavenStocks
Cave Floor: :~
RavenStocks
Front wing: *
CAStock
Back Wing: ~
EquineStockImages
Me: Manipulation, mane and tails, markings, necklace, underfeathers on wings, cuts/scars, light on rocks
I think I\'m mmost pleased with the light on the rocks. It was sooo fun, going with a dodge tool on 100%exposure over all the crevices, nooks and crannies

And the coloour change from bay to grey

Man, that was fun too.
Not pleased with? Hm.... dunno, nothing; maybe thats why I love it so much XD
Thank you for looking, please fave or watch if you think its worth it.
Comments and critique are ALWAYS welcome, I love it!! But dont be mean

This doesnt have a WMW, but check out me on youtube : LittleMissLXF
Commissions? Art Trades? Collabs? Im free for point commissions.
Copyright FuzzehFish.deviantART 2011LEW

Reply

Reply

cool rocks...does that sound really nerdy/dull? anyway COOL ROCKS!
Reply

Reply

Beautiful work - love what you did with the grotto!
Reply

Nice work!!

Reply

This is epic

Reply