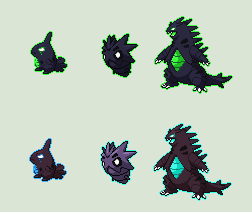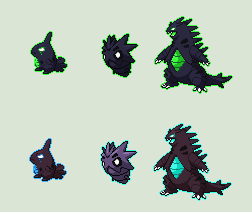 After playing Pokemon Uranium i realized of all the Pokemon that became nuclear type they could have made they never once had Tyranitar like the one Pokemon based on a radioactive monster! so i decided why not make my own and before you ask no normal Tyranitar is not in the game.
Now with the typing conventions of the actual game are to be followed Nuclear Tyranitar and it's Pre Evos would be Rock and Nuclear type.
it's move sets and abilities i wouldn't know but it would include loads of nuclear exclusive moves and probably it's regular abilities.
i also added shiny coloration for an added twist