Update to more recent examples and more information:

I though I should write a new journal with commission information, so it better shows my current level of skill, and to answer some questions that I get:
In general I charge by character and you can request commissions as:
Black and white drawings: $15 per character
Sample work:
Colour drawings: $50 per character
Sample work:
A few things worth pointing out:

Payment: For now it will be only through Paypal.
Once we agree on the subject I will do a rough sketch and a reasonable number of corrections or changes. Once we agree on the sketch we will use I will ask you to do a full payment and then I will finish.

Communications will be electronically, either through notes here in dA, Discord or email. I will reply as timely as I can and keep you updated on the progress.

All work is digital, once I'm finished I will send you a big file which you can print if you feel so inclined.

All work is for personal use only. If you want to use it commercially the prices can vary.

I'm open minded and willing to draw a lot of stuff, including mature content, but there may be something I'm not comfortable drawing, if you request that kind of things I may decline.
Frequently asked questions:
Does it cost the same if I request a full-body, half-body or bust commission?
Yes, I want to keep the price structures simple, and for me the amount of work in different types of commissions is not that different.
What about a background, do you charge extra for that?
For backgrounds I usually prefer to keep it simple but do what I feel works best. Some times I do a plain or simple thing, but if it fits the scene I can do something more complex. In those cases I don't charge extra. But if you have something specific in mind and it's rather complex I may charge a little more.
Can I request a drawing with multiple characters?
Certainly, but the price varies depending on the number of characters but you can get a discount depending on the complexity and how many characters there are.
Sample drawings: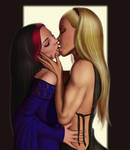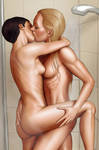 I saw a drawing you made before that I really like, can you reuse it but with the characters I request?
Yes you can, the price depend on the complexity and the number of changes I have to do, but in general you get a discount from a character made from scratch.
Samples:
I also have YCH bases if you want:
I noticed you made multiple versions of drawings, can I request one of those?
Of course, it costs a little more for each version, and the price depend on the amount of modifications you request. I appreciate if you tell me in advance that you may want to do this but it's something you can request at a later date.
Samples: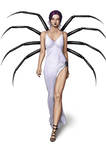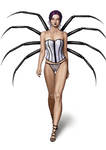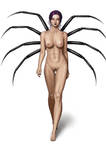 Can you do a black and white drawing first and then convert it to colour?
Yes, if you can't or don't want to invest in a colour drawing right away you can request a black and white one first and upgrade it to colour by paying the difference.
Samples:
My character exists only in my mind, can you help me designing it?
Yes, if you can provide either detailed description or visual references it will help a lot, specially if you have a very specific vision, but I can work with few references.
Can we keep this commission private?
Of course, if you don't want me to upload your drawing anywhere online I can do that.
Can you draw in other styles?
Certainly. I have done a few commissions in more realistic styles for example:
Can you draw me or someone specific based on a photograph?
Yes, it helps if you provide many references and of high quality. I can draw them in my style or in a more realistic style, just let me know what you want.
If you have any other questions or you want more specific information send me a note and we can discuss the details without commitment