Couple of things I'm workin' on at the moment, a redraw and some looong owed art (still got a few of those to do!)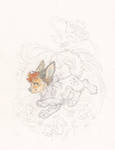 Sooo in my last journal I was like yay, I finally got a job! Well it's 3 years later and yay, I finally quit my job! Party~!
Okay, I'd stop reading here if you're not into petty whining. I totally am, so if you hate your job do tell me about it! I started with minimum wage housekeeping with the dubious honour of constantly doing "optional" (lies!) overtime to fix other people's work...I mean, why confront/retrain your staff when you can just allow them to entirely skip areas like bathrooms and carpets, still pay them to take their time doing the easy bits like, uh...opening curtains...and then "ask" competent staff to time trial their own rooms (don't wanna pay YOU more than we have to!) and then just, redo all the rest. And then sit through "yay teamwork!" meetings after hours. I was asked if I'd paint a mural in the staff room before I even got the job hahaa. I was like uhh, if you hire me maybe (absolutely planning to say no, wtf) This staff room turned out to be a little box of a kitchen that fits 4 people...for a staff of 20+??? Okay I could go on but I'll stop there, everything was dumb. I'll just say that the weirdest not actually super gross thing I found in a room was a toilet bin full of cooked sausages, and I count myself lucky :'D
After a few months of that I switched to a factory job and there's just too much to say about that, I'm still angry on behalf of everyone working there barring several supervisors who I will hate forever haha argh. The place was a converted mill using 60 year old machinery, no air conditioning and sealed windows, ovens and vats everywhere, the worst layout imaginable, badly trained people using forklift stackers (somebody smashed part of my machine off with one and management tried to blame me with the old "if you report it you did it!" logic. Lucky I had eyewitnesses...to be fair I was notably bad at operating them myself, but hey I passed a 10 minute "driving test" so if I killed somebody it wouldn't be the company's fault haha screaming) dangerous "storage solutions" (I just remembered they started storing mops and buckets in 3 out of 6 of the women's toilet cubicles hahaa) and a laughably high accident rate that they decided to acknowledge by hiring a guy to tell us to stop getting injured so much. The third time I went to first aid I was told to maybe try asking one of my coworkers on the same machine to do the dangerous bits...oh yeah that's great, I'll just ask this tiny 70 year old who's too poor to retire because she's been with your company all her life to do the heavy lifting/dragging, duh! One guy was told to clean empty barrels that had contained some kind of acid stuff with this like, power jet...not part of our training at all...and like, our safety visors were basically plastic glasses...it just shot back out of the barrel in a mist and the manager had to drive him to the hospital for his eyes...didn't get sick pay, nobody able to stand up for themselves...too grateful to have a job at all! A no excuses absence "points system" that only applied to people below supervisor level...time off sick? Time off injured? Time off for funerals? In the case of one coworker, time off caring for your mum in her last days dying of cancer? You have too many absence points, what do you have to say for yourself? Prepare a statement. Kept working up to 15 minutes after clock out time? no extra pay. Buuut...accidentally clock out one second early? lose 15 minutes pay. One second late to clock in? lose 15 minutes pay. Supervisor chronically hungover? One month paid sick time for the supervisor.
Yeah so now I'm unemployed and living out of my childhood bedroom, which is hardly a change in circumstances because I never left because minimum waaage! Got enough money to pay my way at home, no job, basically heaven right now :'D
So lucky and grateful that I can actually get away with quitting. So happy~