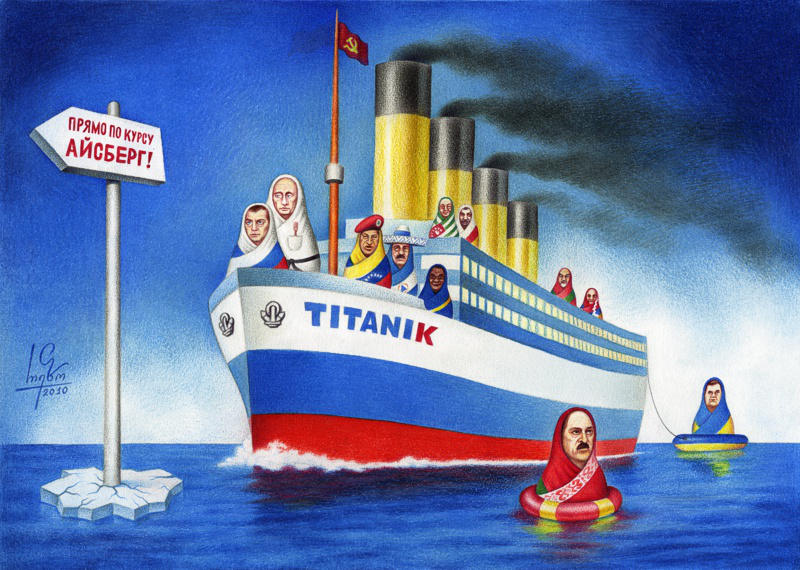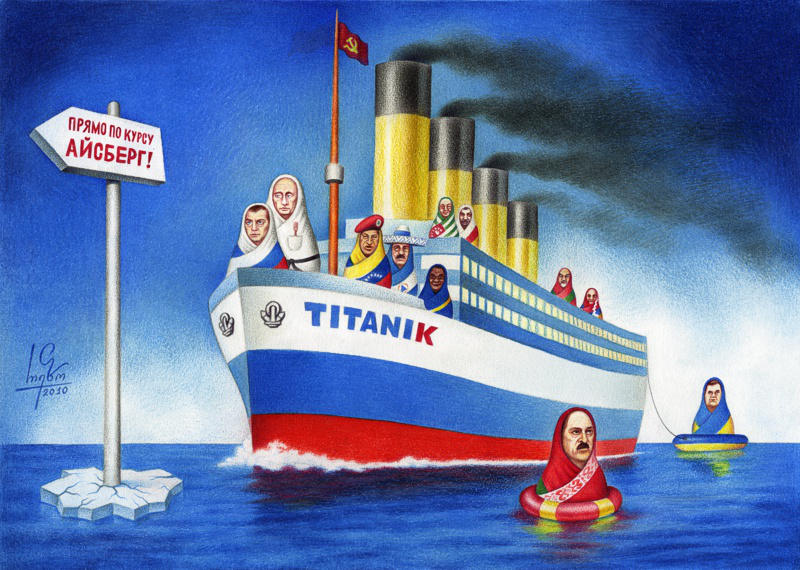 Watch
Titanik © 2010 Rezo Kaishauri
It's the last drawing from
Politika
series, sort of "grand finale," gathering all the "heroes" together and even introducing some new ones, most notably Hugo Chavez of Venezuela. The ship full of Putryoshkas is headed towards the imminent wreck, ignoring the clear warning (the text on the sign says "Iceberg, right ahead!" in Russian). In the background you can see Viktor Yanukovych (the Ukrainian president) towed to the ship. Whether he will follow it to the end or cut the rope in time, remains to be seen. What we already see, is Alexander Lukashenko of Belarus trying to flee in a lifebuoy. Good luck, buddy!
Color pencil and ball-point pen on paper, 200 x 280 mm

Почему-то вызвало ассоциацию с серией передачи "Куклы" про Пророка (пародия на миф о пророке Моисее), только там Ельцин был, лол.
Reply

Бацька молодец!

)
Reply

Уровень ненависти такой, что монитор с обратной стороны запотевает

Reply

В политике нет места для любви. Проверено электроникой.

Reply

Прав так же и Альфонс Доде, который сказал, что ненависть - это гнев слабых людей.
Reply

Да, но все-таки мне кажется "ненависть" слишком громкое слово в данном случае. Мне просто было скучно и хотелось побыстрее закончить эту дурацкую политическую серию. Она мне всерьез осточертела под конец. Вот это самое осточертение как раз в каждом ленивом штрихе чувствуется.

Ненависть, злость, гнев, страх и прочее были только в начале. Со временем все это обрело красивый, глубокий фиолетовый оттенок.

Время способно отупить даже самые сильные чувства. К счастью или несчастью.
Reply

clever analogy!

Reply