This is going around again so I decided to take part in it.

Rules:
The
first 10
people to comment on this journal, I will put their avatar and the three deviations I like the most from their gallery on the list! If you comment, you
have to
make a journal like this and do the same thing, putting me
rexyplexy
in the first spot. The idea of this is
not to get a free
feature, it is to spread art around for everyone!
I will take down those how do not follow the rules.


1.) DetectiveRJ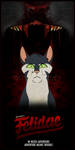 2.)

3.)

4.)

5.)

6.)

7.)

8.)

9.)

10.)