191 Favourites
32 Comments
2K Views
If you'd rather purchase with USD, pay
here
and note me a screenshot of your receipt.
This base is 5 USD


This pack comes with everything listed above and the original Leggie UP base posted below
Unfortunately, the wings in this pack do not layer well on the hooded base.
Leggies do not have trait lists like most original species, these are mainly base ideas.



Can be used for personal Leggies


Can be used to make and sell your own adopts


Credit for the base must link back to me in some way shape or form


Edits both major and minor done to the base are fine


Once purchased I do NOT offer refunds





You may not resell or redistribute the files in any way shape or form




If I find out you are doing so you will be blacklisted from any content produced in the future by the owner and other official guest artists.



Have fun! I'd love to see what you make.





If purchased, you get this base free
(just let me know if you paid with points)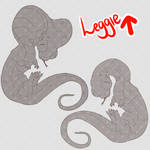 Adopts I have made on this base