Japan Expo
Nous serons à Japan Expo au stand
6-Q79
, hall 6 qui est en fait le stand de l'asso Meluzine, qui nous héberge aimablement sur la journée du samedi !
Le but pour nous est de tester ce salon qui est d'une taille tellement plus conséquente que ce que nous avons fait jusqu'à maintenant !
Voici le plan :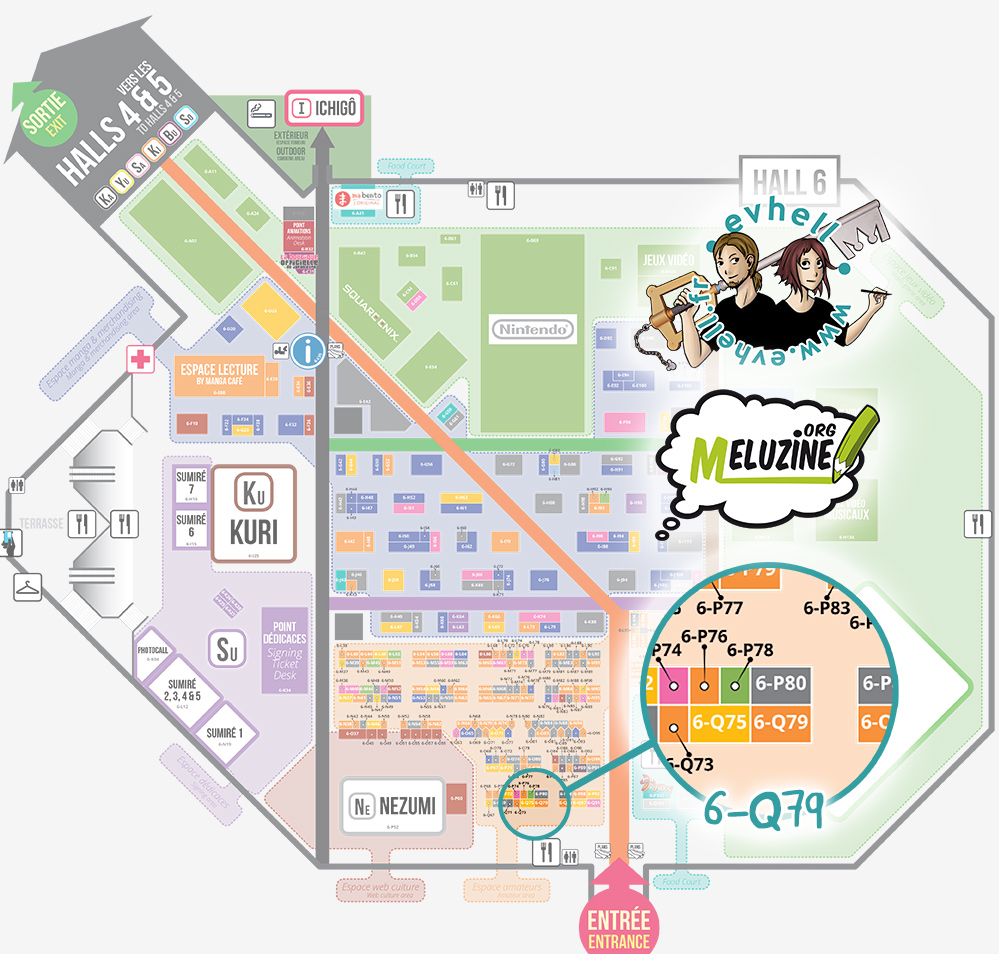 On aura notre fanzine BD, Bubble Gomme n°3 !
Et il y a 5 planches de mon projet BD
New Game
dedans !

Et il ne coûte que 4€, pour 60 pages. N'hésitez pas à me contacter si vous êtes intéressés !

Si vous voulez que je poste plus de visuels, n'hésitez pas à me le demander en commentaires.
PROCHAINES DATES :
Japan Expo

: 4 juillet (Paris)



Wazabi : 12 et 13 septembre (Nantes)
KIRIBAN
Et enfin, ça faisait longtemps : nouveau kiriban à 30 000 ! Ça sera un dessin couleur digital pour celui ou celle qui me fera un screen à 30,000 pageviews (ou le plus approchant) !
Envoyez-moi les screens en note ou à lucile@evhell.fr !
Une seule condition : me watcher !
Japan EXPO
I will be at Japan Expo saturday the 4th at booth
6-Q79
in Hall 6. The booth is owned by "Meluzine" - they invited us to share a table with them.
We will have illustrations, badges, and fanzines. "Bubble Gomme 3" is the last fanzine we did with my association. It features 5 exclusive pages from my webcomic project
New Game
!

KIRIBAN (WATCHERS ONLY)

I'm doing a kiriban for 30,000 pageviews ! Send me a screen of my profile page with the number as close to 30,000 as you can.
I will draw a digital illustration of what you want for the winner !
Send me the picture as a note or at lucile@evhell.fr !
You have to watch me !