Journal Entry:
Mon Aug 10, 2015, 5:51 AM
●

●


DeviantArtist Questionnaire
Hello there ! Here is my
#DeviantArtistQuestionnaire
.
How long have you been on DeviantArt?
I'm here since march, 2007. I knew

on a french videogame forum and he made me discover this site !
What does your username mean?
Revan is the bad guy in an old Star Wars video game : Knight of the Old Republic (not the MMORPG). Ray is because I love Rayman and Wan is because I was a crazy fanatic of Obi-Wan when I was 16. You know all, now !
Describe yourself in three words.
dreamy, nostalgic, laughing
Are you left or right handed?
I'm left-handed !
What was your first deviation?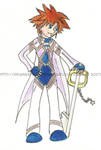 I was fan of Kingdom Hearts and Tales of Symphonia so I did this crossover !
What is your favourite type of art to create?
Comic pages ! I really love storyboarding a story and drawing vignettes. I prefer doing comics than illustrations.
If you could instantly master a different art style, what would it be?

is very impressive and so original. I want to have my original style one day...
What was your first favourite?
The deviation is in storage... :/ When I joined deviantArt I was fond of

and fav a lot of her drawings !
What type of art do you tend to favourite the most?
OCs, portraits, illustrations with special colors which interest me.
Who is your all-time favourite deviant artist?

Her universe transformed me and helped me a lot some years ago. (and now again)
If you could meet anyone on DeviantArt in person, who would it be?
I would like to see a masterclass from

How has a fellow deviant impacted your life?
My deviantArt life have highs and lows. Sometimes I feel loved, followed. Sometimes I feel all alone. I swing between two state of mind :
"I have some followers who like my art, it's wonderful ! When I will begin to publish my comic, I will have a few readers..."

"Why do I do comics ? Nobody will read it. There is too much comic artists who are trying, is there any way my story can interest somebody ?"

What are your preferred tools to create art?
My beloved Cintiq 22HD even if I have to improve with it ♥
I always have a green notebook with me. I write
New•Game
in it.
What is the most inspirational place for you to create art?
I bike 20km (12.4 miles) a day to go to work and back home. I often find new ideas for my story
New•Game
at this moment because my brain is free !

What is your favourite DeviantArt memory?
When I met communities. 6 years ago (really ?) I was on a french website called Drawin where I met a lot of my dA friends. I met many friends too on a french forum
"La caverne d'Hito"
. I met all this people outside dA, but it's on dA where I'm with them !
I would like to see your questionnaires !

Feel free to posts links in comments

KIRIBAN (WATCHERS ONLY)

I'm doing a kiriban for 30,000 pageviews ! Send me a screen of my profile page with the number as close to 30,000 as you can.
I will draw a digital illustration of what you want for the winner !
Send me the picture as a note or at lucile@evhell.fr !
You have to watch me !

Reading: Harry Potter 4
Watching: Death Note
Playing: Fire Emblem 6