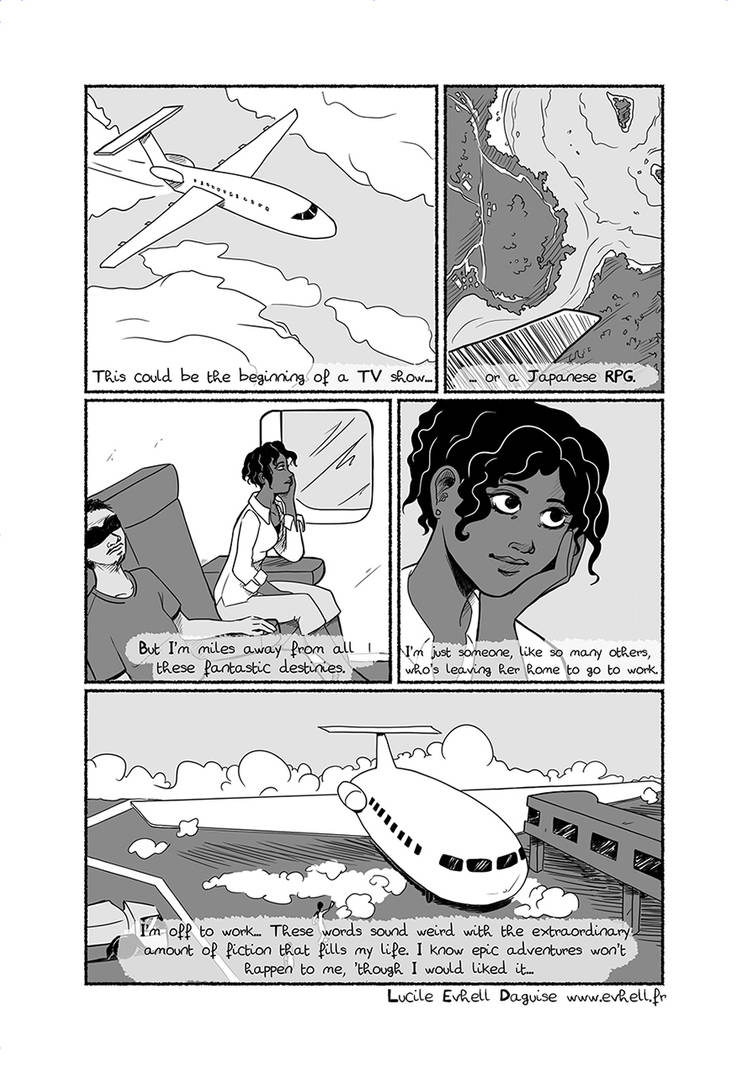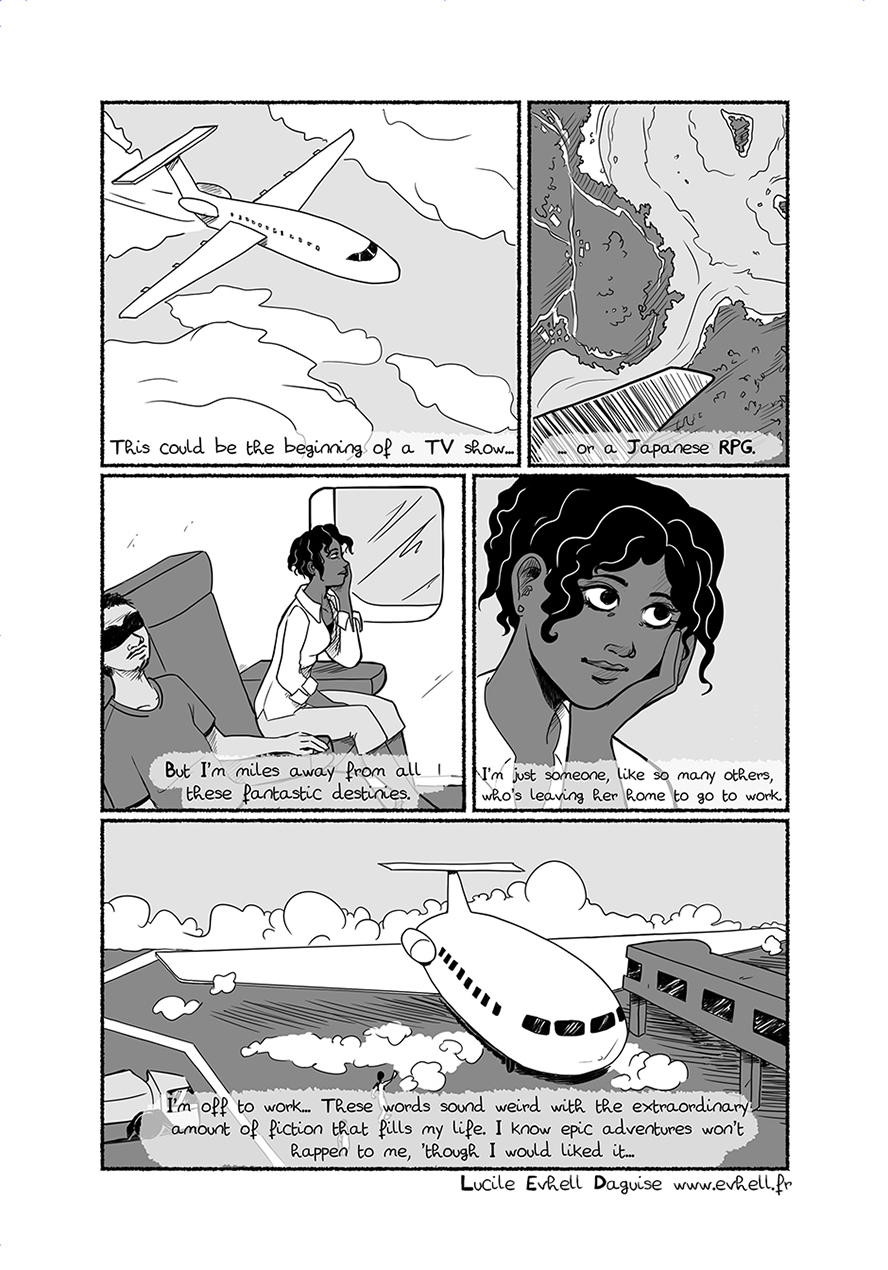 Watch


First page

Previous page | Next page




●
●
Here is the first page of my webcomic ! I hope you will like it !

Don't hesitate to let me know you read it with a comment, a suggestion, a review...
Synopis
A young french woman named Nora just finished her computer sciences' studies. She found a job ! She will be a computer scientist in a laboratory based in... The Amazon jungle ! Nora will meet her new mates who will become her new family. Here at the laboratory, everyone has a room at the first floor and lives all the year here, far from civilisations, deeply covered by the jungle.
●
●

Pour lire en français :
newgame.evhell.fr
(il y a plus de pages en FR !

)
Et voilà la première page de New Game !

J'ai encore la boule au ventre de savoir si ça plaira ou non, mais zut, j'ai envie d'en être fière tout de même. ;D
S'il vous plaît, si vous pouviez laisser une trace de votre lecture via un commentaire, une impression, une critique, ça m'aiderait beaucoup à avancer !

Synopsis
Nora, jeune diplômée rejoint une étrange entreprise : un laboratoire d'analyses scientifiques qui se situe... en pleine forêt amazonienne ! Elle y fera la connaissance de ses collègues qui deviendront comme une nouvelle famille, car ici tout le monde loge sur place, dans la tranquillité de la forêt, loin de la civilisation.
---
● Medium ●
Wacom Cintiq 22HD, Clip Studio Paint
● Join me ! ●
Follow my webcomic newgame.evhell.fr

evhell

Evhell.fr

Reply

Huhuhu sympa ! Vivement la prochaine page

Reply

Hey merci beaucoup !

J'espère que ce sera à la hauteur et que la motivation va continuer à monter !

Reply

Ahhh!! Next Next!
Quel sera le rythme de parution d'ailleurs ? (Si tu as prévu quelque chose de regulier!)
Reply

Merciiii

Pour l'instant je pensais un "strip", qui représente une scène par mois. Là c'est 4 pages, mais le suivant, ça sera 2 (en moyenne, disons 3)
Mais plusieurs personnes disent préférer une seule page, mais plus souvent (1 par semaine). Du coup, je vais commencer avec un strip par mois, mais ça pourra changer.
Du coup, les avis sont les bienvenus ! Qu'en penses-tu ?
Reply

Je peux te dire d'après mon expérience avec les mangas, c'est que je fini toujours par décrocher ceux à parution mensuelle (car je fini tout simplement par oublier l'histoire) alors que j'en lis un qui est hebdomadaire depuis maintenant 10 ans (One Piece <3). Donc, je te conseillerais aussi de faire plus fréquemment des petites mises à jour.
Mais après, tout dépend de ton temps libre et de tes envies. Et puis c'est le début, tu as le temps de trouver ton rythme et de changer d'avis plein de fois, hihi

!
Reply

Pour le rythme, ça pourrait presque revenir au même (là j'ai mis 4 pages pour un mois, donc 1 par semaine...

)
Il suffirait juste que je prenne de l'avance...
Je ne savais pas que One Piece sortait toujours hebdomadairement ! :3 Clair que les séries aussi longues, vaut mieux pas lâcher ;D
Merci beaucoup pour ton avis !

Reply

Enfinnnnnnnnnnnn !!!
Depuis le temps qu'on attend ca !
C'est tres intriguant le complexe dans la jungle loin de tout
ca fait un peu comme un navire xD
Reply

Héhéhéhéhé NAN y a pas de Samuel dans ce labo héhé ;D (Peut-être y trouveras-tu un moussaillon avec du charme quand même ?

)
Merci beaucoup pour ton soutien et l'inspiration que tu m'apportes !

Reply

Reply

Super !!
(Yes - 1er commentaire

)
C'est partiiiii .... longue vie à NewGame

J'aime bien la 2ème vignette : la vue du ciel - on en voit pas souvent dans les BD - ça fait un peu carte

Reply

Ah ben voilà ! first comment, on l'avait bien dit !

Merci !

C'était pas facile avec l'aile de l'avion... Et de se rendre compte que c'est une vue du dessus ._.
Je te l'ai dit sur un autre commentaire ailleurs, mais merci, merci encore pour ton énorme soutien, et tes conseils sans lesquels ça ne serait pas pareil !!

Reply