Deviation Actions
Daily Deviation
July 28, 2015
[Stock & Resources] A completely free font to use for whatever you like! Free fantasy font: LSW Drachenklaue by
RetSamys
is a brilliant font with subtle charming details.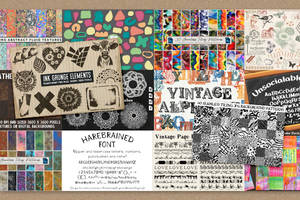 HG Designs Subscriber Area
Lots of high resolution goodies for graphic design including textures, photoshop brushes, seamless patterns and more.
---

Free fantasy font: LSW Drachenklaue
Description
real letters
), but that will have to wait because it takes soooooo much time!
This font was made as part of a project with Lese- und Schreibwerkstatt Nalbach. In the last few weeks, we have been covering all kinds of topics related to
dragons
! In one of those weeks, we made some cryptographic alphabets. Alphabets like dragons would use them. So we thought it would be nice to provide anyone who is interested with a font. Hence the name:
Drachenklaue
, "dragon's claw" or dragon's writing".
So, here's the concept: Dragons would resort to a natural advantage when it comes to writing, their claws. That means that their alphabet consists of mostly simple lines. Due to their global presence in mythology, their writing system would be inspired by existing ones.
I thought, I'd try to implement a few aspects from other writing systems. The design of the glyphs might remind you of traditional Asian inking, the horizontal lines in the capital letters were an attempt at creating a ligature, like in Arabian, but I used three lines, which makes it look a bit like a musical staff.
At the same time, the horizontal lines were also a nice way for me to make sure I had a baseline of some sorts.
I used a few ideas of another, more complex, fantasy alphabet that I've created a few years ago. I might make it a font some day as well. Unfortunately, the spacing won't make it such a good design as this one.
I realise that, while the design might be interesting, the font is actually not all that legible. Even if I had done some kerning. Oh well...
This is probably the final version of the font. For me, it's purely for entertainment purposes and it looks OK right now.
Parchment texture
---

You are allowed to:

Share

Remix
basically use this work in any way you like (even commercially),
Under the following conditions:
No conditions
It's a free typeface for everybody for everything.
You don't even have to credit me (but it would be nice).
---
I, the copyright holder of this work, hereby release it into the public domain. This applies worldwide.
If this is not legally possible:
I grant any entity the right to use this work for any purpose, without any conditions, unless such conditions are required by law.
---
The downloadable ZIP archive contains the following files:
LICENSE.txt (text about the licensing - short version: it's basically Public Domain!)
LSW-Drachenklaue-Samys-0.1.otf (OpenType installable font file)
LSW-Drachenklaue-Samys-0.1.ttf (TrueType installable font file)
drachenklaue.xcf (original GIMP file - not installable)
drachenklaue.svg (original Inkscape file - not installable)
drachenklaue.sfd (FontForge raw file - not installable)
drachenklaue.png (preview image file)

---
Don't know how to use ZIP archives?
Click here for instructions.
Don't know how to install fonts?
Click here for instructions.
This is not what you are looking for?
Other dragon fonts can be found
here
.