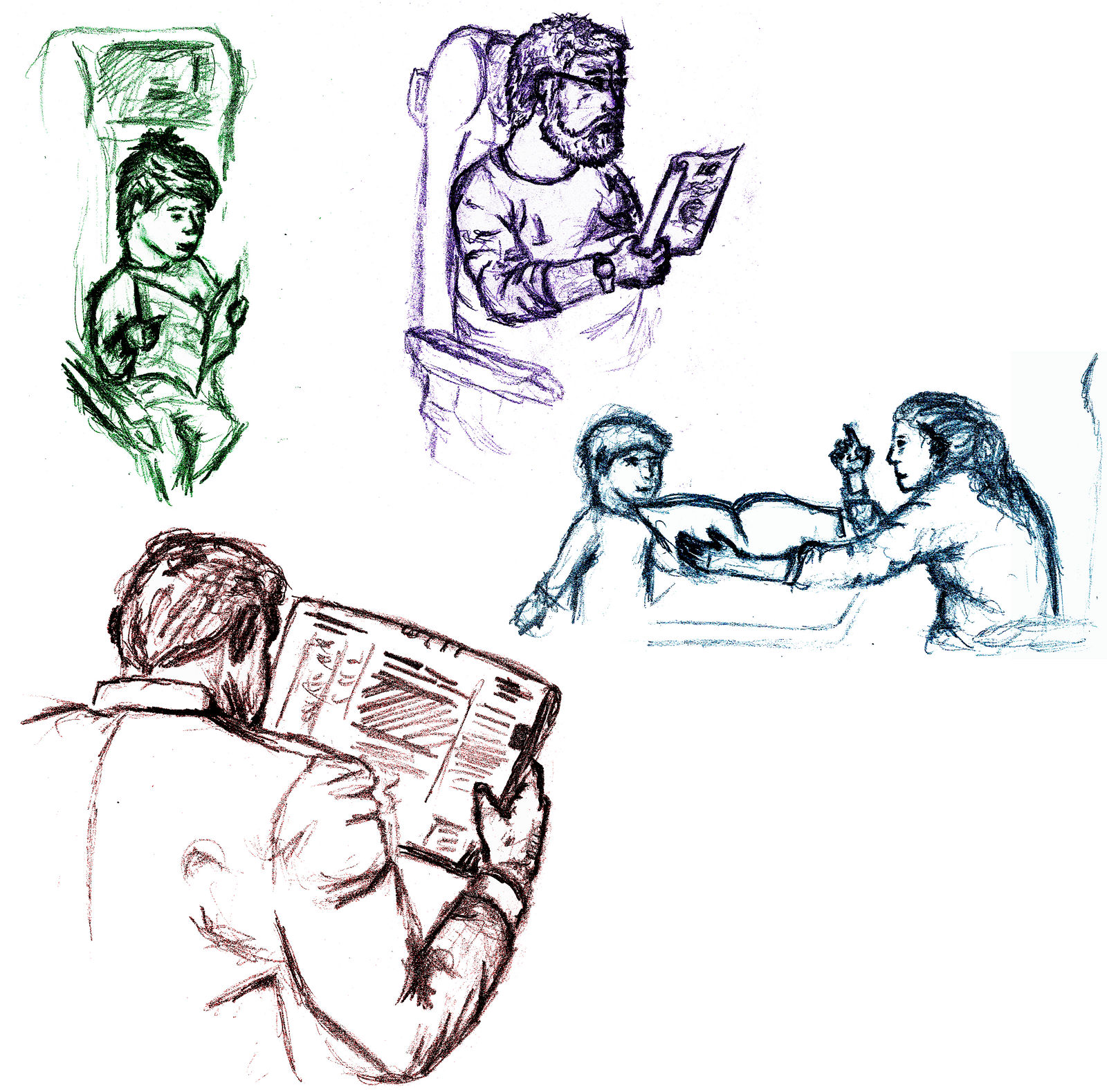 I challenge myself to do one sketch every day.
Learn more about it here!
<<First
|
<Previous
|
Next>
Drawn in a train. Don't draw in trains!
Consider the following problem: You are incredibly awful at drawing people, and every time you try to study humans, you are afraid you could get caught drawing them (three worst-case scenarios that have already happened to me: "Why are you staring at me like that? Oh, OK, you're just drawing me", "Would you please stop that? I don't want to be drawn" and - worst of all - "Oh, you're drawing that person over there? Can you draw me? What else can you draw?"). I have considered sneaking up on people while they're asleep, but that would be creepy.

Alternate solution: Draw people who read! They don't move around nearly as much as normal people, they rarely look up to catch you drawing them and they're easier to identify with - reading is attractive (in a broad sense), at least to me.
My apology for this being so anatomically weird is 1) drawn in a train and 2) I have no idea how to draw people and this is my way of learning it.
More human studies:
Tell me what you think and what kind of thing you'd like to see in the future.
Pencil & paper, edited with GIMP
Free art - you may:

Share

Remix
basically use this work in any way you like (even commercially),
under the following conditions:

Attribution (credit me)


Very nice! I think the brown one in particular is very well drawn.

(Woah, yeesh, being caught drawing someone … that would be very awkward. And yes, sneaking up on them when they're asleep would be creepy indeed.) Just one bit of advice for drawing from real people, though: close one eye. When you close one eye you impede your depth perception, aka. your 3D vision. It helps you see things the way it would look on paper. It helps you focus on outlines and shapes and shadows. I know this because I'm naturally born without depth perception.
Ok, and if you'd like a bit of critique: the green and purple ones have heads which are too big compared to the bodies. But other than that, I think you're doing quite well!

Reply

I have a very weird concept of depth. Your solution might help, but it's probably too impractical for drawing, at least for me.
But It'd be worth a try.

The green and purple persons are the first ones I drew. Drawing kids and not exaggerating certain proportions is hard for me. As for the bearded one, that's less of a problem of proportions. I only drew a portion of his body, which makes it look small, and because of the folds of the clothing and his... volume, shoulder and arm are partially hidden.

Thanks, that's a very nice comment.
Reply

Well if you do end up trying it out, let me know what you think!
For the purple one, I meant the length of his arm is too short as well. A handy trick is:
forearm = upper arm = 1.25(head length)
Mwhahaha they said Maths and Art are not related, but they're wrong!

Reply

See, this is why people go to art school. To learn important theory.
Oh, they're so wrong! Maths are great for art. Da Vinci seemed to know that. Be like Leo.
Reply