Resurgerequality stock & resources
The purpose of resource hunting in our case is to use some of Resurgere's popularity to promote stock from other dA stock artists. We are going to turn to the wider stock using and stock producing community at dA and ask them to help promote and share great resources from the around dA.
The idea behind this of course is that many many users out hunting down good stock and bringing what they find back to us, is going to get us the best results and turn up a lot of resources we would have missed if only Resurgere admins were looking to feature work.

At the time of this update we have had over 700 people join us as Resource Hunters! Compared to the number of people the amount of submissions has been pretty few though. Most people suggest their own stock, which is just fine. But if you are going to suggest several of your own resources, we would appreciate it if you also suggest some resource made by other artists to even that out so that you are not only suggesting yourself. Share the love!... Also we'd like to remind you that our open fav collections are all meant to be for highlighting resources only, we have a lot of people submitting artwork items that are not given as stock and those submissions will not be approved...
More big changes to explain in how our resource hunting project works compared to how we have done it, updating you all on it now;
Deviantart had decided to remove the 'Groupie' position in Groups, this is the class between full member and watcher that we were letting people join as Resource Hunters. But after a brief while without it, they introduced a 'Members' class which is practically identical to Groupies filling the space between full members and watchers... It is real inconvenient to have all this sort of back and forth but it's all part of testing, hopefully it results in the best end product.
Everyone that had joined Resurgere as a Groupie before has been automatically moved into this new 'Member' class by dA, and we have re-opened it to the public so anyone can join if they want to. We are still going to give the same fav suggestion privileges to any deviant even if they don't join, - but if you do join you will get some perks.
The 'Member' class is something we can not officially rename where it is displayed on our group, but we consider it 'Resource Hunters'. Everyone should be mindful that there is a difference between a 'Member' [a Resource Hunter] and a 'Legion Member'. Legion Members can post stock to our gallery, Members only are able to submit favs. More details on our roles can be read at our About Us page. To get information on how to join the Legion if that is what you are after, you can read this resurgere.deviantart.com/blog/…
---
So here is how to send us a deviation to add to our favs, some of these graphics might be a little different then what you see as the group interface keeps changing but the system is pretty much the same,
Go to Resurgere's Favs page, resurgere.deviantart.com/favou… , or any collection and click the "Send a Favorite". You can check out other stock people suggested while you are there,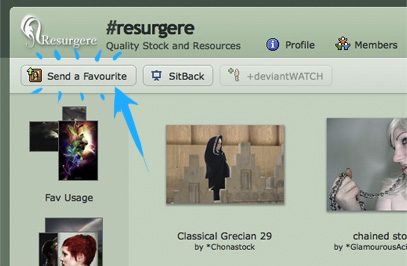 After you click that button an interface will launch to guide you through the process of picking a fav to send to use.
First select the Resurgere collection you want to put your fav in, "Choose a deviation to submit to: [ collection ]". In the pop up, you should be-able to select Stock, Textures, Tutorials, and Resources [for things like brushes etc] collections. Please carefully select the collection that matches the type of deviation you are submitting for a fav!
Choose the appropriate collection or risk suggestion denial!


Once you select the collection, you can pick the deviation to suggest in the lower area of the interface which should be self explanatory. Basically you pick from all of dA, your own Favs, or your own Gallery and search in anyone of those areas for something to submit. Click on the dev you want, click OK, and you are done.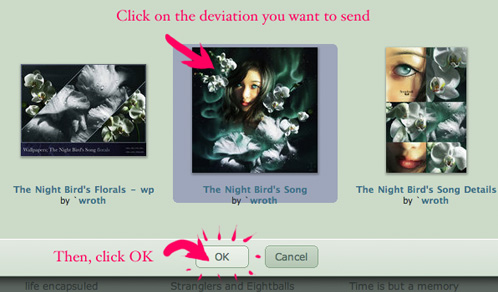 You might also see a 'suggest a fav' button on our Home page if you have joined us.
---
We are looking for any stock you find to be high quality and useful. You can suggest your own if you wish. For now it would be nice if you were very selective and only sent the best of the best stock you find.
Once you recommend something, your suggestion will be held to a Curator vote to see if it will be declined or accepted. We have a lot of things that are submitted that are not resources for example, or that don't stand out enough to approve, so we can't auto approve everything. Not everything you send will be approved, but don't get discouraged and keep the suggestions coming.
For now we are just collecting them, and we have been tweeting some of these on our twitter account. We have quite a lot of watchers and if we get enough suggestions I would really like to do a series of news articles here to bring your suggestions to everyones' attention. So hopefully things develop so that we can pass some major exposure onto the suggestions we get.
We will keep this journal uptodate as the process evolves

Now, go out and find us some gems!
And btw, we have to admit that we have stolen the 'resource hunters' name from the luvely, fluffy, glittering znow-white. You should all check out her Resourcefully Yours "Show and Tell" news series if you are looking for new stock to use, there are already elven articles in the series.