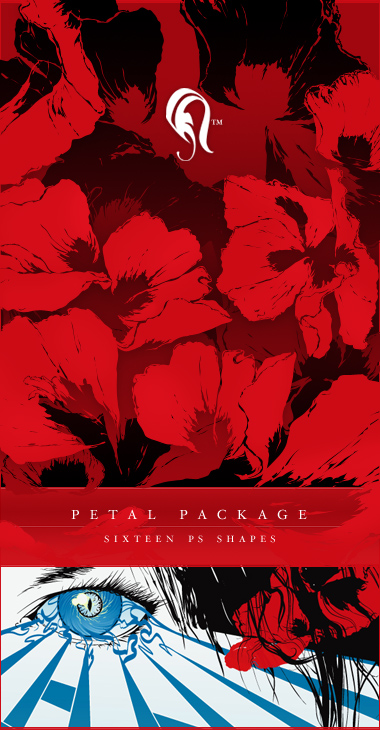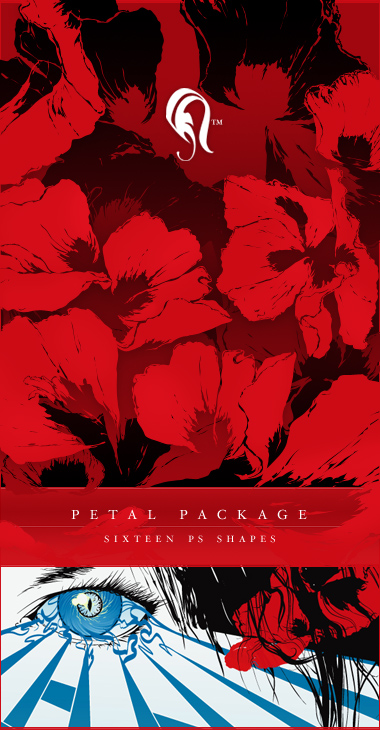 About This Package;
I was recently working on updating an old [DD winning] image of mine and I decided to share one of the central elements with you all. These are stylized flower petals from poppies, one of my favorite flowers, I used them to suggest the symbolism of that flower in a way I found interesting. There are 16 shapes in all, though some of these have two or three petals in a grouping.
For a look at these shapes in action, check out
my Oblivion Tshirt design
. And give it some luv while you are there

The process of making these involved photographing poppies, then using them as clear reference for digitally painted versions which retained some of the perspective and visual 'correctness' of the photos yet with a stylized quality. The paintings were then drawn again as vector shapes, about a week long process to do it all so I thought they should be shared.
In photoshop these custom vector shapes are very much like Brushes but unlike brushes shapes can be rotated, resized, and distorted without any loss of clarity. In this case it is a must so that subtle rotations can be used to match the different petals into full flower shapes... In addition to the PS shapes file there is also an Adobe Illustrator formatted file of the petals in this download, this file has a 'backing' shape paired to every set of petals which can be helpful in creating a less abstract presentation. This file might be of interest to more advanced vector users... These should work with PS CS1 and above, the .ai file is AI 10.
I've used these not only as flowers but in some other work as masking elements when I was to lazy paint new masks but wanted the abstract flare of the sharp painterly look these have. So I think there are a lot of options for the creative user', hope you get some good use out of them too! Enjoy.

Produced by;


Related Art Prints;
Oblivion at `ArtistsForCharity!

Related Stock;
[click the series name for the most uptodate list]
Flora;
Flora Pkg 10, Flora Pkg 9b, Flora Pkg 9a, Flora Pkg 8, Flora Pkg 7, Flora Pkg 6, Flora Pkg 5, Flora Pkg 4, Flora Pkg 3, Flora Pkg 2, Flora Pkg 1, Flora Pkg .5

Terms of Use!;
This stock is distributed under the Resurgere Stock License.

Before using Resurgere stock be sure to read those Terms of Use until you fully understand our rules. By downloading, storing, or using any stock or resources from Resurgere, you are accepting to be bound by the Resurgere Stock License. If you have any questions, please look first to the Resurgere F.A.Q.. If you do not find answers there, then post your question on that page. To quickly summarize the rules,


Noncommercial use for artistic and academic purpose on DA or elsewhere is allowed for free. So long as that usage complies with the other rules outlined in the Terms.

Please notify us of your use, in the manner explained here. You must notify us when using the resources outside DA

Please credit us and/or the Producer[s] when you use our resources. You must credit us when using the resources outside DA

Redistribution of our resources is strictly forbidden.

Commercial use of this resource is strictly forbidden unless you have asked permission for that use. Abuse of this rule is not taken lightly.

Commercial use permission should be obtained directly from the Producer[s] of the resource item you wish to use, that permission request process is explained in the Terms.