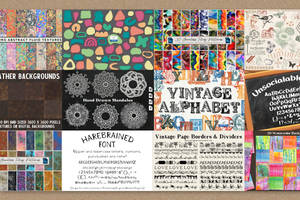 HG Designs Subscriber Area
Lots of high resolution goodies for graphic design including textures, photoshop brushes, seamless patterns and more.
---
Description
— About This Package;
My first pack to =
resurgere
All originally done using traditional medias, inks, paint and various other things. Then just for =
resurgere
I had a little play with them all and compiled these digital versions using all the originals. Please use for what you desire and if you find the time link me to your work on my stock account. Hope to get alot more of my textures here. PEACE YO
Is a preview of a coming package from
the Images were 10 mb each so took awhile to get them ready lol.
- `insaneone staff
— Terms of Use!;
This stock is distributed under the Resurgere Stock License. As such, commercial use of this stock item is strictly forbidden, unless you have prior permission from the Resurgere Producer of the stock item. However, you are allowed to use Resurgere stock in your noncommercial projects.

Before using Resurgere stock you should be sure to read the the Resurgere Stock License until you fully understand it, this outlines all the terms of use for this stock. By downloading, storing, or using any stock or resources from Resurgere, you are accepting to be bound by the Resurgere Stock License.

If you have any questions, please look first to the Resurgere F.A.Q.. If you do not find answers there, then post your question on that page.
— Produced by;
Image size
2122x3230px 4.35 MB