When I take commissions I usually warn people that they shouldn't expect their plush zooming across the ocean in a week. In fact it's more likely to be a couple of months. I don't know why - if I sat down and sewed every night I could probably have it done in 2 weeks.
Okay, I guess I do know why.
I get home at 6pm after 9+ hours of work, and then I have to feed the animals and clean up after the hurricane destruction of said animals (puppies... never again!) and then think about feeding the people and then we have to actually eat the food and then by then it's about 8:30pm and I'm on the couch and the half-finished plush is several rooms away and gravity and tiredness are winning.
And if people are okay with that then we begin the custom plush commission journey.
So here is my latest commission, one that has been in the works now for more months than I care to mention in public. Ahem. I'm sorry, Anzhu! I'm working, and I'll work harder.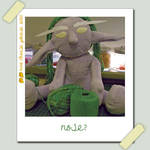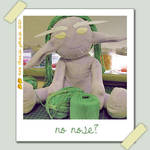 These photos were taken last night to send to his adopter so they can make a very important decision - nose or no nose?
This also enabled some procrastination as I'd been wanting to try a different image treatment for a while now. My old style was okay I guess - a blue border and my name/date but it was pretty boring. I love polaroids (who doesn't?) and have been wanting to do something like this for a while (-if people are interested I can even share how I made the masking tape in photoshop...). I'm not sure whether I'll keep it in the long term. What do people think?
Would having several polaroids in each and every post be too much? Or cute? You can be honest! I need the feedback. I am a little bit fond of the two cheeses I made for the border though.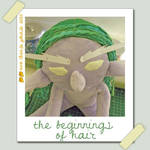 Here is poor Aeus (that's his name, you know. Aeus the Night Elf) with the world's worst comb over - just a few strands of yarn draped over his bald melon so his adopter can see the yarn I've chosen for his hair.







Commission updates:
1. Anzhu



2.




3.




4.

(pending)
I will keep this updated as I start and complete customs, so you can see when new spots open up!







Clubs:






sweets
vodka
Glee soundtrack