The Wolf's Veil cover (NEW AND FINAL)
Description
I was still highly unsatisfied with the cover I made when I first started this comic despite updating it multiple times to try to improve it. I decided to just redo the whole thing and attempt a more comic book-like style that better represents the artwork as of now. I most certainly prefer this over the old one but if there are any objections, please, I'd like to know your thoughts!

Old cover: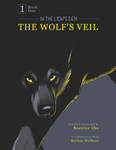 ---

In The Lion's Den takes place in an alternate Earth where anthropomorphic animals called "critters", coexist with the primitive "Giants". The Critters live in a land of their own, forming social groups and often gangs due to conflicts between one kin to another. Many of the Critters also venture out into The Land of the Giants, reasons for this ranging from opportunism, to feeling isolated from their own kind, or simply out of curiosity. Subsequently, many end up forming special bonds with The Giants.
The series revolve around five critter protagonists who somehow become separated from their Giant companion and get thrown back into their native land, The Fringes. The home that they once knew is corrupted by powerful beasts called "Therians" in a reign of utter tyranny. With the aid of other critters encountered along their journey, the protagonist must conquer the beast, and find their way back home.

Big credit goes to Matthew-Wolfbane for his contributions to the plot and lore of the series, as well as overlooking the writing aspect of things.



Additional credit goes to Musa-the-Guardian and fenrirhound for giving constructive feedback on the artwork while in development.

Start reading here!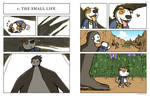 Image details
Image size
2100x2700px 1.02 MB