Dear Santa,
I'VE BEEN RERRI GOOD THIS YEAR. Okay sorta. C: Just let it sliiiiiiide a bit.
But anywho, for Xmas I would like fanart of my OCs! ;w;
I would like either:
Fanart of either Parasol, Gale, Choir, and/or Carousel. ;w; (Light blue hair, purple hair, the uhh.. girl, jester boy)
Serenade and/or Sonnet ;w; <3
Loki, Saistyria, and or Thor from my webcomic Deus Ex Machina.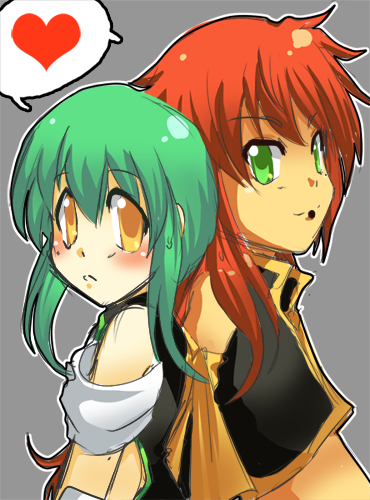 WTF IS THIS DESU IN THE LAST ONE.
And uhm, if you don't mind a non-complete outfit... ;w; Maybe I can doodle up a full ref, but I don't mind creativitytytytyty. ;A;
Nika and Gerard (Nika's the boy, Gerard is his hat)
i64.photobucket.com/albums/h17…
Uhm, notes about all. *A*
First batch:
-Parasol is afraid of almost everything, is germaphobic, and is a 15 year old boy. ;w;
-Gale is very intelligent, smooth talking, and a bit of a pervert. He wears his hair up when he's in battle-mode.
-Choir is nice and friendly, smart but kind of lazy, and has a dream of being a magical girl. :C
-Carousel is one of the villains. When his mask is on, he's crazy and psychotic and loves bloodshed. When it's off, he's shy, nervous, and not very social.
-More ref
i64.photobucket.com/albums/h17…
i64.photobucket.com/albums/h17…
i64.photobucket.com/albums/h17…
Second batch:
-Sonnet is very serious, likes to get work done, and is also sickly (usually coughing up blood). He can take care of himself though and can take his weapon (a whip) out from his star eye. D:
-Serenade is Sonnet's half-brother. He's devious, fake-friendly, sadistic, and a smooth talker. He and Sonnet have a love hate relationship, and basically Serenade wants to kill him and kiss him. :C
-They both have a child-form but I don't really care for having them drawn. XD
More ref:
i64.photobucket.com/albums/h17…
i64.photobucket.com/albums/h17…
i64.photobucket.com/albums/h17…
i64.photobucket.com/albums/h17…
Third batch:
-Saistyria is terminally ill. This doesn't stop him from being an utter and complete bitch. D: He's spoiled, sarcastic, mightier-than-thou, and really doesn't care for anyone but himself.
-Loki is... Well, if you know Loki from Norse mythology, he's a lot like that. XD Tricky, devious, and always seems to have something up his sleeve. He loves to torture Sais but wishes he would be cuter from time to time. D:
-Thor uhmm... He's hot tempered, strong, and gets business done. o_o; His hammer can actually grow very large and has two giant spinning parts on an axis (that still looks like a hammer and could be used as one.. actually maybe more like a mallet) that can produce lightning. He and Loki have a love hate relationship. =w=;
-The webcomic can give you a good idea of Loki and Sais so far. So uhm. If it's this one then...
www.smackjeeves.com/comicprofi…
-More random refs
i64.photobucket.com/albums/h17…
i64.photobucket.com/albums/h17…
i12.photobucket.com/albums/a22…
And Nika sorta has everything about him in the deviation, haha. ;w;
Ahmahgawsh that was long and filled with confusion I'm sorry. ;___; <33333 AND FLOODED WITH OLD ART WTF. -CTRLALTDIE-
-Spins-
P.S.
I have lots to update about journal-wise lateeer. ;w; Mostly containing obsessions over Ragnarok Online and Polaris and commissions. If you want constant updates involving random me-stuff, you can check out my Twitter. ;A;
twitter.com/Resalan
--------------------------
--------------
MY FRIENDS ARE DOING COMMISSIONS TOO. C: They all have really great art and you should check them out!