Former Lyricist, Vocalist of Social Insomnia
I BECAME INSANE, WITH LONG INTERVALS OF HORRIBLE SANITY. --EDGAR ALAN POE
And now, for something entirely different:
DEATH be not proud, though some have called thee
Mighty and dreadfull, for, thou art not so,
For, those, whom thou think'st, thou dost overthrow,
Die not, poore death, nor yet canst thou kill me.
From rest and sleepe, which but thy pictures bee,
Much pleasure, then from thee, much more must flow,
And soonest our best men with thee doe goe,
Rest of their bones, and soules deliverie.
Thou art slave to Fate, Chance, kings, and desperate men,
And dost with poyson, warre, and sicknesse dwell,
And poppie, or charmes can make us sleepe as well,
And better then thy stroake; why swell'st thou then;
One short sleepe past, wee wake eternally,
And death shall be no more; death, thou shalt die.
"Death Be Not Proud"
-- by John Donne
(1572-1631)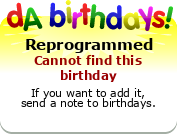 Favourite TV Shows
Psycho-Pass, Steins;Gate, and MONSTER
Favourite Bands / Musical Artists
Dmitri Shostakovich, anything Icelandic, WOODKID, My Chemical Romance, and the glitch genre
Favourite Books
Impossible for a bookworm like me to pick a favourite.
Favourite Writers
Edgar Allan Poe, J R R Tolkien, Lois Lowry, Isaac Asimov, and H. G. Wells!
Favourite Games
It's not all about the gore. It has to have some substance, too.
Favourite Gaming Platform
My old but faithful Playstation 2. (Yes, I know. I'm a nerd for keeping it.)
Tools of the Trade
My trusty notebook and a multitude of pens (none of the cheap kinds, though. Yes, I am a pen snob.)
Other Interests
Writing, reading, ancient cultures, Mythology, Iceland, and Antarctica!