X: RETURN OF THE SKY DWELLERS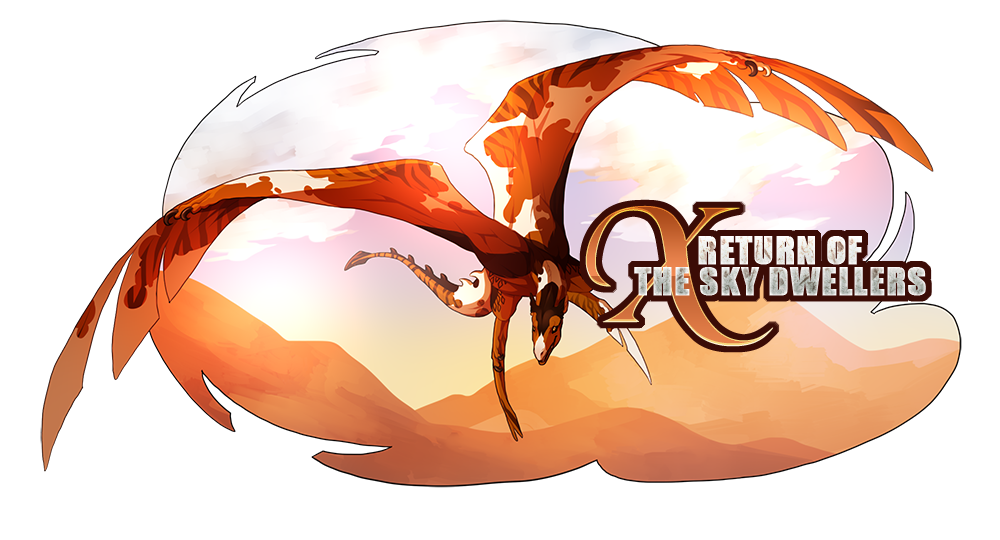 ---
STORYLINE EVENTS
General Information:
- Storyline Events are massive choose-your-adventure type events that vary in length and are usually split into several Episodes with varying amount of Phases.
- Phases have a certain amount of points (Phase points) that must be reached in order to unlock and move onto the next one (Progress through the storyline). In case the points needed to finish an Episode and its Phases aren't met, the Episode will be given an extension until needed amount is met.
- Once the required phase points to unlock the next episode/phase are met, a grace period of 2 weeks (or so) will be given so entrants may finish the storylines in that phase. After the grace period is over, the storylines will be locked and closed for entries.
- Storyline Events work a little differently than your usual battle event or prompt. Being as story driven as they are, each entry will be given a set of prompts that you, as the entrant, will be able to choose from and follow. The further you get into the prompts, the more points towards each phase you will receive and the more contribution you will give towards the end goal.
- Storyline Events, due to their size and length, will occur approximately once a year or two.
- All SEs will unfold the Reos plot and will bring in the next historical age. The entrants have a chance at becoming part of the
Reos History
.
- In general, Storyline Events will bring something new to the game, be it new species, activities, items or places. They are heavily story driven and canon characters as well as players' Reoseans will play a role in these events. Storyline Events may change certain activities, due to their effect on the world's history and politics.
- Each Storyline has a good, neutral and a bad ending. The final outcome of Storyline Events may be affected by the most accumulated endings.
General Requirements for Storyline Event Entries:
- Full body, colored and shaded image with a proper background. Companions/handlers are welcome, but not mandatory unless a prompt stated so.
- If a prompt states a tyrian must be visible in the entry image, it will have to be full body or at least 75% visible.
- Some effort must be visible in your entry. Anything too sketchy or clearly rushed will not be allowed. Storyline events have grace periods in which you can finish your entries, so it is adviced you don't rush through the prompts. Your entries will be compared to your own gallery.
- Art must be your own, collaborations are not allowed unless otherwise stated.
- Entries must follow the prompts and be in the correct geological setting of the prompt (Not your Reosean's citizenship).
- Entries are 1 Vayron per entry. To further clarify this: Unless a prompt states otherwise, the vayron you are entering with should be the only one in the image.
- Any Reosean can enter, regardless of their Citizenship. Note: For this particular storyline, tyrians may not enter.
- The Reosean you are entering with must be your own. If you do not own a Reosean yet, you may use one of the WoR
starters
.
- Word count for written entries is 1200 words minimum.
- If you've reached the end of a prompt line (Each prompt line has approximately 4-5 prompts), you will have to use a different Reosean and start at one of the initial prompts again.
- A prompt line may only be entered once with the same Reosean. However the same prompt line may be entered again, with another Reosean. Starters may be used several times for the same prompt line, however not by the same user.
- Grace periods are now 3 weeks long. During the 1st week of the grace period, new vayrons may enter, however after that week passes, only vayrons already entered into that phase can continue through the storyline.

Entry form:
When entering, fill out the following form:
Link to Import: Direct link here
Link to entry: Direct link here
Prompt: The exact prompt you're entering with
Link to Previous prompt comment: A direct link to the previous entry's prompt comment chain. Must be a link to the admin's prompt reply, not your entry comment. (Leave empty if this is your first prompt)


---
EVENT PRIZES
Storyline Event prizes are broken down into sections, depending on how they are obtained.
Unlockable prizes
can be individually obtained by anyone, depending on their activity during the event.
Raffled prizes
will be randomly given out to the entrants. Everyone who enters has a chance at getting a raffled prize.
Individual Prizes
are given out depending on the activity of a player during the event.
Unlockable Prizes:
-
Storyline Achievements
: Every starter tyrian in this storyline event has an achievement badge that can be unlocked by completing their storyline at least once (Regardless if the ending was good, bad, or neutral). The achievement badge will be added to your Reosean's import after completing the storyline. Can only be achieved once per a Reosean per a starter Tyrian.
- Completing this Storyline Event will officially unlock Tyrians to the player base, including semi customs and breeding.
Raffled Prizes
:
- Standard Vayron Semi Custom, Standard Tyrian Semi Custom, Rare Trait, Glint Modifier, Regular Modifier, Large Box of Crafts, Small Box Of Crafts, Paint Dye, Premium Loot Box, Uncommon Loot Box, Common Loot Box, 5,000 Krones
Individual Prizes
:
-
Premium Lootbox
: Complete at least 1 storyline.
-
Vayron Semi Custom
: Complete at least 2 storylines.
-
Slot to a Tier 1 Tyrian starter
: Complete at least 2 storylines
-
Slot to a Tier 2 Tyrian starter
: Complete at least 4 storylines
-
Slot to a Tier 3 Tyrian starter
: Complete at least 6 storylines
-
Standard Tyrian Semi Custom
: Complete all storylines
>>
REDEEM INDIVIDUAL PRIZES HERE
<<
♦ NOTES ON INDIVIDUAL PRIZES
:
- Completing a storyline: Non repeatable - ex: Completing Patchwork's storyline twice does not count as two storylines. Completing Patchwork's and Marrow's counts as two storylines).
- A completed storyline functions as a redeemable object - Example: If you redeem 3 for the Vayron semi custom, you will not be able to redeem the same 3 again.
- All individual prizes will be given out once the event is officially
over
. It is your task to keep track of all the storylines you've completed (A stash file with links to all finished storylines is strongly suggested).
- Tyrian starter slots: These slots will only be able to be utilized once the event is over.
- Tyrian starter slot tiers: Please note that all tiers/starters will be revealed as the event progresses.
---








Current Phase Points: 250/250
PHASE 1 IS LOCKED.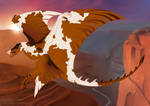 Patchwork
>>
POST ENTRIES FOR PATCHWORK HERE
<<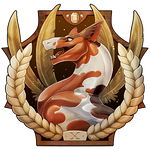 PROMPTS:

The rumors are the colorful male seems to enjoy sunbathing in one of the canyons close to Cadena. You decide to:
Prompt 1 - Investigate by going straight through the mouth of the canyon, looking for the tyrian where he's rumored to be.
Requirements: Draw your Reosean walking through the canyon, looking for Patchwork.
Prompt 2 - Stay outside the canyon, watching from afar to avoid disturbing him.
Requirements: Draw your Reosean hiding outside the canyon, waiting to see if Patchwork shows up.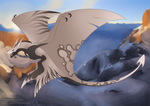 Marrow
>>
POST ENTRIES FOR MARROW HERE
<<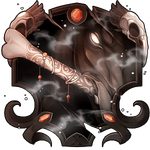 PROMPTS:

Marrow is said to have taken over a vulture's nest high up in the tallest mountains between the capital city of Roenden and Zento. You decide to:
Prompt 1 - Take the safe path, which will result in taking longer to reach your goal.
Requirements: Draw your Reosean taking the safe path, a well-known path in the mountains.
Prompt 2 - Take the dangerous path, which will bring you to your goal sooner, but may end up in a disaster.
Requirements: Draw your Reosean taking the dangerous path which leads straight up the rocky mountains.
---




Current Phase Points: 500/500

PHASE 2 IS LOCKED.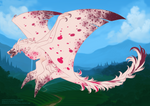 MARVELOUS
>>
POST ENTRIES FOR MARVELOUS HERE
<<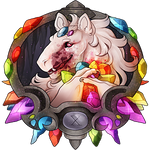 PROMPTS:

Marrow revealed that Marvel nested in one of the cave systems by Girvais. A beautiful, but massive gemstone cave is, likely, where she can be found. Upon arrival to the entrance, you decide to:
Prompt 1 - Take precautions and line your way with colorful rocks, so that you can find your way back out in case you get lost.
Requirements: Draw your Reosean lining their way with colorful rocks.
Prompt 2 - Take the caves head on and believe in your instincts. Surely your feral instincts will be enough.
Requirements: Draw your Reosean taking the cave head on.

Additional background references: Here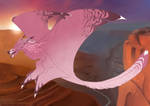 EROS
>>
POST ENTRIES FOR EROS HERE
<<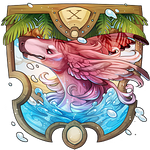 PROMPTS:

Patchwork revealed Eros' location to be south of Thedale. He is rumored to be a calm, gentle presence in the otherwise scorched continent. You arrive to your destination, a place that appears to be an almost mystical oasis. However, the tyrian is nowhere to be seen. You decide to:
Prompt 1 - Search by the water. You're tired of the scorching sun, this is a chance to get a drink as well!
Requirements: Draw your Reosean searching by the water.
Prompt 2 - Search by the palm trees. If anything, this is a chance to rest in the shade after hours of traveling in the desert.
Requirements: Draw your Reosean searching by the palm trees.

Additional background references: Here
---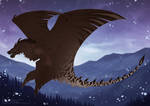 HUND
>>
POST ENTRIES FOR HUND HERE
<<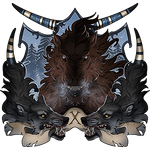 PROMPTS:

Eros forwarded everyone to the Roenden mountains where, supposedly, another tyrian named Hund lives. Unlike Marrow, Hund is supposed to be in the lower altitudes, where the area
is more forested. You arrive to the location.
Prompt 1 - You decide to search in the more open area, a big snowy field surrounded by the forest.
Requirements: Draw your Reosean searching for Hund in the open field.
Prompt 2 - You decide to search within the forest itself, a dense forest made of pine trees that's likely easy to get lost in.
Requirements: Draw your Reosean searching for Hund within the forest.

Additional background references: Here
SOLSTICE
>>
POST ENTRIES FOR SOLSTICE HERE
<<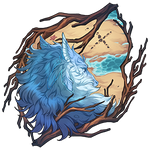 PROMPTS:

Marvelous revealed, that there is a tyrian named Solstice who's location is supposedly on the beach between Warrenfall and the Paradise Island. You arrive to the area, but the coast is massive and the tyrian is nowhere to be found.


Prompt 1 - You decide to search by the sea in case you see the tyrian fly in the open air.
Requirements: Draw your Reosean searching on the seashore.
Prompt 2 - You decide to search by the more forested area, in case the tyrian decided to hide among the trees.
Requirements: Draw your Reosean searching by nearby forest.

Additional background references: Here