Description
Name:
War Bear
Real Name
: Bjørnar
Nickname/s
: Bear, Pillow, Pute
ID
: 880
Owner
:
MookieTheMonster
Gender
: Male
Age
: 23 Years Old
Height:
205 cm
Species
: Vayron
Type
: Puller
Fur
: Lisse
Traits
:
- Draco Ears
- Base Brush Tail
- Feline Eyes
Genotype
: Pec+nDn/hU/nSb/Ma/nTab/nMb

Phenotype
: Umbra Pecan, with Dun, Underbelly, Sable, Mask and Tabby
Purity Trials:
Completed

Training:
Completed

Magic
: Sparked
Low Class
: Hunter
-
ICQ
: Completed
High Class
: Soldier
Crafting Mastery:
-
Alchermy
: Novice
-
Blacksmithing
: Novice
-
Cooking
: Novice
-
Misc
: Master
Citizenship
: Roenden
Political Status
: Paramount
Bonded to:
Sigrid (Kaja) Vollan
Personality
:
Brooding | Grumpy | Protective | Hard-Working | Guarded
"
As if I need another duckling following me, I have two already."
War Bear's Voice
A rather intimidating looking vayron, as his above average height and brooding face are the first things that others take in. He's like a weathered boulder, he won't budge when it comes to what he believes is right, and will strive to complete what he wants. As he names entails, you come between him and his loved ones you will have wished you hadn't. Even with his
I-hate-everyone-attitude
he is a lovable oaf with those he truly cares for, an overgrown pillow you could say. He has softened up, slightly, as his bonded has entered his life and opened a few doors on outlooks of life, especially when they happened upon an abandoned vayron pup to which they adopted and gave him the name of,
Bumblebee
.


Note(s):

-
Bear's Tack
- Has a familiar Paradise Kicuan, by the name of
Amal
(Hope), who was rescued by Kaja as well. She tends to keep to the shoulder of Kaja, or to the top of Bear's head, though she is rather temperamental when it comes to Bear as he's always trying to swat her away from nesting on his head.
- The unique earring set was given/created by Kaja, who gave him the set when they were bonded, and rarely, if ever takes it off unless circumstances need him to do so.
Skills:
-
Scavenger
: Gives 1 additional item upon failing a hunt.
-
Hoarder:
Allows for 2 additional familiars to be added on top of the maximum of 3.
Items
:
♦
Adornments
:
Do-Over Formula;;
Applied on 16 Jan '18
Vaybelline Shampoo
;; Allows for mane length and hair edits on the import.
Holy's Heirloom
;; Allows for up to 3 pieces of jewelry on your import.
Paint Dye
;;
Allows the user to add up to three painted symbols to their
Reosean's import.
♦
Battle
: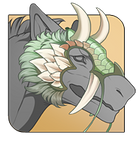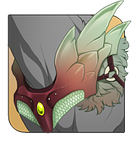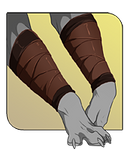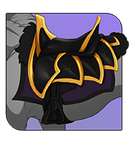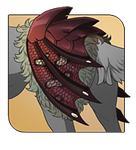 Lineage:
------------------------------------------ SSS: Unknown
-----------------
SS
: Unknown
------------------------------------------ SSD: Unknown
Sire
:
Clyde 740
------------------------------------------ SDS: Unknown
-----------------
SD
: Unknown
------------------------------------------ SDD: Unknown
------------------------------------------ DSS: Unknown
-----------------
DS
: Unknown
------------------------------------------ DSD: Unknown
Dam
: Unknown
------------------------------------------ DDS: Unknown
-----------------
DD
:
Tigerlily 007
------------------------------------------ DDD: Unknown
Design and Import Edits by
MookieTheMonster
Image size
2000x1414px 1.86 MB