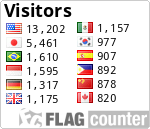 I am a random person who likes to do stuff without any reason.
I am a FFF (Final Fantasy Freak)
I am a Tekken fan and also play it in high (more-or-less mid) levelly
Ever since I watched FFVII: Advent Children for the first time, I wanted to make a similar kind of movie (by that I mean CG) with MikuMikuDance I've been able to do it, a bit to a minor extent. I have plans but not the equipment... Yet, at least.
My passion is Art. There are many kinds of art that I've seen out there like wood craft, metal assemble, landscape drawings and many, many yet to be discovered.
But I'm mainly a rigger now
Current Residence: Balamb Garden
Favourite genre of music: Game Soundtracks and any songs that isn't lame
Favourite style of art: Digital artwork
Wallpaper of choice: Dissidia, KH: BBS, Persona 3, Tekken
Favourite cartoon character: Mukuro, Squall, Cloud, Roxas, Terra, Lars Alexandersson
Personal Quote: If you're reading this now I own your car.
Favourite Visual Artist
my friends ^_^
Favourite Movies
FF7: AC, Tekken: Blood Vengence
Favourite Bands / Musical Artists
Vocaloid, Daft Punk
Favourite Games
Dissidia, KH: BBS, Tekken 6, Catherine, Skyrim
Favourite Gaming Platform
PSP, PS2, PS3, NDS