My commissions are now officially back open.
"But Ren, your commissions have been open this whole time...wtf?"
They have been open, but only in a vague sense. For the most part I was only taking chibi commissions...with a few full body commissions here and there when I thought I had the time. In the meantime I've been re-evaluating my prices and figuring out ways to get more commissions done faster. I've never been very good at time management so sometimes commissions would take weeks and weeks, and other times they'd be done the very same day, which made it really hard to pin down fair prices. I wanted to be affordable but some commissions were so intense that in the end the time spent wasn't proportional to the payment received. This frustrated my wife who has always felt that I haven't charged enough for the work I do. But it was a hobby more than anything so I didn't feel a great need to do anything about it. Now, however, we will be depending on my commissions for part of our income. Plus, with our two-year old running around time is more precious and I can't spend all day for weeks at my computer working casually on commissions. I have to schedule time for art just as if I were scheduling my work hours.
Soooo, what all that means, basically, is that I've increased my prices to reflect the time commissions usually take me to complete. This will help me have a better "turn around time" and it will improve my process altogether. That also means that if I don't think I can complete a commission within the time I'm charging for it I will have to turn it down. And extra detailed requests will have to cost extra for the extra time they'll take to draw.
I've also shortened the list of "won't do's" which means more options for you, the commissioners! Not-Safe-For-Work images, sexy themes, furries and LGBT themes are all on the table (check my new price sheet for details!).
One other thing to note is that I've taken down all commissions and commission related artwork and posted it up on

instead. If you want to commission me you'll need to do so there.
This account is going to be for my personal projects only from now on and I won't answer any notes that relate to commissions anymore.
With that in mind, here is a link to my new price sheet/rules found on commissions-rrart: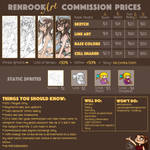 Make sure to look at the new form I require you to fill out when requesting commissions.
I hope to hear from you soon - lets art!
-renrookart