It's
renonevada
again with another
printscommunity
How To feature.

In my previous article,
Prints 101: Editing your Prints
, I broke down the basics of editing your print and gave you a n introduction to the Adjust Image tool. With this one, I am going to go into more depth, as there are some things you can do that are not immediately noticeable. I promise to do as little rehashing as possible, so if you have not checked out that previous article and are not comfortable with our prints tools yet, I would suggest checking it out.
Here is the Adjust Image tool, which is found by clicking the Adjust Image button on the Edit Print page.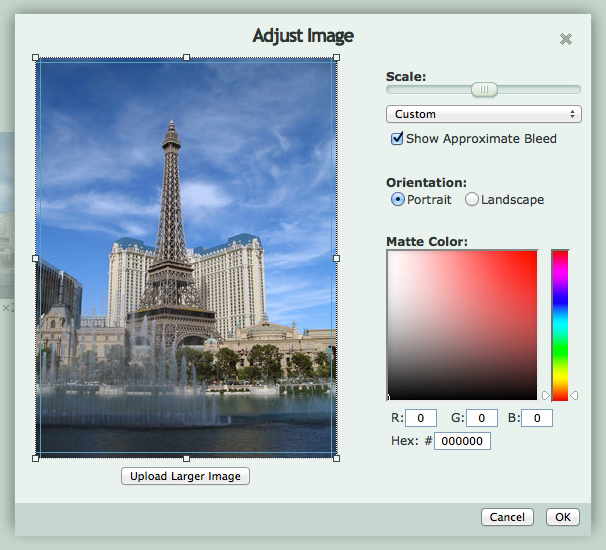 Funky Little White Boxes

The first thing I want you to notice are the small white squares around the image. You can click and drag the squares to crop your image, if it is necessary.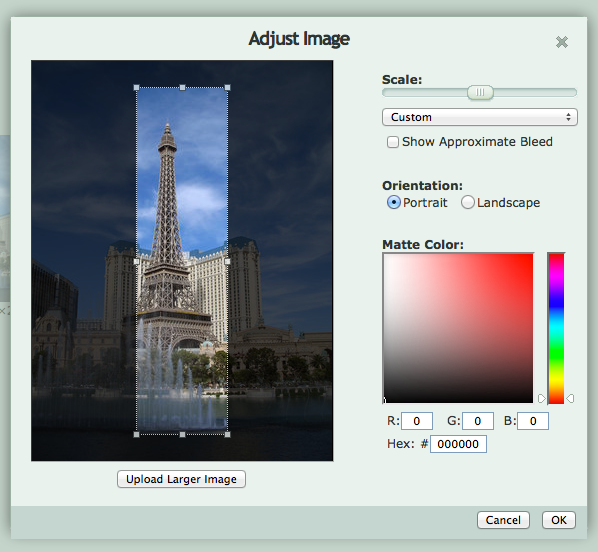 Anything in the darker area outside the selection will be cropped out of the image. In the picture above, you can still see the full image while you are adjusting your crop to ensure that it looks its best.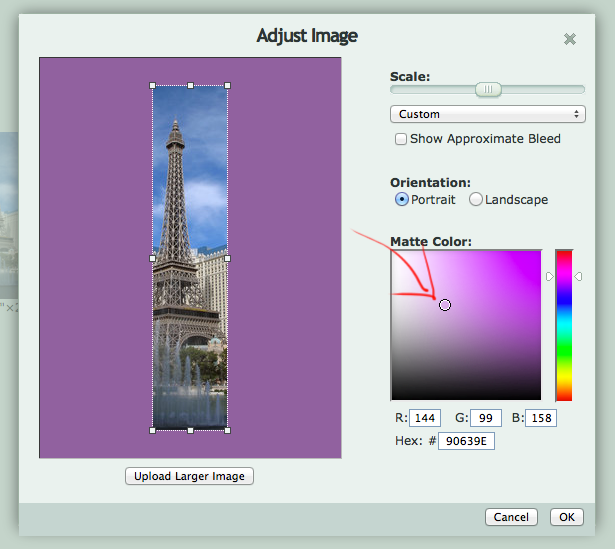 Once it has been selected it will look like the above picture. The purple in the example is chosen to the right of the image where the arrow is pointing and can be adjusted to whatever color you wish.
I recommend black or white for the most pleasing and purchasable prints, but on occasion I have seen other colors look good.
OK, so that crop looks terrible. I'm going to drag the white squares back out to the full image again and try again using a different feature of this tool.
Scale Slider and Menu (AKA Your Prints BFF's)

The Scale Slider is the easiest and most efficient way to make sure that your image is not being cropped and can look its best. It is simple and quite powerful.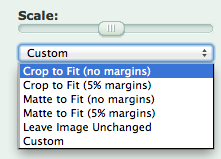 If you slide the scale to the left, it will make your image smaller. Slide it to the right and it makes it bigger, potentially cropping part of the image.

Above are two extreme cropping examples. The black is chosen by the matte color picker. For the other image, you can see how much will be cropped off if I actually did choose that magnified size.
Once zoomed in that much, I am able to drag the image around until I find the perfect crop. In this instance we can assume that I wanted to remove all trace of the Bellagio Fountains at the bottom of the image and focus solely on the Paris Hotel and Casino.

If I scale it down slightly, I can then have room for a border by dragging the Funky Little White Boxes in a bit.
If I click Landscape and adjust the image slightly, I can have a completely different image of the Bellagio fountains!
With the drop down menu, labeled above as Custom, you can take an automatic approach to adjusting your prints.

I'll choose Landscape orientation as it is a more dramatic example. And if you know me, you know I love the drama.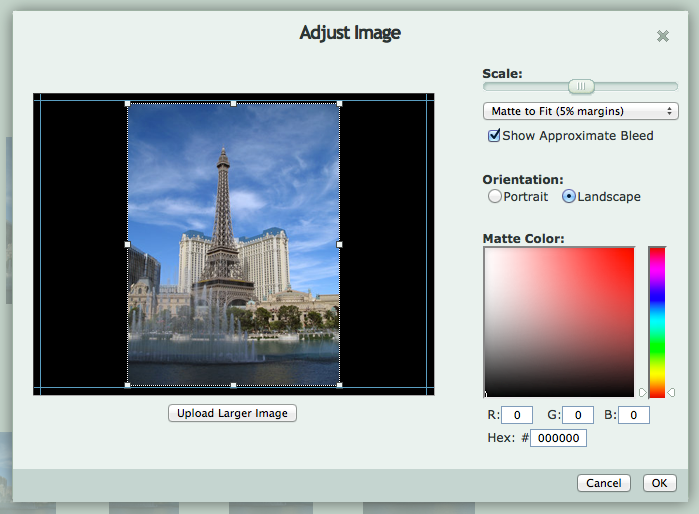 In this example, I have chosen Matte to Fit (5% margins) which gives me a small border on two of the sizes.

Matte to Fit: Your image will not be cropped and every bit of the image will show, regardless of the extra space around it.

Crop to Fit: This will cut off parts of the image in favor of no borders or matting. Just your art from edge to edge. To edge. To edge. A print has 4 edges, after all.
The image after choosing Crop to Fit.

Please always makes sure that your print image resembles the deviation as much as possible.

Borders Make Larger Prints

There's one last thing that I would like to show you. This print, as it is sold in the shop currently, is not large enough to be sold at our largest size as it was taken with an older camera of mine.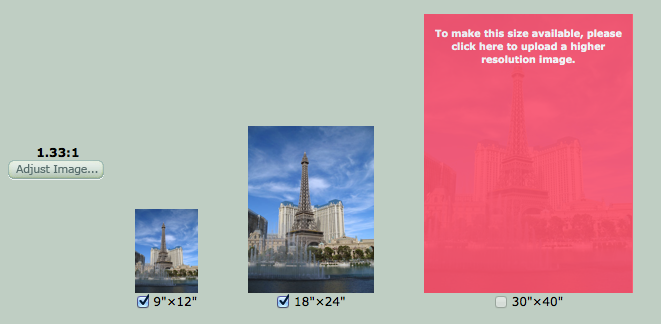 By adding a border around the image in the Adjust Image tool, I am able to have this print in the shop at the 30x40 size.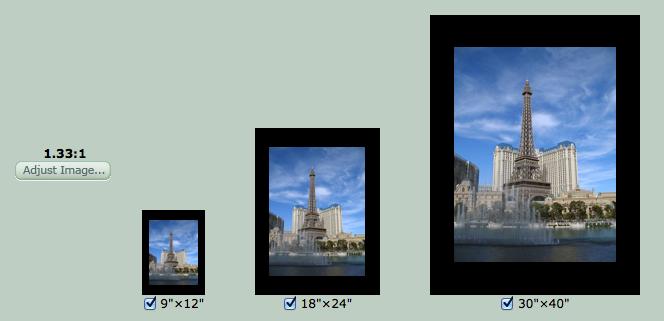 Remember that this does effect every size of print in that image ratio. It may also not be the most pleasing thing if you require an oversized border.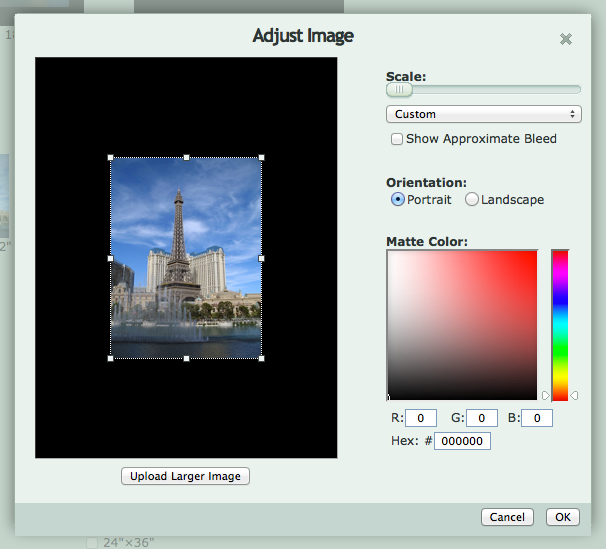 Before doing something so drastic, always think "Would I spend money on that?" For me, personally, that would be a no.
Matte Color Choices
We have three different ways of choosing a matte color to make things as easy as possible. These are found in such programs in Photoshop, so you can easily pick the exact color you want in those programs and put in the required information.
The larger color picker where you can eyeball the choice.
The RGB picker is used if you have a specific color in mind and have the numbers to add.
You may also enter the Hex number to pick a specific color.
I hope you have enjoyed this article. If you have any questions about this or would like me to make an article of a different topic, please respond below.

Visit Prints Shop