May I introduce you to our next product, our Fine Art Canvas Prints!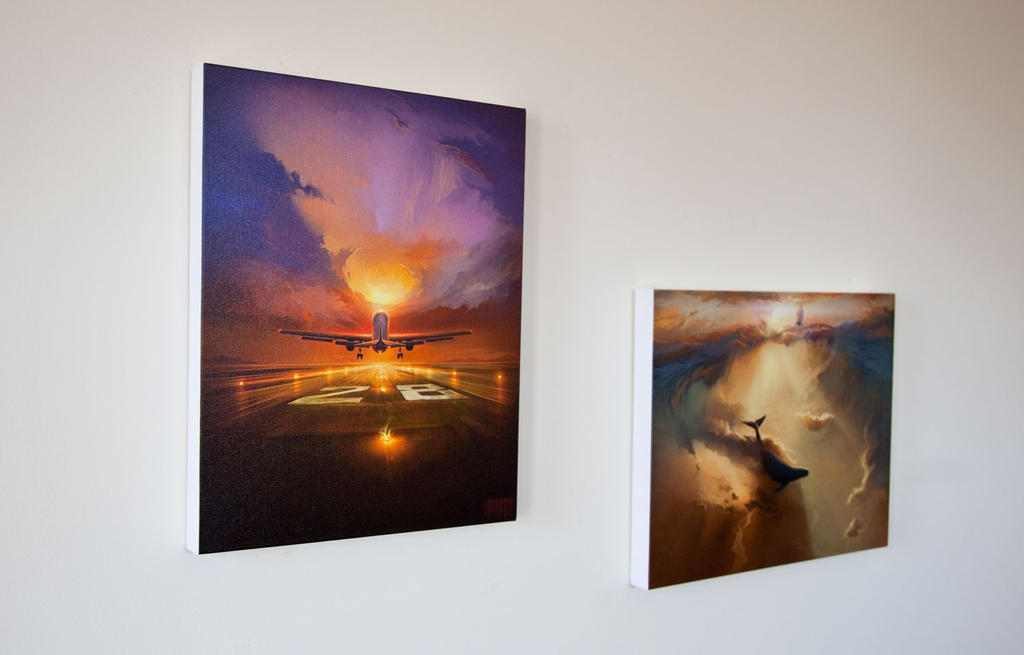 What are Fine Art Canvas Prints, you ask? Great question! Canvas prints are high quality prints that are printed directly onto canvas, just like artists paint on! This will give it a terrific texture and feel that you just do not get from our
Fine Art Paper prints
.
Here is a close up shot of what the texture will look like.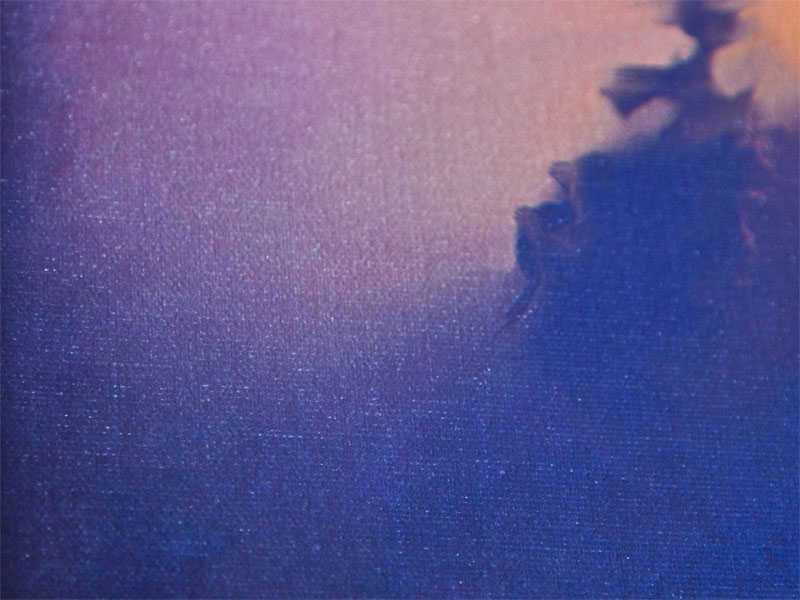 You can click on this image to view it a bit larger, if you wish. It is a fine texture that will not interfere with the look of the art.

Here is a rundown of the stats for printing our Canvas products.
Epson Gloss Solvent Canvas (Bright White)
21 mil Poly Cotton thickness
35% cotton/ 65% polyester blend
GS600 Epson Solvent Technology
Basically, this list is saying that our Canvas prints will look amazing from far away and close up.
Gallery Wrapped Canvas

Our Gallery Wrapped Canvas prints will come pre-stretched on an all pine
Stretcher Bar
and will be ready to hang on your wall, as shown in our first image at the top of this article.
The image will be wrapped to the very edge of the front of the canvas frame and will
not wrap around the sides
. Below is how the wrap will look.
Rolled Canvas
Rolled prints will, of course, come to you rolled in a sturdy tube. If you wish, you can stretch the prints onto a stretcher bar yourself or have a local frame shop do it for you.
For countries where shipping may be very expensive for a canvas print that is already wrapped, this may be a cheaper alternative.


There's approximately 1.75 inches added to the edges of the image, which extend to the thin black line that you see in the above image. That space can be used to wrap the image onto a stretcher bar so that the sides will be white and clean.
The canvas outside of that line has standard logos and printing information. The black line and everything outside of it will end up being trimmed once the image is stretched and mounted onto a stretcher bar.
Framed Canvas
Our Framed Canvas prints are similar to our Gallery Wrapped prints, as they are stretched onto a stretcher bar. We then go the extra step of adding our Art Block frames for a terrific combination.



The Packaging

As you can see from the image below, we do not hold back at all when packing your order. We want to make sure that it arrives as secure and as safe as possible.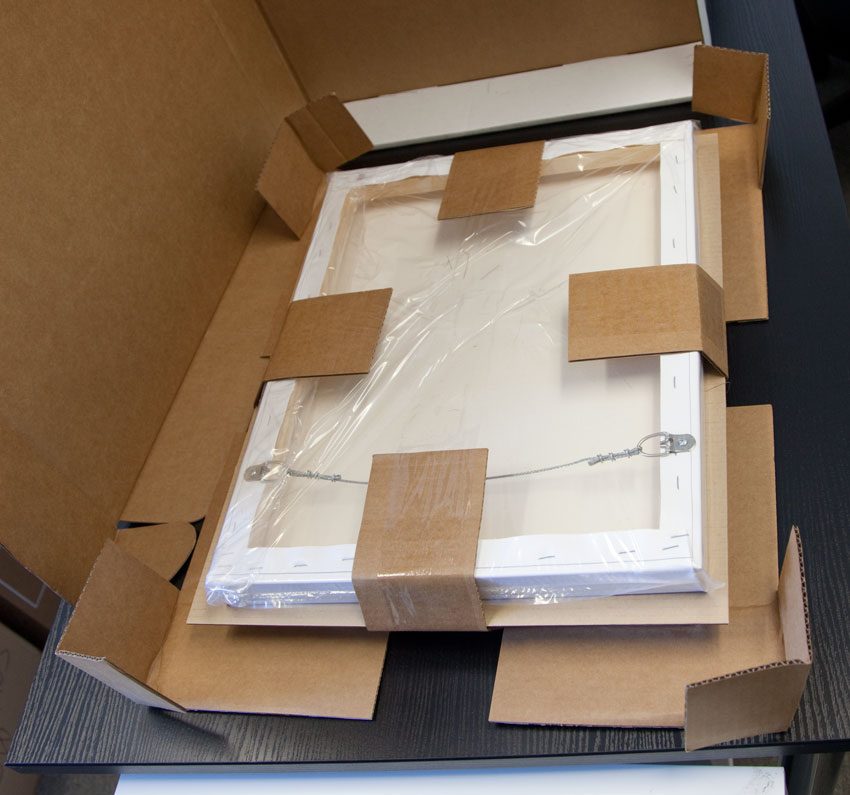 First, the prints are wrapped in plastic. Second, there is cardboard placed over the front of the frame, then wrapped around the back and secured with an alarming amount of tape. My favorite amount! This piece of cardboard is a couple of inches larger than the frame itself to give it an added safety bubble around the prints. This means that even if the postal service crumples the edges of the box while playing their own version of
Caber toss
, your prints will arrive safe and secure.
Our hanging kit is a small hook that can be attached to the wall. A wire is attached to the back of the print so it will be ready to hang.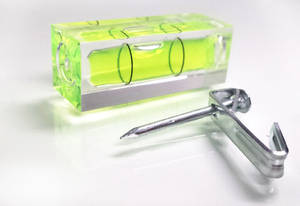 Small frames Large frames
Our Rolled Canvas prints will be well protected, as well. When shipped, the print will come rolled into a very sturdy tube to make sure that your print is not damaged when it gets to you.
These tubes ARE
STURDY
. I put this in my previous product spotlight, but as we use the same tubes, it is twice as relevant!
Last year when we got the tubes we smacked them around and hit a few balls with them and we didn't see a dent on them!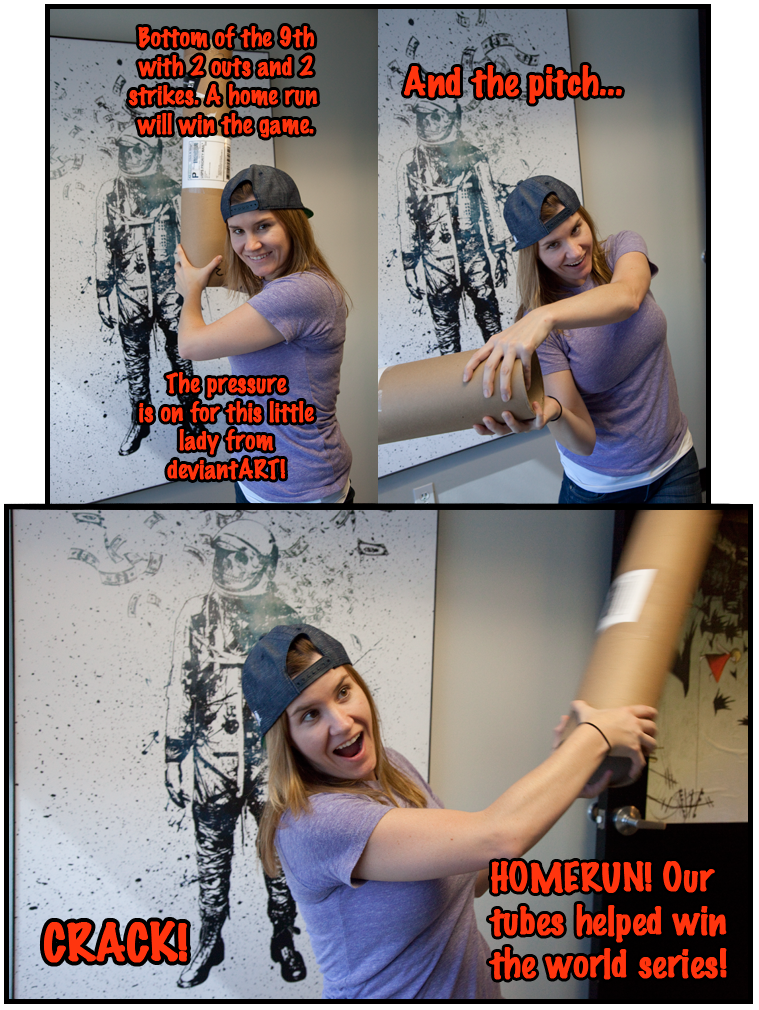 Modeled by our very own
codenamepanther
who helps
make our prints be the best they can be.
I hope this Product Spotlight has been helpful to you. Our Canvas products are an excellent print option that will look great on any wall for many many years to come.
Visit Prints Shop