Hello, everybody! I'm
renonevada
. For those that don't know, one of my jobs here at deviantART HQ is as quality control for prints. I look at every print before it is purchased for the first time to make sure that it will print properly. Some of the things I look out for are copyright infringement, cropping, pixelation, and to make sure it doesn't violate other policies, such as being too pornographic.
I plan on making a series of journals explaining how to make sure your prints will be approved when they get to me. I know that I'm excited to see the notification letting me know a print has been sold and I want to do what I can to make sure you all see it, as well.

For this journal, I want to speak about
Cropping and the Bleed Edge
.
This is hands down the number 1 reason why I am forced to reject a print, which in turn will cancel a sale. Because of this, I have tried to make this journal as detailed as possible.
BLEED EDGE
The Bleed Edge
is the very edge of an image which could potentially be trimmed.
A longer definition is that when, say an 8x10 inch print is printed out, it comes out slightly larger than that 8x10. When cut, the image will be shown all the way to the very edge of the print without any borders. Doing this will shave off the very edges of the print.
We can give you an estimated bleed during the prints upload and editing process, if you are interested. Here is a screenshot of what that looks like with the Approximate Bleed option checked and circled in red: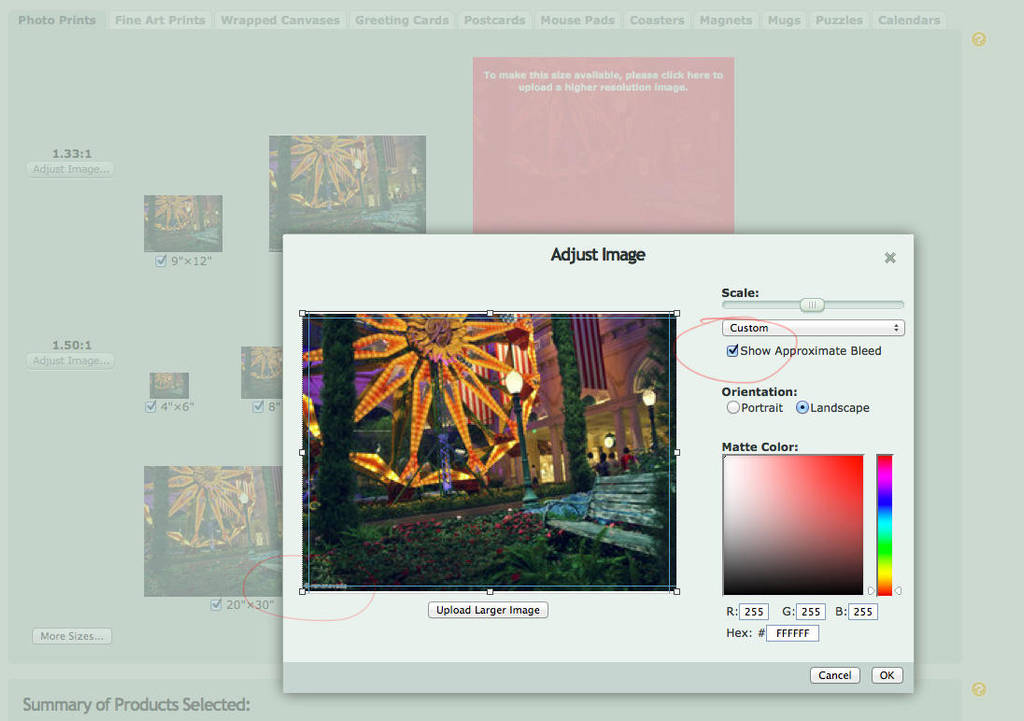 As you can see, there are a small set of lines around the edges. This is about where the print will be cut when printed. I have also circled the copyright, which is showing as directly in the bleed.
If an image is added into our shop with this crop as illustrated below, it would be rejected as the text could be cropped as it is in the bleed.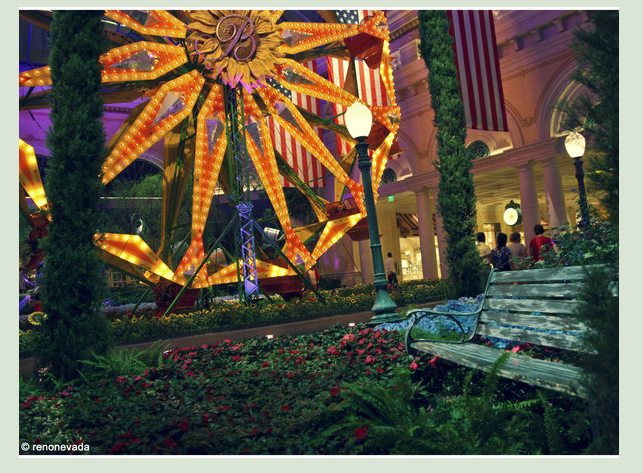 Here is a 100% crop of the image illustrating the bleed edge for this print and what will most likely be cut off.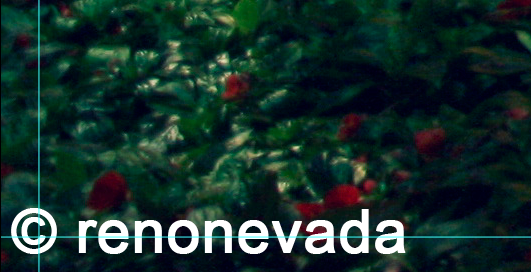 This can only be fixed by moving the copyright logo up slightly through your favorite image editing program.
REMEMBER to always keep an

untouched version of your art!

It may come in handy one day. They sell 3 terabyte drives very cheap now, so there should be no excuses when it comes to this.
CROPPING
The next part is Cropping.
I see a number of images every day where signatures or other text elements are cropped when they do not need to be. The image in the shop ends up looking like this: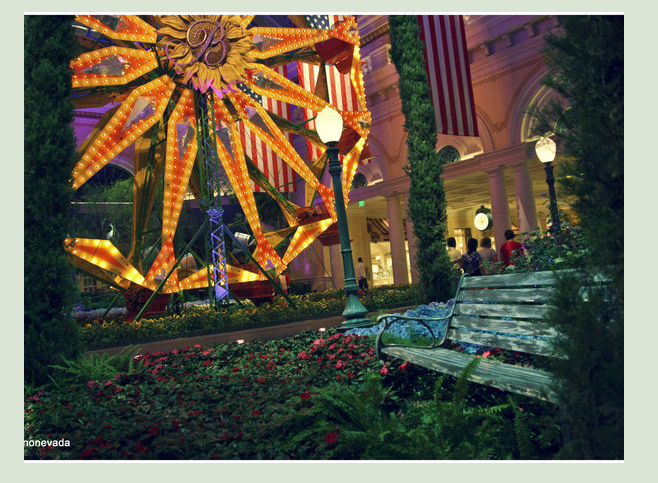 Do you see the text on the bottom left? That should read "(c) renonevada" but only the "nonevada" is showing, so I would need to reject that if it were ordered.
To fix this:
First, edit that product and move the image so the entire copyright is shown, as illustrated below: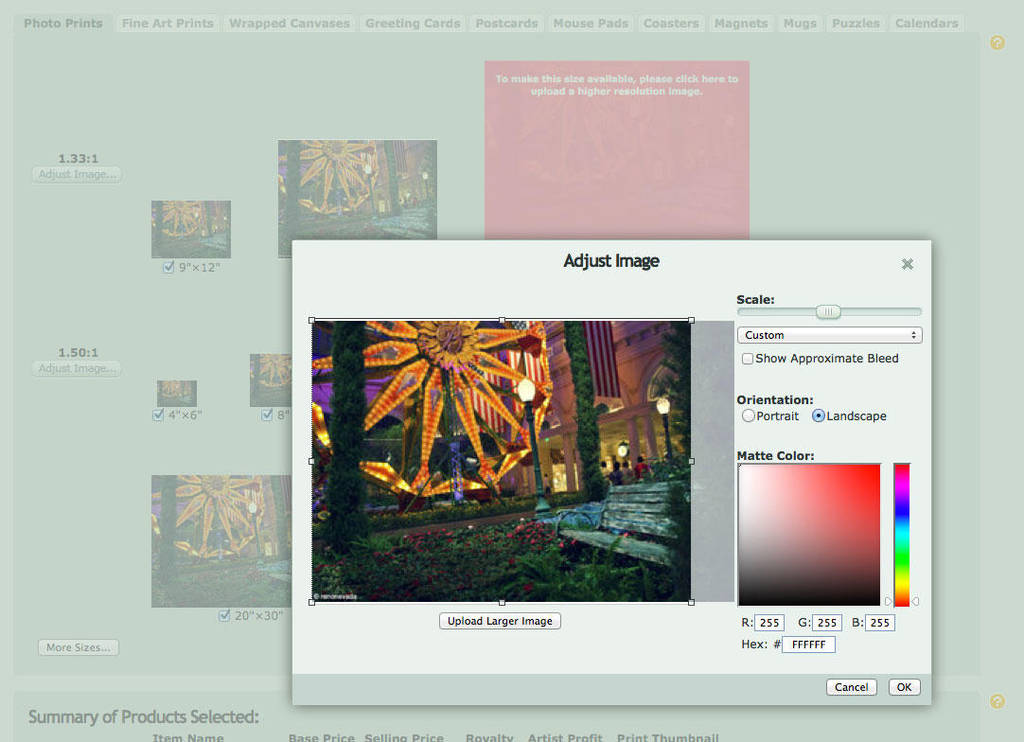 As you can see, it is pulled all the way over to one side, cropping the light gray area shown on the right of the image.
When the print is added back into the shop, the entire copyright/signature will be shown.
Here are a few FAQ's if you would like to read more about the bleed edge and proper cropping:
FAQ #298:
What is a bleed edge and how do I use it when preparing my artwork for printing?
FAQ #576:
Where can I find templates to help me size my images correctly for prints?
I hope this first journal in a series has been helpful to you. If you have any friends with prints for sale and you see this error, point them to this article as they may have no idea their prints are cropped in such a way.
If you have any questions about this or would like to request topics for future articles, please feel free to post those below in the comments section.
Visit Prints Shop