Hello again, it's
renonevada
with another article about how to make sure your prints are the best they can be.
This time I'm going back to Prints 101 and tell you how to edit existing prints and add prints to deviations that already exist. This is a frequent question in the Help Desk and in the
printscommunity
.
Most of these instructions will apply to submitting a new deviation as well. A brief article was written about new submit here, if you would like to check that out
here
.
Editing your Print

If you have a deviation with a print already enabled, you will see the button below right on the deviation page, which looks like the image below.



Click that button and you will be taken directly to the Edit page for that print.
You will notice that a few sizes have been pre-selected for you. Those are defaults that deviantART chooses based on the size of your print for best fit.
1- Product Tabs
At the top of the page, you will see a tab for every prints product that we sell. You will need to click each of those tabs to add your image to them. Editing a Photo print will not update the Greeting Card.

2- Adjust Image
If you click the Adjust Image button, it will take you to a page where you can edit your prints cropping, matting size and color, as well as adding a different print source file.

A: The image. From this field you can make sure the image shows as you wish it to. The print will have the same crop as shown here, so make sure it looks right.
B: Upload Larger Image: If necessary, this is where you can upload the print version of your deviation. It may be a higher definition image, or possibly just one without any watermarks. The source file you upload will stay in the Uploader field, so you can choose it as many times as you need.
C: Scale and Bleed: The slider will grow or shrink your image. The dropdown menu with default Custom have a few preset cropping options to choose from. The Show Approximate Bleed checkbox will add a small set of lines around the edges to make sure nothing will be trimmed when it is printed. Click here for an article devoted to Cropping and the Bleed Edge: fav.me/d6fbzvq
D: Orientation. By default, this should be set appropriately. If not, you can choose the other orientation to make sure your print fits correctly.

E: Matte Color: If your image does not fill 100% of the print in A, a color will be added in place of the art. In this instance, the very top and bottom of A is white, as the rest of the image is white. You may select your color in multiple ways, whether it is through the color picker, RGB code or a Hex number.

This will need to be done each time you see the Adjust Image button.

3- More Sizes
You may add other image ratio's other than the default ones deviantART gives you. By clicking the More Sizes button, you are giving a list of every size we offer for that particular product. Make sure that when choosing sizes that no critical elements are cropped off. The best way to gauge it is to think "If I was a buyer, would I want to buy my print looking like that?"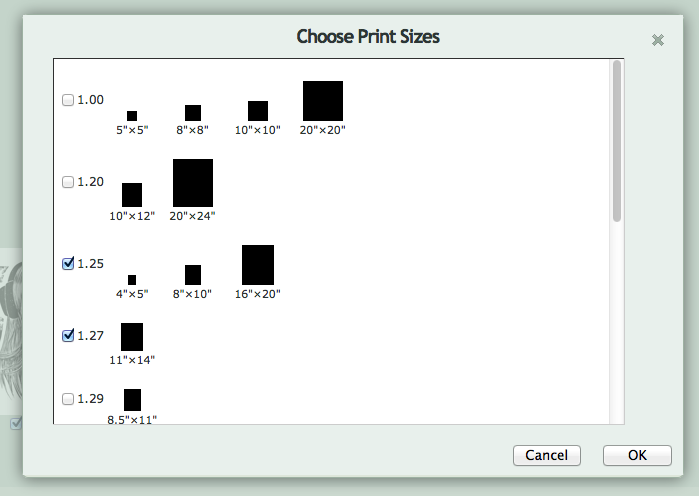 For example, the 1.00 image ratio, as shown in the image below, is a full square. As my image is taller than it is wide, choosing the 1.00 size will mean I would need to add extra matting around the left and right sizes, making the print have a lot of blank space on each side, or I would need to crop the top and bottom of the print to make it extend to the very left and right. That is not an appetizing idea for me, so I choose to leave that ratio unchecked.
Here is an image illustrating that 1.00:1 crop.
It looks terrible, doesn't it?

Adding a Print to an Existing Deviation
If you do not have a print already set up, you can still join the party! On the deviation page, you will see a link that looks like the one below:

If you click that link on your deviation, you will be able to follow the rest of the steps as illustrated above to submit your print.
If you have uploaded a small preview image, you will need to follow Step 2 to edit each product with a larger size and follow B in step 2 to upload a large print file to each print product.
Remember
The print will have the same cropping as what is shown in the Adjust Image field and in the shop once it has been submitted.

Editing a single prints product will not update any other products. If you have a new version of the image, you must edit each product separately.

You will receive a notification in your Message Center once the print has updated and is showing in the shop.

If a print was previously approved, editing a print will put any products edited back into an Awaiting Approval state.



Visit Prints Shop