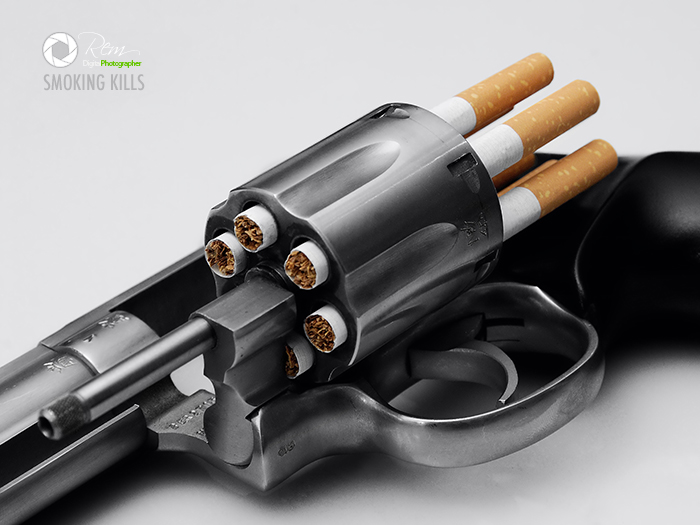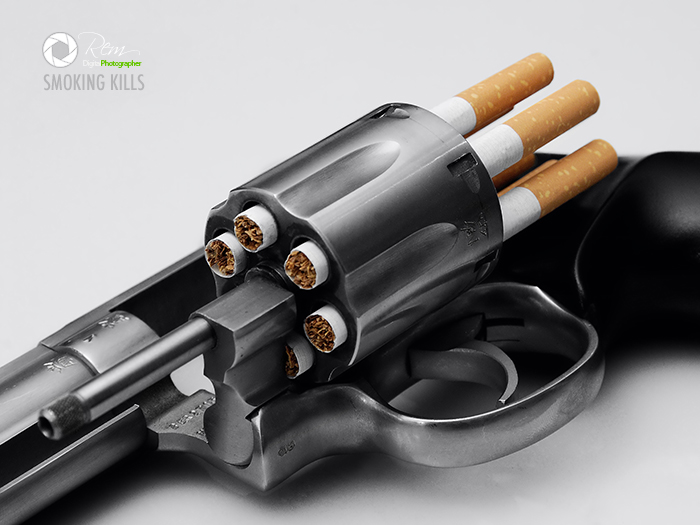 Watch
SMOKING KILLS
Guess the picture speaks itself...
Watch your lungs !!
Print available on
www.remigarcia.com


Copyright protected
Daily Deviation
Given 2009-11-09
SMOKING KILLS
by *
BugS22
is an often thought of concept, carried out in a very unique way. It really gets you thinking. (
Suggested by

ramaeschlimann

and Featured by PorcelainPoet
)
the thing i love about Smoking Kills is that it imbeds the idea of what you may as well be doing if you light up. no words needed for this piece, it speaks for itsself. Sending a powerful message to all those people who are considering lighting up and something i'd like to see in my school's newspaper adds to reduce the amount of kids slowly committing suicide. its a beautiful revolver with a simple background. bravo!

The use of smokes as bullets also frightens me to think that the habit i have is affected in such a way as this. But put a gun to my head then because Smoking Kills may be what makes me break a habit

The Artist thought this was FAIR
318 out of 338 deviants thought this was fair.
True as true can possibly be. I've lost so many people thanks to cigarettes. People say, "It relieves my stress." Or, "It calms me down."

But what people DON'T tell you is, "It's killing me, slowly." Or, "It's ruining my life." Because smoking most certainly can ruin someone's life. It can chase away your friends. It can scare away your loved ones. It can do more harm than good.

What smokers don't care about, though, is that it's actually much harder than it looks to quit smoking. They believe in their hearts, "Oh, I can quit whenever I want. It's easy~" and then, when they're diagnosed with Lung Cancer 30 or 40 years later, they think back on their lives and ask themselves, "Why did I start in the first place? Why did I pick up a cigarette?" And most of all, "Why can't I quit on my own?"

Smoking is pretty much the same as suicide. You're inflicting the death on yourself. The only downside to that fact is that it's not only killing yourself, but it's killing the people around you as well.

So in essence, you're not only killing yourself, but you're murdering the innocent nonsmokers around you. Suicide and murder. It's about as easy as picking up a gun and going on a mass murder, then killing yourself because of your clinical depression and mental instabilities.

All in all, I believe this picture shouts out the lesson many can't seem to realize: Smoking does kill. Not only yourself, but those you love and those around you, as well.

Good job. I think this picture has been one of the best depictions of that phrase, "Smoking kills." Thank you for sharing this to the world at large. And thank you for caring.
The Artist thought this was FAIR
196 out of 209 deviants thought this was fair.
The owner of this deviation has disabled comments.