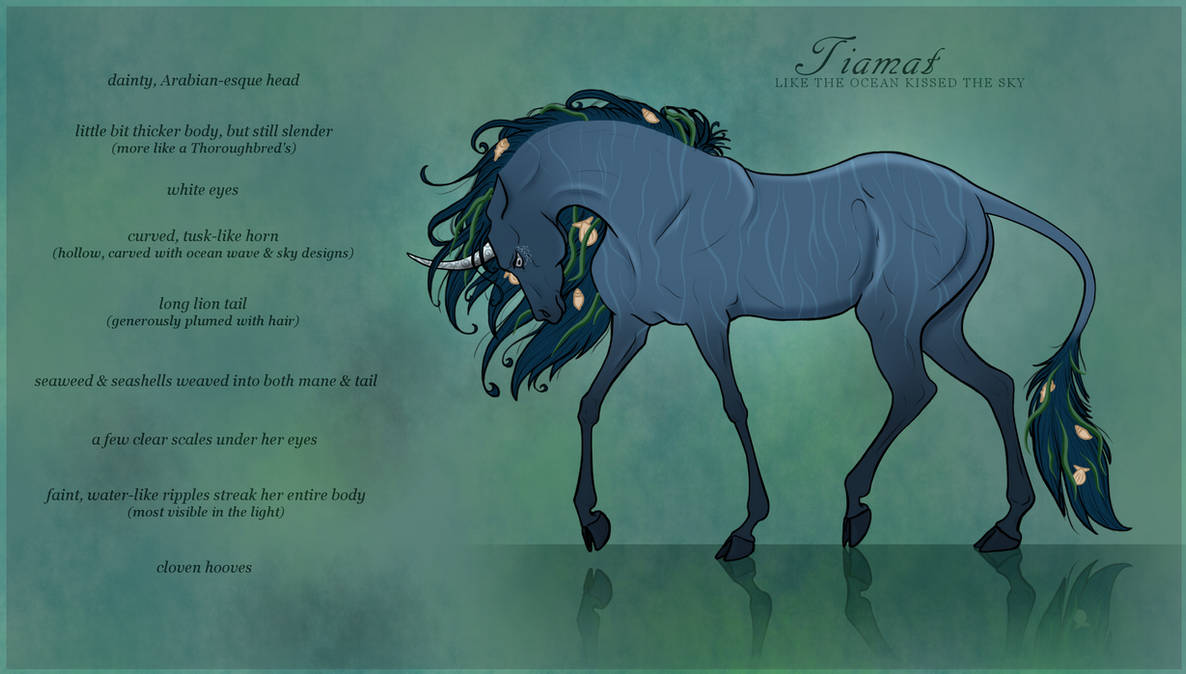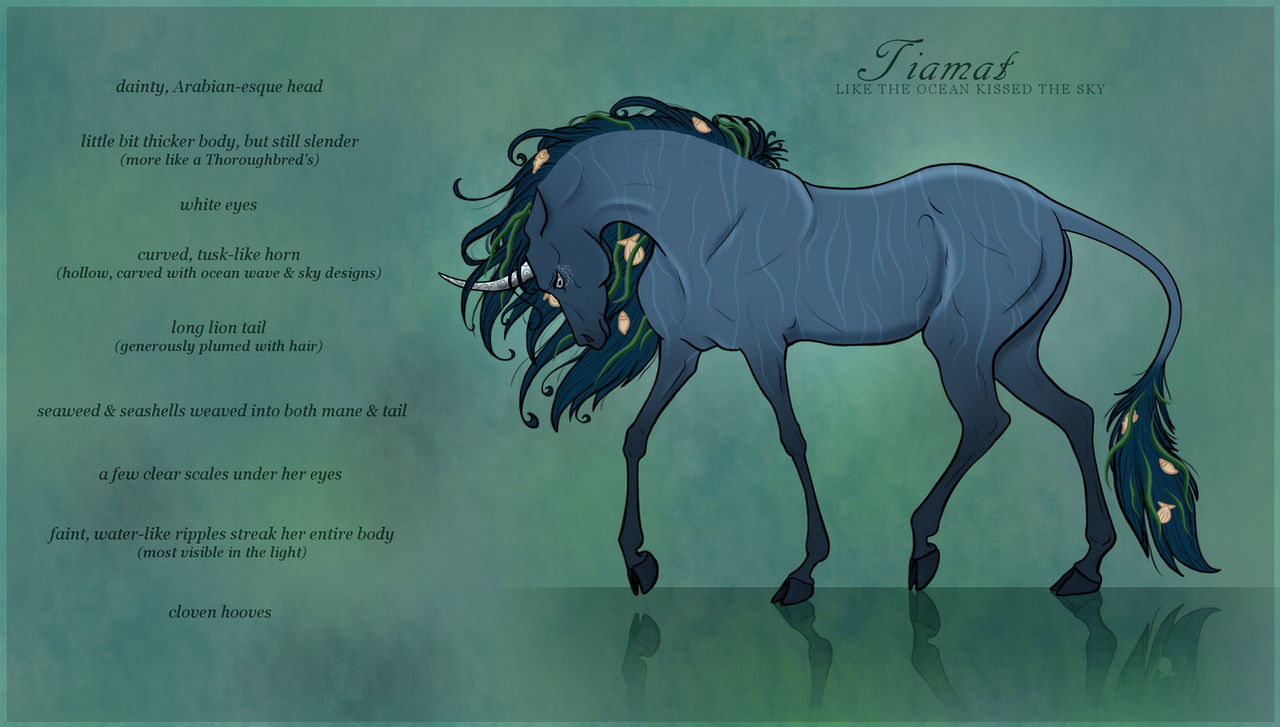 Watch
"
Like the Ocean kissed The Sky, a
t the most beautiful place under the sun,
For true love is so hard to find,
but we just keep searching,
for our soul can be complete
It's in that lovely special place,
of bluest of blues which are both under
the sun, that gives you so much beauty
It's where the ocean and sky
never ends, kissed by the sun over and
over again.
Our hearts come together to
kiss like the ocean kissed the sky,
for our hearts are like two large waves
falling on one another over and over
again.
As I swim and you fly,
we will meet at
where the ocean kissed the sky.
"

— Randy Hogan
Breed:
Anglo-Arabian
Gender:
Mare
Race:
Unicorn
Horn:
Tusk-like and sharp; ivory in color, hollow, and carved with ocean wave and sky designs
Eyes:
Both are white, with some blue around the edges
Mane:
Long and flowing; dark blue, adorned with seaweed and shells
Body:
Buckskin; a light blue with darker blue points
Hooves:
Cleft, dark blue
Markings:
A few clear scales around her eyes & in the light, faint water-like streaks lace her entire body
Tail:
Long, generously plumed lion tail; dark blue, adorned with seaweed and shells
- - -
Tiamat has all the refinement of her Arabian ancestors, but isn't quite as delicate. She has a slender but well-shaped body, a deep chest, and good bone. Per breeding, she has the endurance of the Arabian, as well as the speed and scope of the Thoroughbred. Her head is very fine, similar to an Arabian's, but not as "dished" in profile. She is on the smaller side for her breeding, standing at a moderate 15.2 hands. Overall she is obviously feminine, with a cherubic quality that she will likely never lose.
Her horn is shaped like a tusk, and is hollow with ocean waves and sky designs carved on its surface (very similar to
this
, but sharper and with the proper patterns etched into it). Other notable markings are the water-like ripples that shine along her body, and the scales under her eyes.
Personality:
Tiamat, having forgotten her true past, has created around herself an idea that she is the child of nature. Although she understands the concept of traditional birth, she does not believe to be physically birthed by the sky—she considers the event of her birth to be her awakening in the aftermath of the storm, and does not concern herself with how she came to the world prior to that event. Spiritually, the ocean and the sky are her parents, and it does not occur to her that she is different in any way for not having a traditional mother and father. That being said, Tiamat also does not consider herself better, more special, or different than any other creature for her parentage. In her beliefs, all are born equal. She similarly believes that everyone has spiritual connections to the land, but that not everyone remembers them, or stays in touch with them as she does.
She believes the
ocean
to be her
father
, and her
mother
to be the
sky
. She imagines that her mother watches over her always, but that during the night, her
sisters
the
stars
emerge. During the day, she finds comfort in her other
sisters
, the
clouds
. Though her father's influence stretches along the shore, his inland children—the
lakes
,
rivers
, and
falls
—are her
brothers
. She sees the
earth
itself and the life growing from it as a distant set of
relatives
, to whom she is not as connected to, but respects nonetheless.
Tiamat also values knowledge, and seeks after it as much as she can. She is a gentle soul, with only the purest of intentions, and dearly wants to help those around her. Her heart is innocent, well-meaning, and generally clear with her emotions. Many find this childlike lucidity about her endearing, even charming—enjoying her carefree and adventurous nature amidst the darkness that often plagues their minds.
____________________________________________________________
Figured I should get something official for her up xD isn't she pretty?! My lovely ocean baby

Special thanks to
rheall
for the beautiful lines!