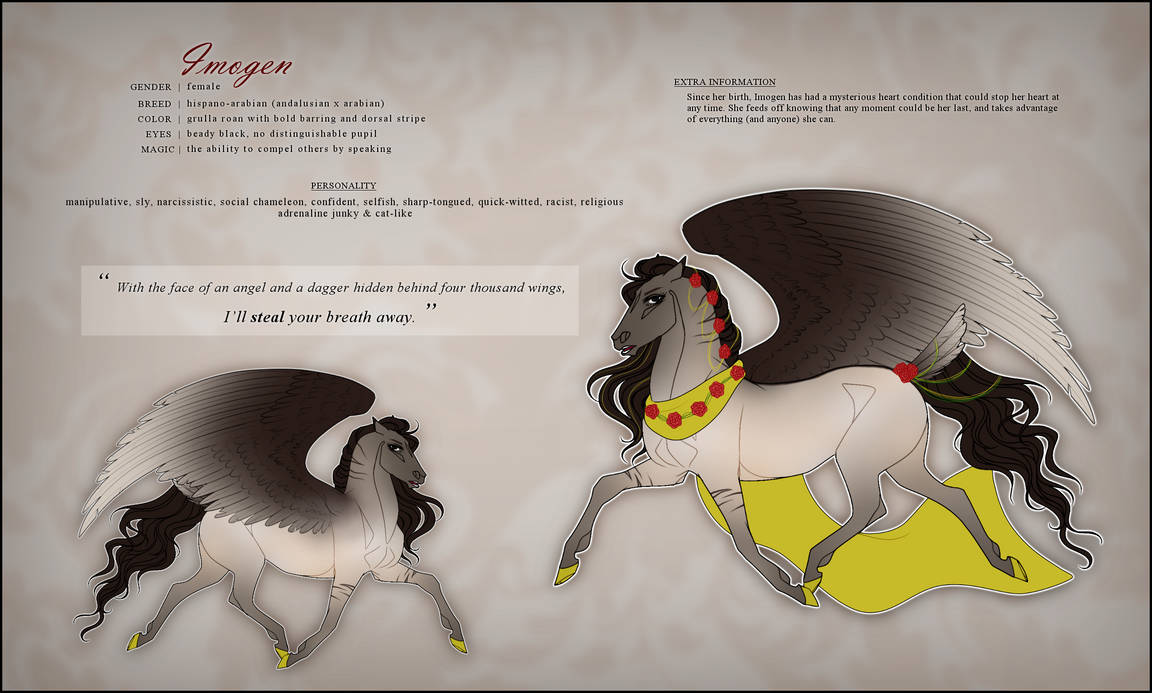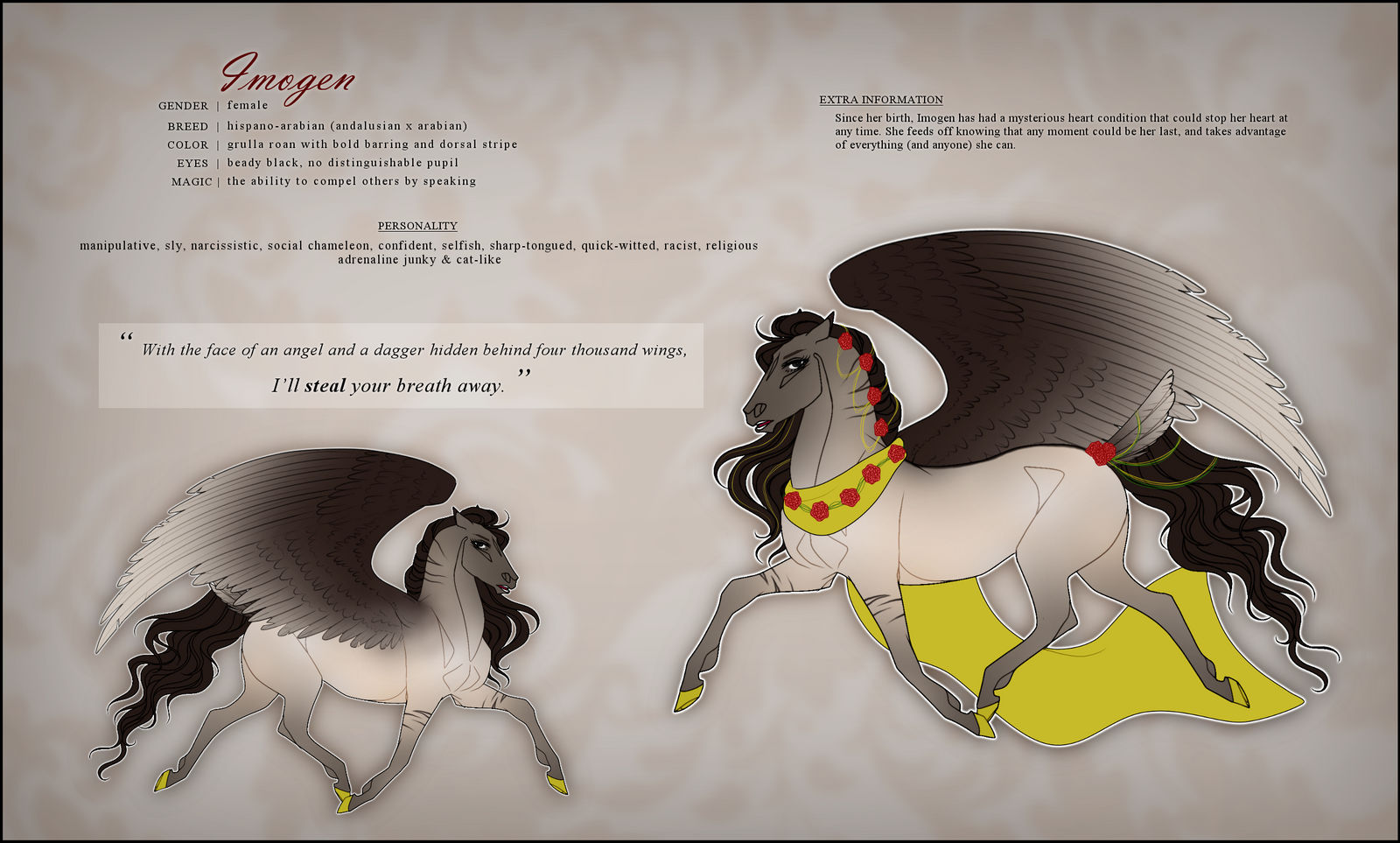 Watch
"
Baby I'm preying on you tonight;
hunt you down, eat you alive.
Just like animals.
"
— Maroon 5
Breed:
Hispano-Arabian
Gender: Mare
Race: Pegasus
Wings:
Large and feathered; they're a dark dusky black, with the primaries and secondaries gradually fading to a pale cream (similar to her body)

Eyes:
Beady and black, with no distinguishable pupil
Hooves:
Normal, gold
Mane:
Dark dusky black and extremely long; adorned with roses and gold chains

Tail:
Dark dusky black and extremely long, with feathers growing at the dock; adorned with roses, gold chains, and vines
Body & Markings:
Grulla roan;
bold barring on her front legs and either side of her neck, prominent dorsal stripe
- - -
Imogen draws heavily from her Spanish heritage. Essentially she looks like a small, slender Andalusian, with more refinement and definition to her figure, thanks to her Arabian blood. However, she has no "dish" in her face, but has large eyes and delicate, almost sculpted lines to her features. Her movements are a beautiful marriage of grace and athleticism, with her body built nimble and slight.
Personality:
• Very racist
• Very religious (with the Old Religion)
• Sneaky and manipulative
• Cat-like
• Narcissistic, attracted to "shiny things"
• Adrenaline junky
• Social chameleon (expert in putting on a charade)
• Confident and selfish
• Sharp-tongued and quick-witted
Her Items:
• Gold Cloak; Lightweight, sturdy cloak with a subtle shimmer; fastened around her neck with a string of red roses.
• Mane Jewelry; Several red roses strung across her neck on thin gold chains; chains fall over her crest and blend into her mane.
• Tail Jewelry; A small cluster of red roses that sit on her dock, strung with three sets of thin gold chains and vines that loop around the tail.
____________________________________________________________
Finally an official reference!

Special thanks to CrystalUniicorn for the beautiful lines!

Also to
alimarije
because I heavily referenced the premade she made c:
Imogen's design was made by
DarkriseDivine


Oh wow she looks so beautiful!! I am so happy to see her being loved (i honestly adore her personality xD) and i totally love what you've done with her tail, tail feathers are so cool but i dont normally have peggys xD
Reply

Ah I had meant to add you designed her! I'll do that now XD
And thank you!! I really adore her, thank you for making a design so gorgeous

Reply

Thank you for the tag! She looks amazing

Reply