Week 5 (Mar 3- 9) of Pokemon as realistic versions as themselves, didn't want to exclude them from the other Fighters that are now Pokemon. I just decided to do all the Pokemon at once. As close to Animals as they could, but I guess these designs could be more for the Live-Action series maybe, like Detective Pikachu. Had to look at a lot of resources to design and detail them.
I have no idea what to do for the Trainers...
Hope these designs interest you, and if anyone wants to see more of our project's progress, ask about our Discord
What is your Smash Main? My is Ike and Yoshi

Week 1
Week 2
Week 3
Week 4

Update: I decided to spend 4 days coloring this work- www.deviantart.com/rekstheenig…
Image details
Image size
3720x2160px 9.56 MB

Woah, I did not expect you of all people to notice.. I'm actually having a hot flash cuz you're one of my art heroes.

Did I make that weird....?

Generally I type as if I'm actually speaking, and with enough honesty.

It might make people remember me better. And I do love your work. I just don't it often

I don't know, but I think that it would be an imperfect giant humanoid Fetus of a Cat/Kangaroo thing. Like the Orphan of Kos from Bloodborne. Ironically, I didn't use him as reference.
But I did use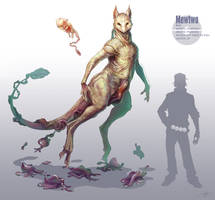 and
www.pinterest.com/pin/31475946…
While trying to still have that cartoony aspect like in Detective Pikachu. But I.. ha-he. I don't know guy, which would you have preferred?