WELCOME TO MY
DEVIANTART PAGE!
About me
I'm games dev student, tech enthusiast, a cuddly Red Panda! I like doing art and mostly do it when I feel like it
Inspiration normally come to me when on demand just at random times, also I am set to improve so fell free to put recommendations and possible improvements on my art!
Contact
I have a few sites that I keep upto date...
Twitter
and
FurAffinity
Steam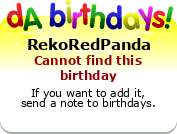 Gifts are for friends only!
Motivation and ideas doesn't come easy to me so only have give gifts to a select few people in the past, it's not like I don't want to draw anyone but I just don't know how! >.<
I don't do commissions.
I know i'm saying this but don't waste your money on me/try to get a commission, like the last comment, I'm not that good or see myself that way, i'm not ready for commissions...Yet.

Furthermore, I don't do collaborations, trades or requests.
Kinda the same with the above. I'm not that very good, sorry!