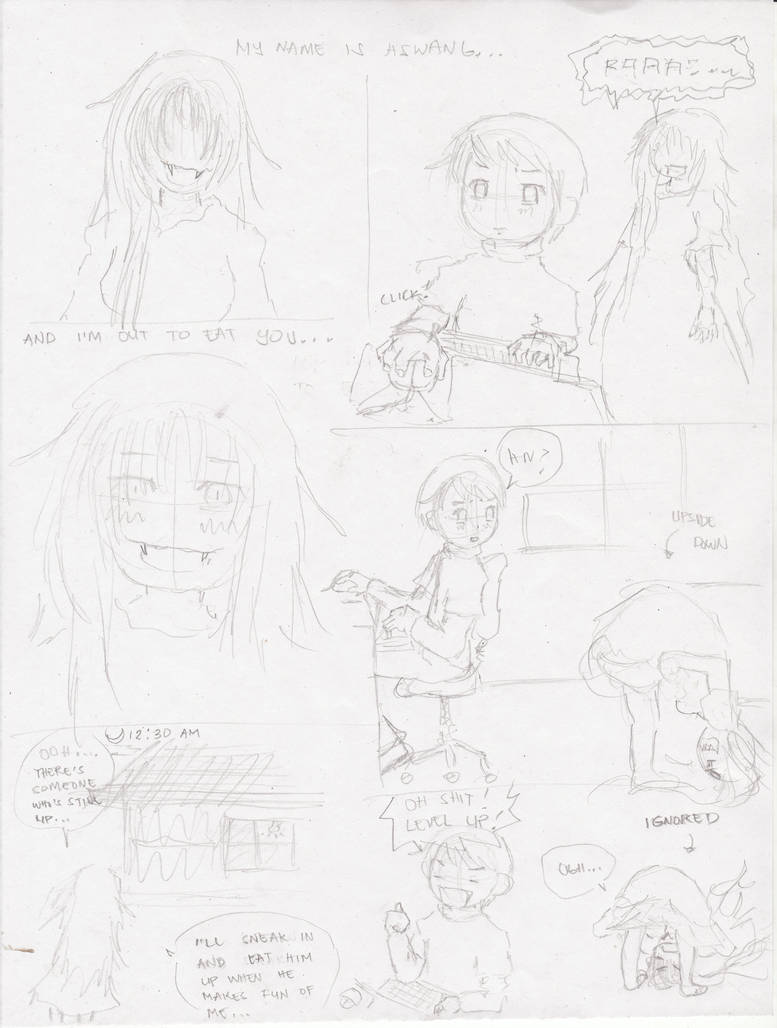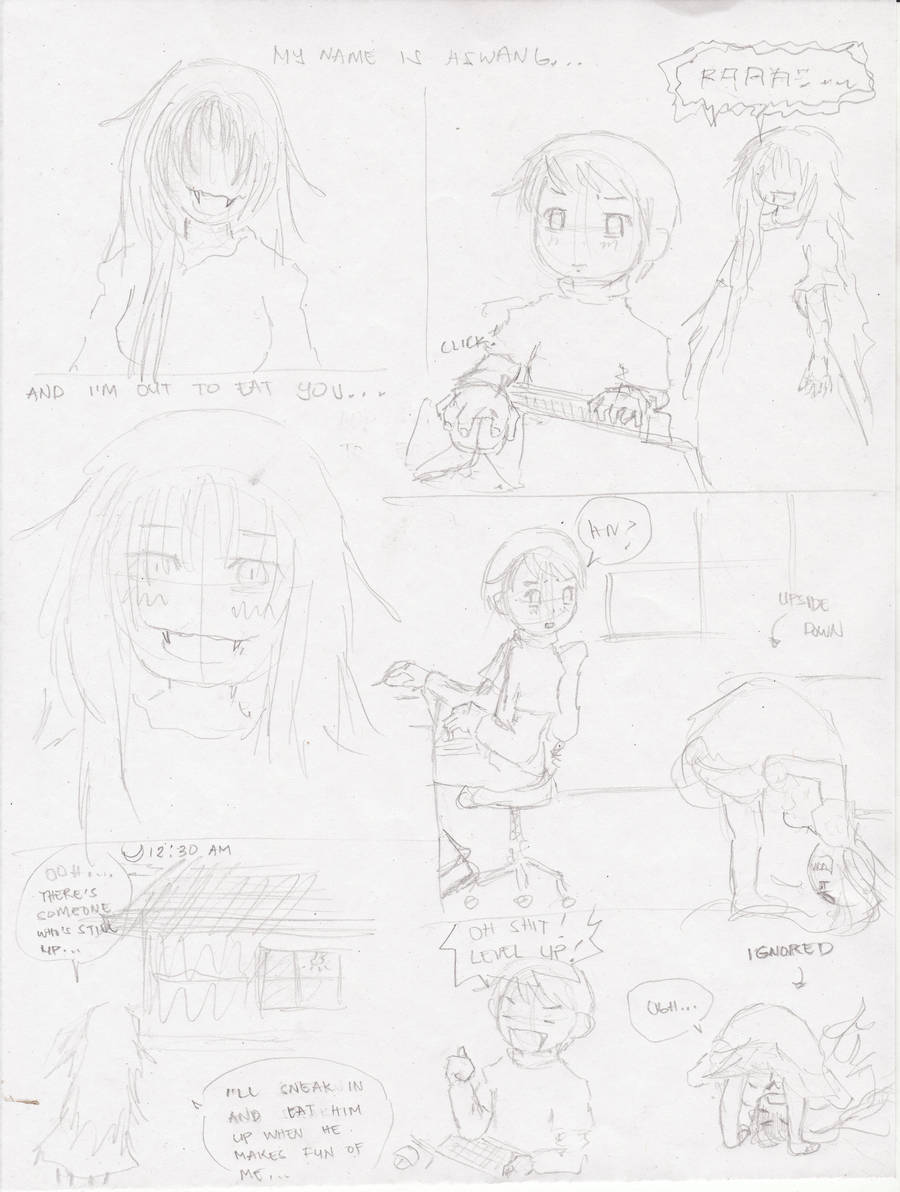 Watch
An Aswang (or Asuwang) is a mythical creature in Filipino folklore. The aswang is an inherently evil vampire-like creature and is the subject of a wide variety of myths and stories, the details of which vary greatly. Spanish colonizers noted that the Aswang was the most feared among the mythical creatures of the Philippines, even in the 16th century.
The myth of the aswang is well known throughout the Philippines, except in the Ilocos region, which is the only region that does not have an equivalent myth. It is especially popular in the Western Visayan regions such as Capiz, Iloilo and Antique. Other regional names for the aswang include "tik-tik", "wak-wak" and "soc-soc"
like yeah.. ><
the one on the comics turned upside down..
It is said that their eyeview is upside down..(but i didn't say she turned like that to see Felipe in the human/normal view!)
It is a common tale that they frequently attack pregnant women.
One freakin' tale was.. A lady(pregnant) suddenly saw a woman who had her body upside down, while her eyes was very fierce. It is said that once you laugh or make fun of them, thay definitely hunt you forever.
Lucky her, she didn't reacted a bit until the aswang went away.. ><

My OC again.. ><

Reply

nyaha~ di pinansin ung aswang XD
Reply

Ganyan kasi and mga Pinoy gamers! Busy na nag-lelevel up na di na pinapansin and lahat, pati aswang. XD XD

Umapoy pa yang bahay niya, di niya yun mapapansin habang nag-doDoTA. XD
Reply

yeah sinabi mo pa~ XD dati Ragna ehh~ ngaun andami dame na~ XD
Reply

Reply

LOL @ ignoring the aswang. Poor supernatural creature XD
Reply


I don't know about Felipe but I'm scared of the aswang !! *
Dortlich tremble
* Like ...I had read in my book of international mythology about these creatures when I was younger and I couldn't sleep for days...Had that image of an aswang sucking with her long proboscice a fetus out a woman's womb OMG >____< *scared to death!* They're so scary...scarier than witches..*sprinkles salt on them*
How Felipe ignored it?? xDD Absorbed much on Ragnarok Online playing ?? xD
Wait...I'm still afraid of them xDDDNo sleep for me today after that!
Reply

whaaaaaaaaaat? like totally? OMG i heard that there's a living aswang here nearby.. i could even hear her sometimes... >< (when her sound is loud she's far from u, when her sound seem far away she is near u.. >< but i don't care bec. im not preggy.. nyahahaha~!!!)
really really now.. u dont have to be afraid of them as long as u don't make fun of them XD (but there's a certain day when they hear u talking about them.. like i was kinda trembling posting this.. thinking, does writing or drawing about them counted too?)
OOOH.. so sorry to scare you...><

Reply


Omg,like you're so so brave ! (I remembered,like you hear her wings flapping close,then she's afar,you hear the flapping afar,she's close!>__<)
I think...can an aswang have any auto-sarcastic sense ? xD If yes..then I'd love to see one laughing xD Like tell me more legends!
I love being scared and you know it!

Reply

auto-sarcastic.. >< maybe yes... and if u laugh instead of getting scared they may get annoyed ang hunt u down.. ><

(not actually wings flapping, they sound like a hawk or something.. sqeaking..><)
Reply

Reply

yay!~ he just ignore the aswang! nyahahahhahah!!!!~
Reply