Journal Entry:
Fri Jan 20, 2012, 4:38 PM
Rei






Long time no see... Because of bad internet I somehow don't have guts to answer messages, sometimes they don't show, aren't sent etc. Well I've been in Spain for a while now, and a lot of things have happened. I'm still trying to ignore my urges to play The Legend of Zelda Skyward Sword and Tales of Xillia though...
I haven't been at Twitter at all either, forgot password

. My mom got an iPad and a friend reccomended Ace Attorney like crazy so I decided to download it to the iPad since it's pretty cheap. And now I'm hooked, and all the others will arrive in my postbox when I go home. And I even don't like lawyers, you know the bastard from July 22? He got 3... but anyways I love games too much, again...
After I arrived in Spain I've only watched the anime Madlax form 2004 but for some reason none of the 2011 anime... Including thouse I love... but I've got hooked on many manga series and have played Mario Kart 7 alot, alone.. since my 3DS doesn't handle the net here well even though I got to download a few. I also found out that I love fantasy manga with demons or vampires and korean web toons.
And I hate s***... are they trying to make USA a DDR?! And what's with the norwegian news lately?! Rasistic as hell. And why are Philiphines in so much danger?! And the stupid captain that ran from the ship in Italy?!
Everyone has different meanings of the 2012; "World's End", "When the Maya Callendar does simply does not have more space", "Gaming year", "The Year You Really Have To Start Importing (games from Japan)", "Spiritual Awekening for everyone" etc etc...
Today at a walk, I, Yume-sama and dad saw a boy that hammered nails into an awesome tree close to where we rent. He did so to climp the tree, but it was still too tall for him to climb(he problably was all
at the inside...). When we walked by the tree after dinner, the boy was gone but he had hammered a cactus(yup -_-) into the poor tree. So we dragged out all the nails and the cactus offcource and took an old wire that was trown into a dump and made a climbing rope with it, dad's an ex-scout coach after all, and left. I really hope this will keep the boy away from hurting the tree...
Being an import-gamer in Norway, isn't easy... er... well importing anyting but books at all... since we got taxes, so if something costs more than 200kr, use google to find out how much that is in your currency, one have to pay taxes, a lot of taxes, only Norway have it that way. One does even have to pay if they suspect one importing something bad! But books are free, expect when one are going to sell them >,>. Right now, living in Germany or Sweden seems a lot cooler..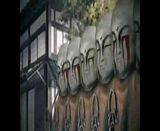 I love making videoes lately... so click the picture above for seeing one of them. My video sites are: photobucket.com/RainingBlood777 www.youtube.com/user/TeruteruBozusama and the user I cannot longer use: www.youtube.com/user/CartoonIslandTV
:thumb127624091:
Mom and Dad are now desperate trying to shake me out of depression and angciety, since I'm afraid of humans, cannot talk well, nor speak to strangers and never leaves the house alone. I'm trying my best to be a TeruTeru-bozu(
en.wikipedia.org/wiki/Teru_ter…
) for my friends and netfriends that bring them happiness but doesn't care what happends to me. Mom and dad wants to stop that and make me love myself aswell and thinking more highly of myself, but I'm still so scared... I doesn't even talk well anymore....
Well with that moodwishplas... seeya! sorry...
Notice: Final Fantasy Xii-2 has a special nordic edition, if you somehow want it, I can order it for you. Remember the taxes... and that only PS3 games are region free. Nordic edition will contain extra costumes and weapons for the characters, more than that, I don't know....
Listening to: ToS OVA3 ep 1 OST
Reading: Nothing
Watching: The video'es I'm making..
Playing: Mario Kart 7
Eating: Nothing
Drinking: Water

Watch

I can understand the depression sometimes. do you have any friends outside the internet? I know it's probably hard to shake it off. I know how it is. but just remember it's always your choice. you always have a choice to be happy. be careful coz you may not realize this ..depression can become a comfortable place for you. the more you dwell in that place the harder it is to make a change. But have faith and good luck to you.
p.s. people aren't so bad.

Reply