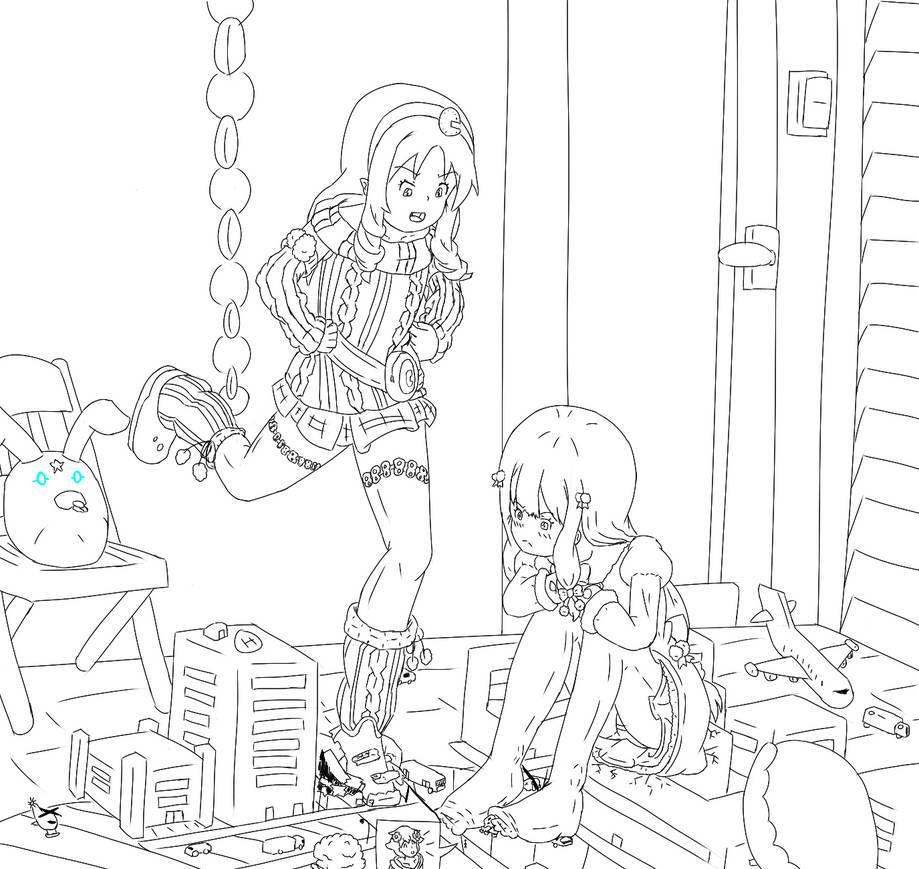 Watch

Holy details. You knocked it out of the park.
Reply

YES

yes

i will accept this, thank you >.>

i wish i was able to write a reimu-tier comment for this, or anything else, ever cwc;; but i will try to at least convey how much i like this idea.

the idea of sagiri trying to portray rom makes me feel like she would inevitably, if slowly, drift into portraying ram instead. especially once the mask gets involved cwc; oh dear. but i will take, regardless

elf compa is absurd but i love it. it combines the best girl of one franchise with the best outfit from another, so you can't really go wrong there. >.> she certainly has some attitude adjustments to get through to be a proper compa...but then a proper compa would be a dull elf, so i will take this, especially given the surroundings <w<

tiny cities belong at the feets of cute girls and you have certainly delivered that here

also i need to figure out how to become the bunplush of more anime so i can get all of the footage of the destroy. hmm...there haven't been any magical girl shows with a roborabbit in them as the animal sidekick yet right?

<w< anyway, i tried ;w; but yeah thank you a bunch!
Reply

Hahahahaha, there is no need for the super long comments, that's just how I do things.
Ahahahahaha, yeah, she would probably shift into Rammode eventually, but I thought that her shy side made her work enough to quality her for Rommage. Elf Compa doesn't make much sense at all but I know you love them both so I MADE IT HAPPEN ANYWAYS. They uh, both have headbands. Look the connection is real!
It's totally canon that Sagiri collects models and leaves them around and accidentally steps on them sometimes, don't you remember that part of the show? Ha ha.
>there haven't been any magical girl shows with a roborabbit in them as the animal sidekick yet right?
i.imgur.com/apQIIL8.jpg
There have. Yes, the rabbit is a device.
Happy birthday man, I wish I could have done better on this honestly but I'm BAD AT ARTS. I'm glad you like it so much regardless of that, I wish I was better at city drawing times so I could do stuff like this more often for you!
Reply

ahahahahah, that Plush

Very great amount of detail, and even two characters! Very very cute stuff, and drawsister's expression is cute too.

The cosplay here is extremely silly! Did a good job with all this, really. Lowee outfits are always necessary.

Really nice picture, you clearly put a ton of effort into it, and it's really good! He should love it for sure
Reply

The detail is PRETTY DANG MESSY. I had to cover both the relevant cosplays and the relevant Eromanga characters he likes a lot, hahah. Thanks, tsun Sagiri is a cute. I sort of did her head weird though.

I'll find new ways to do Compa and Rom things yet. Yes, they are.

Thanks, hahah. I am absolutely no good at all with city detail stuff or room interior stuff or... settings in general, so this was a bit of an experience, and I don't think it looks all that good, but it's practice for the future still. And I did manage to make it a very busy piece regardless.
Reply