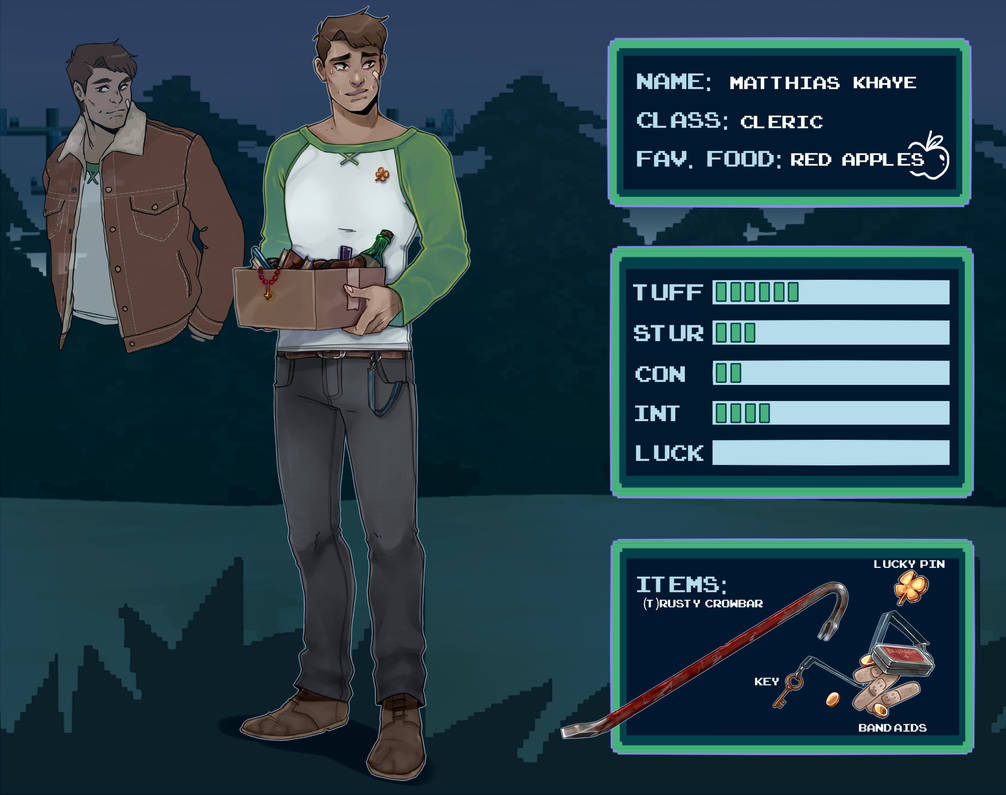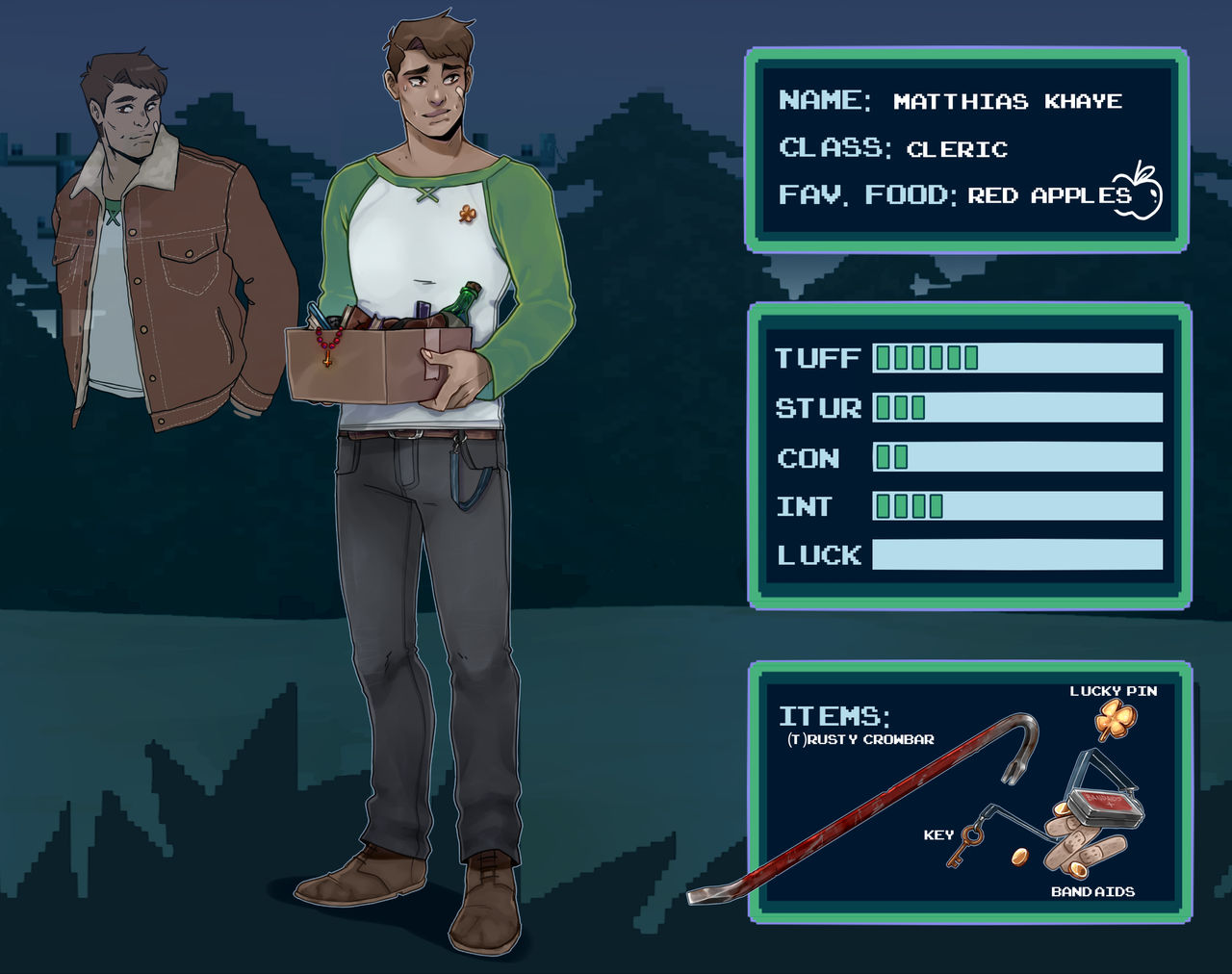 Watch




⛧ Personal ⛧■ Name:

Matthias Khaye

■ Nickname:

Matt/Matti,

Strawberry Shortcake■ Gender:

Male

■

Age:

25

■

Race:

Human

■ Height:

180 cm / 5"11

■ Misc:


- Voice claim

here

and

here -

Clothing reffs:

[ IV ] Put some clothes on son

- After his nan passed Matthias inherited her shack in the woods. He's currently busy cleaning it up a bit.

(House reference) ( His house runs on a water tank that he refills once every two weeks and a big generator for electricity, Though he prefers to use as little as possible. )
-

He has amazingly bad luck.

- Likes being around others

(his bad luck doesn't appear to affect others).

- "It could be a lot worse"

- Dimples?

Dimples.

- Lactose intolerant.

- Doesn't own a phone.

- Doesn't carry a wallet either.

- Is horrible with the Internets™ He has a rickty rackity old big ass PC.

- But he is quite good with herbs.

- Plays the guitar quite well, Loves to play it by a campfire.

Anyway here is wonderwall

- Makes a killer Apple pie

- Owns an old red pickup truck

■ Job:

Walks pets/monsters for a living and makes a small amount of money with this <:3c Don't be afraid to give him a big tip.

■ Personality: Clumsy - Positive - Unlucky - Optimistic - Kind

Matthias is a kind young man who has been followed by bad luck all of his life may it be knocking over drinks, walking into doors, stepping into a puddle or losing his keys he has it happen to him almost on a daily basis. He's good at keeping up a positive attitude and doesn't mind having to do things over once or twice..or thrice, cause as he would say

"It could be a lot worse".


Even tough he isn't the best at upholding a conversation he is very social and likes to be around others, He'll even try to help out when asked to.

(he really tries)

Though he also has his moments where his bad luck becomes too much for him and he doesn't feel like bothering or socializing. those are the moments where he finds himself locked in his nan's shack reading trough a thick book he came across.

...Also if you have an appointment or anything with Matthias be sure to remember him frequently or he might just forget the time or date..or the appointment itself.

■ Background: Matthias was Born in Indieville to Sabrina and Mack Khaye, A simple human couple who had made a contract with a witch who lived at the edge of The Wildwoods.

The couple wanted to live the perfect life in wealth and success. They sought after the witch and convinced her to grant them a charm to make all their dreams come true.

After much begging and promises the witch finally did; She would give them an enchanted four-leave-clover pendant, which would provide the couple with enough luck to make their wildest dreams come true,

In return for just one thing; a promise. The couple could have all they wanted except a child of their own... Sabrina and Mack agreed thinking if they had everything they wanted they wouldn't need a child.

Well

clearly

enough Matthias his parents didn't keep their word, Breaking the contract they had made with the witch, Sabrina gave birth.

Matthias was born healthy but with amazing bad luck, As if he was there to neutralize the good luck charm his parents had in their possession.

Now once more begging the witch for her help with their son's bad luck, The witch became annoyed, she had warned them... But she agreed once more to help the couple.

The witch took the boy and would raise him by herself.

Matthias was raised by the witch in the shack at the edge of The Wildwoods, The shack was very homey, Crowded with books, plants, and items of magic but homey.
He doesn't have any memory of who his parents are and were told they passed away when he was just a baby.

He grew up like any other average boy with extremely bad luck would Matthias had a youth full of adventure.

Once he finished high school Matthias decided to not continue his studies, He had no clue what he wanted to do for a profession and decided on helping his nan out full-time as she was quite old and could always use an extra pair of hands.

when nan disappeared Matthias was left with just the shack and everything in it. He is struggling a bit to provide for himself but has a positive attitude towards finding a job he is lucky enough to keep. Until then he might sell a trinket or charm from his nan's shack once in a while.
⛧ SETTINGS AND INVENTORY⛧
■ Class:
Cleric
■ Favorite Food:
Red Apples
■ Stats: [15]
TOUGHNESS: [6]
STURDINESS: [3]
CONFIDENCE: [2]
INTUITION: [4]
LUCK: [0]
■ Items: - (T)Rusty Crowbar.
Weapon of choice not because he's good with the thing, it just seems to be one of those items he doesn't lose as quickly. -
Lucky Pin.
A four leave clover good-luck charm nana said he got from his parents, It might just be the one thing that keeps his luck from getting worse.
-
Key.
The key to the Shack/his home. He keeps it on a cord to make sure it doesn't fall out of his pocket.
-
Band-aids.
Definitely band-aids.

-
Cold medicine [2]

■ Money: [ Money tracker ]
⛧Relationships⛧

Dislike |

UMMM;;;
|

Alright ?
|

Positive |

Friend Material |

FRIEND!!! |

Familly |

/////? |

Love
Striked names: User has left Indieville



| Nan -
Matthias his grandmother who disappeared last winter, All she left behind was her last will and is assumed to have passed away. Matthias and his nan always got along great and he inherited her shack on the edge of The Wild woods. Matthias misses her a lot but he sometimes feels as if her spirit lives on in the shack. Nana was his closest friend for a long time.





|
Ammon
- The demon Matthias ended up contracting when he was younger, He isn't sure how to feel about the demon. At first, The demon was after his soul, That he claimed to own.
But for the past couple of years he seems to have backed off.. or maybe not??






| Monty -
Monty started out living under his bed but by now he's been upgraded to sharing his lil bed. Monty is Matthias his closest friend and he loves him to pieces.Living together with the boogeyman sure is an adventure but he wouldn't have it another way.


|
Ulrich -
A Good boy, Gave him a lil checkered bandana to match. Matti likes to have Ulrich around, he's one of the kindest people.. err.. dogs? hes ever met!



| Alonzo Haynes -
Al is a great guy and Matti loves going on adventures with him, although those don't always end as planned..... Will feed him anything he wants tbh.





| César "hansley" de Costana -
An old friend of Nana, Hans has been there for big parts of his tough and remembers him well. It's great seeing the man again tough with a heavy heart he had to tell him Nana passed away not to long ago. Hansley and Matthias sure have a lot of catching up to do but he still considered him as part of the family. probably the only father figure he ever had.




| Nino Bellerose -
Nino appeared at his door in the middle of the woods apparently looking for someone else, Worried for him Matti invited him in only to learn that Nino is very capable of watching out for himself. Quickly he learned Nino is Hansley's apprentice and they bonded over the 'father' figure. Nino and Matthias get along great and seem to be very good friends.




| Mickey 'Mick' Sullivan
-
Mick is a close friend and he loves to hang out with her, He feels safe when Mick is around and trusts her with his life.




|
Shu Song -
Conflicted about this guy, Thought matti can really enjoy his company.




| Allegra -
Matthias loves to be around Alle, He sees her as a good friend even though sometimes she scares him a little... she is his tiny hero! Better not get on her bad side--


| Gray Upuaut -
Has only ever met him in dog form, A Good boy!! Deserves all the biscuits.



| Lionel Fitz -
A kind spirit and good guy. Matthias finds Lionel extremely handsome and it makes him flustered.


| Luka -
A super sweet girl and potential friend~


| Grosvenor Tate -
Matti's closest neighbor in the woods, They seem like a good person!


| Harley -
A good Guy.. probably? Matthias falls for Harley's jokes too easy, But he likes being around the guy.


| Blaise Chrono -
Started out hating the guy,, but maybe he isn't all that bad... Maybe.


| Boone Rowan -
UMMM... woman in the bushes?
⛧ RP ⛧
■ RP method:
Twitter
Discord*, Headcanons
I LOVE DOING HEADCANONS
. I currently prefer HC's over big RP's.
*You can ask my username privately
■ Shipping?:
Friendships? Always! For actuall shipping im far more picky and like to have a click with both mun and muse.
(also if shipping contains anything nsfw - pls be 18+ hah a even if its crackshipping )
---