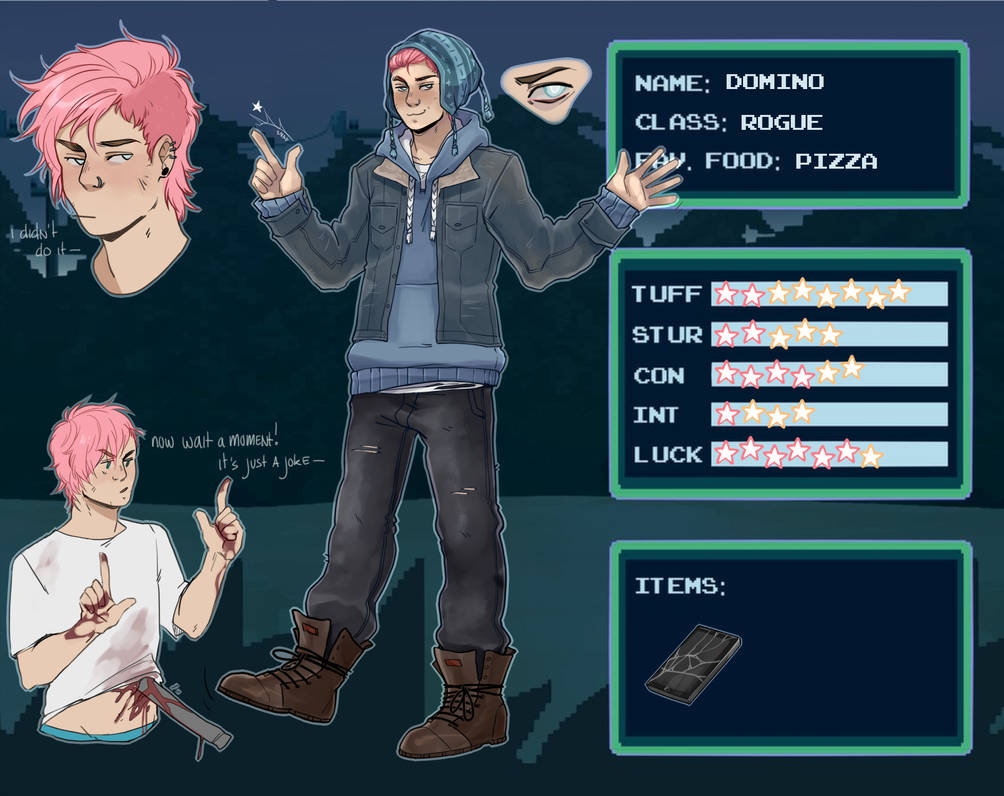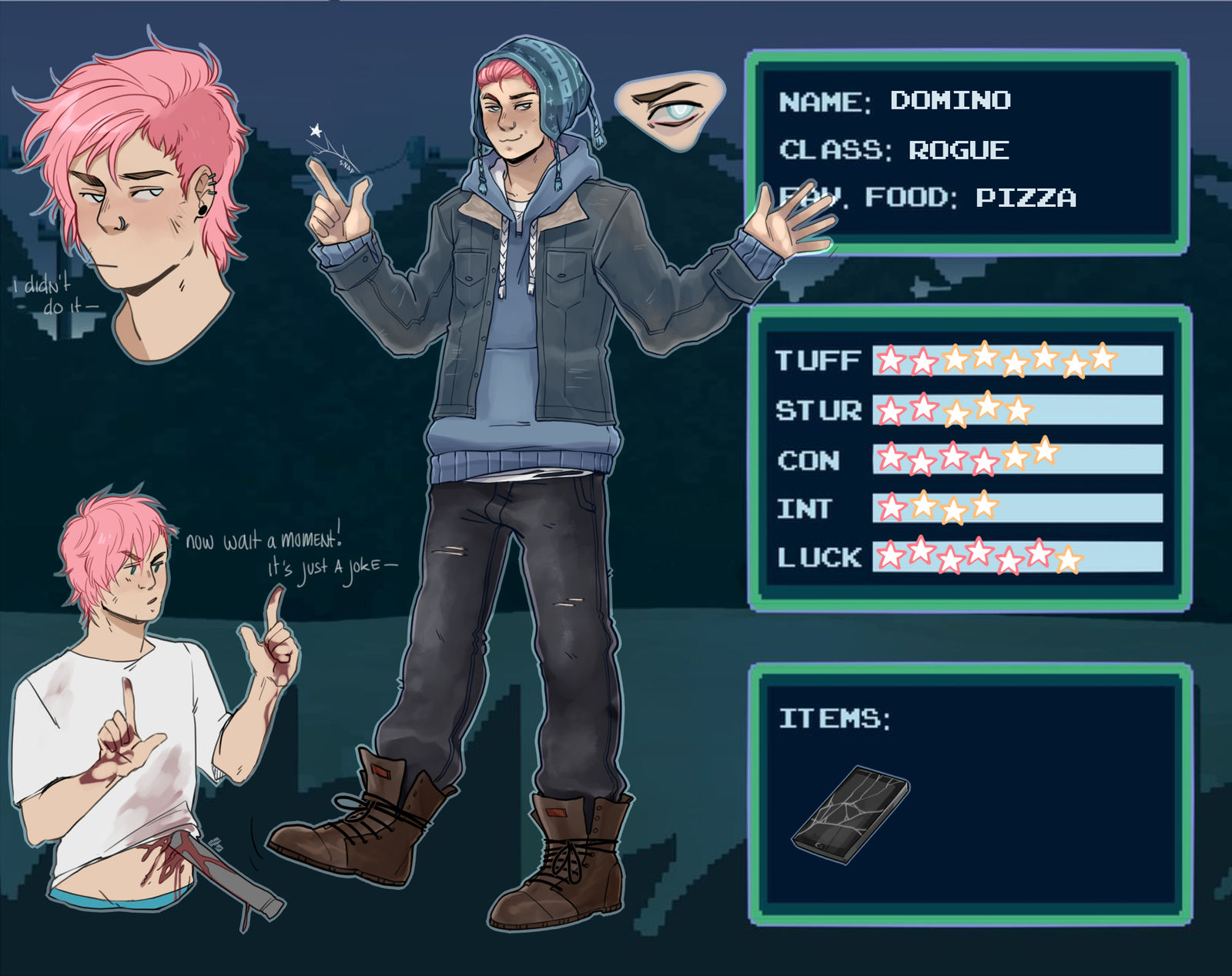 Watch




Personal ■ Name: Nathan CopperDomino■ Nickname:

Domino, Dom

■ Gender:

Male

■

Age:

19, but has been dead for 7 years (26)

■

Race: Human Poltergeist■ Height:

5"5 | 165cm

■ Romantic / Sexual Orientation:

Mayhem

■ Misc:
- Domino died in a pretty gruesome car accident. due to this hes covered in cuts and bruises that wont fade, they aren't fresh but they are scar like.


- Even though he is a ghost and his feelings are already dulled in some places he has 0% feeling in his stomach/lower back area due to the accident.

(except for when he's high. )

- He can still bleed it just doesn't do any harm to him, it also seems much goopier than usual blood.

- His iris is a very light blue and his pupils are completely white, His eyes also don't reflect light.

- Can go invisible for short amounts of time, This is mostly triggered by heavy emotional reactions like stress, sadness, excitement or anger.

Normally his body feels rather solid/squishy to the touch, but when emotional/hormonal it isn't

- Can't float but is very light on his feet even tough he isn't anything lighter than a normal person.

he's a soft boy

- Domino actually doesn't need to eat, (he likes too though) But feed of people their energy, Especially negative energy works really well for him.

- if you google on his real name you get a couple of articles about his death and the hauntings of his parental house.

- he will tell

NO ONE

his real name.

except for maybe a few very close friends or when he's drunk off his ass

- Has the kind of humor where he impales himself with an iron bar and gives his friends a spook.

- He's extremely scared of not being visible to people and doesn't take ignoring him very well.

- On the day of his death his friends pulled a prank on him where they put pink hair dye in his shampoo bottle, Now his ghostly state has pink hair he used to hate it but he came to terms with it.

- Has a weird outgrown Mohawk, honestly what is his hair even?

- Wears his hat a lot, sometimes puts his mohawk in a little ponytail.

- He is a kleptomaniac and kinda likes to take whatever he can..

- has no clue what personal space means.

- Raccoons are his favorite animals.

- Lean Mean Meme Machine.

DABS

- not a stranger to

herbs.

- Used to live together with Griffin and Alonzo. Has recently moved in with his lover Sascha

■ Job:

Ex delivery boy for domino's, part time job at your local 7/11


■ Personality: | Careless | Thief | Friendly | Active | Loud | Hormonal |

Careless-

Since Dom is already dead he is far more careless with the things he does, He doesn't fully realize that he can still disappear forever.

Thief-

Domino is a kleptomaniac and finds thrill in stealing things. "i mean i'm already dead... i have to do something"

Friendly-

It's hard to make an enemy out of Dom, He's able to find something likable in almost anyone.

He is social and very friendly overall but also a pretty chaotic person.

Active-

While he sometimes naps he doesn't need to sleep, Domino is always bursting with energy and

very

active.

When he was still alive he used to practice parkour which he now uses to run away from trouble---

Loud-

Dom is someone who you'll quickly notice by his loud voice and behavior, He's got a quick mouth and often shouts the first thing on his mind.

Hormonal-

He is still not fully capable of dealing with the fact that he is dead which sometimes results in emotional and hormonal peaks,

When this happens his presence has an effect on smaller to medium size items and electronics around him. When he snaps to invisible a house, for example, may appear as haunted.

■ Background:

Dominio lived your average teen boys life, He went to college and did pretty terrible at it, he had a side job as a delivery boy for a pizza joint and loved to hang out with his friends who were just as terrible as he was

a bunch of young criminals and trouble makers

.

He comes from a loving and small home with him being the youngest of two.

Living in a small town accidents weren't all that frequent but one night when he was out on a delivery on his scooter Dom got hit from the side by a car; pinning him between the front of the car and a tree on the side of the road. The driver appeared to be drunk out of his mind and was way over speed limits, The man survived the crash but bystanders had to call the police.

By the time help arrived they realized that Domino was in extreme pain, He was struck in such a manner that the only thing keeping him alive by now was the car staying in its place.

He was severed in half and slowly dying, Since there was no chance for Domino to survive they put him out of his misery right then and there, His parent's never got to see him before he died cause they couldn't identify Domino at the moment of the incident.

After his death and his body being brought to a morgue, he was identified as Nathan Copper and his parents would be notified of this tragic incident.

It took a few days for Dom's ghostly self to 'awaken' When the casket was at his parent home for goodbyes from friends and family he just 'woke up' at some point.

He doesn't remember clearly what started this but all he knew was that no one could see him.

This sparked a very emotional response in him which caused a small power outage in the neighborhood, Domino ended up attending his own funeral and continued to haunt his parental house for the next 5 years.

In these five years he watched the pain his parents and sister went trough which made him try to communicate to them, He would try to shove glasses off of tables and turn off lights.

After a year of him haunting his parental house, his parents decided to move out, away from bad memories.

Domino was at this stage bound to the house and couldn't leave with them which outraged him, His haunting of the house became even worse, He started to break the windows, Slamming doors shut and burn out electrical appliances of the new residents with his emotional peaks. The new residents happened to be believers of the supernatural and dismissed Domino from the house.

With nowhere to go Domino spooked around for two years before ending up in Indieville...
SETTINGS AND INVENTORY
■ Class:
Rogue
■ Favorite Food:
(Domino's) Pepperoni Pizza
■ Stats: [30]
TOUGHNESS: [8]
STURDINESS: [5]
CONFIDENCE: [6]
INTUITION: [4]
LUCK: [7]
■ Items:
- Iphone:
It seems to be almost all he has, And it's in pretty bad shape.

-
Weed:
I mean u kno--
■ Money: [ Money tracker ]
Relationships

Better Avoid |

Dislike |

alright |

I like to bother u |

bUDDY |

FRIEND |

Familly |

shit you are cute |

love





Sascha Saab |
His big beefy boyfriend-- It's almost disgusting how much Domino loves this man. Next to a lover Dom considers him a close friend and loves to drag him around and pull him into weird 'adventures'. Sascha might just be the only one that can successfully stop Domino mid-mayhem.





Griffin Greyson
|
Griffon has become like a dad figure in his life and Dom will happily take a scolding of him. Dom now lives together with Griff and for the first time in forever he has his own room.





Alonzo Haynes
|
Al is like a brother to him, Dom loves to drag him into trouble with terrible adventures.






Mickey Sullivan |
Mick is like the really cool aunt he never had, she is a big help to him trying to deal with his non-feelings.






Luka
|
His partner in crime. Next, to the fact that they are definitely DDR champions at the arcade they are also great at causing some mayhem, Together they are unstoppable.
Domino views Luka as one as his better friends.





'Oni' Kenta Young
|
Domino just kinda decided to stick to Oni's side, claimed him as his best friend and never really leaves him alone--- Loves to drag him onto 'adventures'. Domino Looks up to him and considers him to be one of his best friends.





Pomegranate Pepper |
Crashing Oni's place while he was out, led Domino to meet Pom, He just stuck to him and they actually got along pretty well, Pom is now another one of Dom's adventure victims and he loves to hang around him. He also has 10.000 questions about his head-- poor Pom. Dom considers him to be one of his best friends.








DJ |
A good friend of dom, They are both just as terrible and enjoy the same kind of pranks and memes. It's honestly just taking a terrible idea and amplifying it by 100, They are the worst good beans. Dom likes him a lot 10/10 friend, Always up for a prank or some Pizza and dank-



Darius
|
A good fellow ghost buddy if he's ever had one-- Darius seems fun to bother Tough his dance moves are terrible and he isn't all that sure about his music taste either-- Has to get him with the times!



Callico |
Fun guy to hang around with, Dom likes to bother him so after a couple of hours they start to bicker and the fun is over.


Monty | >:3c
Dom often heads out to monty's workplace to try and steal some booze--- Gets an incredible kick out of bullying him.
RP
■ RP method:
Discord, Headcanons,
Twitter
■ Shipping?:
Friendshipping? always!, He's very much taken by a certain four armed big beef, But friendships are always welcome. (Also past flings n al are also fun to discuss!)
---
Other