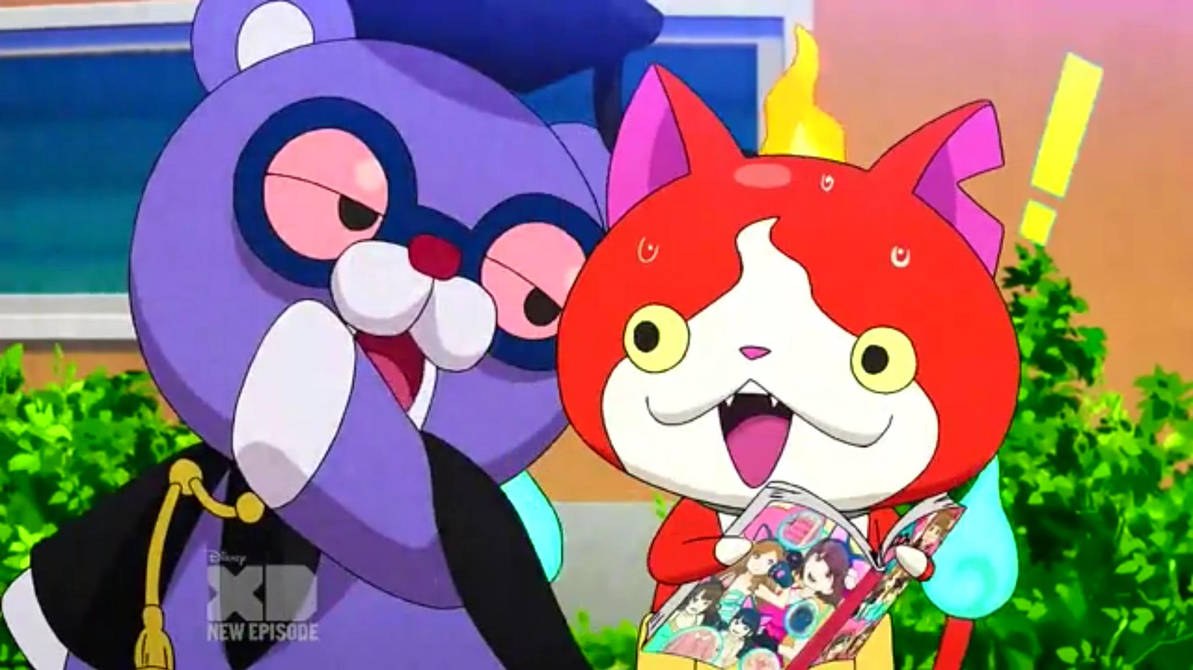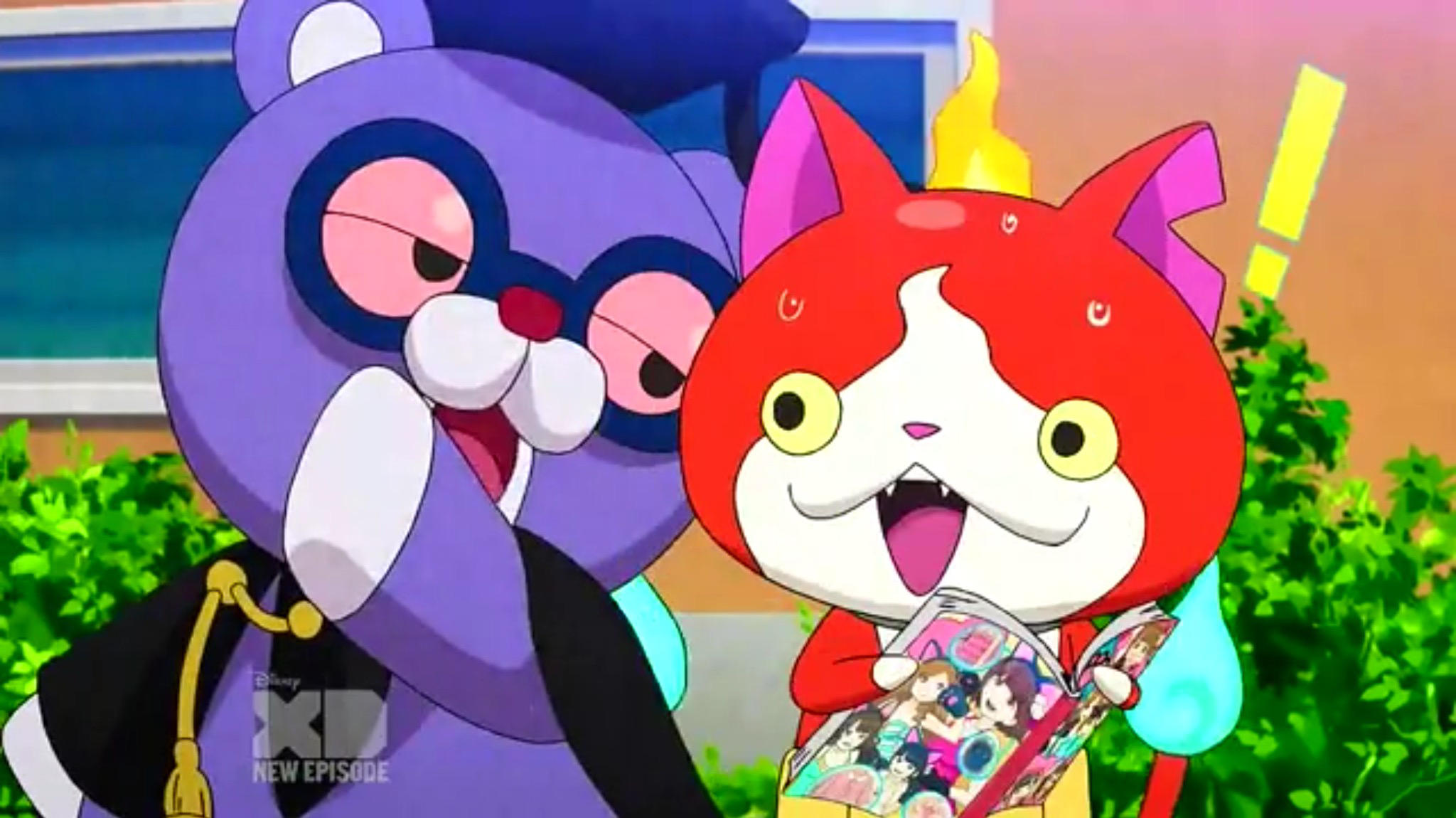 Watch
Show: Yo-Kai Watch
Episode: 46c
Year: 2014
Writer(s):
Takamitsu Kōno
Having gotten back from seeing Yo-kai Watch: The Movie, getting to see an episode 3 weeks early was the nicest surprise I'd gotten in some time! Yeah, I'm reviewing yet another episode that hasn't aired officially here yet! But this episode is yet another treat for Yo-kai Watch fans; not on the level of the movie, but still great! Once again, we get to see another one of the Legendary Yo-kai! And let me just say when you manage to finally get all the right Yo-kai, especially since Yo-kai Watch 2 has trades these fuckers are POWERFUL! Everyone knows about Shogunyan, but then there's Dandoodle, Elder Bloom, Spoilerina (who I'll get to) and now: POOFESSOR!
I think I know why this episode is being held back for a few weeks on Disney XD's schedule, and it's not so the episodes can synch up with the holidays… it's his concept! Now, there are a good number of Yo-kai that rely on toilet humor as their gimmicks: you got Fidegphant that makes people need to pee, Cheeksqueek makes people fart badly, but Poofessor reminds me a lot of Arale from Dr. Slump with that shit on a stick he's got!
You see, Poofessor makes people become smart-asses with very obscure trivia nobody would know or care about; he does this by literally dropping a deuce on their heads! Ok, it's not like he takes a dump on people, but that stick's like magic! He's where you get the term "diarrhea of the brain". Oh, I ain't complaining, this guy is fucking hilarious! He's what Whisper would be if he actually knew what he was talking about without the Yo-kai Wiki! Yes, I know certain bits of trivia were changed for the English version, but for the most part, they're the same. And I absolutely love how Nate and Whisper piss him off by using the one Yo-kai who doesn't give no fucks: Komasan! The ending, needless to say, was edited, but it's just ass funny as the Japanese version. No Spoilerinas for now, but its some kinda nasty! Coming soon: a review of Yo-kai Watch: The Movie! DUN DUN DUUUUUUUUUN!
Yo-Kai Watch is owned by Level-5, Viz Media, Nintendo, Hasbro and Densetsu USA.
1001 Animations is from

Regulas314

I saw the movie, too! This short was interesting!
Who's your favorite Yo-Kai? Mine is USA-pyon. He reminds me of Bing Bong from Inside Out. Fidgephant is also my second favorite, because he has a cute design and because of his French accent being humorous. "You do understaaaaaand...."
Also, this episode is not "held back", per say. They are just backed up because one new episode airs per week on there.
Reply
I so can't wait to see how they censor this, I'm still surprised a certain "other" episode was approved
Reply

Reply
the one with Robonyan and tickling
Reply

Reply
yeah I'm still surprised that got though the censors
Reply

The B3-NK1 episode is on all the time. Every other time I see Yo-Kai Watch on the schedule, it's either "Here's Komasan!" or that. I even watched that episode in a hotel at Walt Disney World once while my parents showered.
I'm also surprised that nobody complained to the BPO in Japan about the scene and instead complained about a scientific inaccuracy in the show, as well as a banana-eating scene.\
Reply
Reply

One parent complained that Jibanyan's chocolate-eating could make kids falsely believe that cats love chocolate and make them attempt to feed stray cats chocolate, which would kill them.
Some of the BPO complaints are quite silly, though. One person complained about a scene in Your Lie in April where kids were riding a bike, and another complained about Chibi Maruko Chan being used to sell lottery tickets.
Reply
(1 Reply)

I just don't care for it. It was never my cup of tea. Stop making me sound like an asshole.
Reply

>> because digimons anime is better written than pokemon will ever be and u jusy dont see it
Reply

Look at it like this:
I'm not into "Batman: The Animated Series". (Yes, really)
I don't hate it, I know it's a good show, it's just something that I'm not interested in.
Reply

>> well im sory that digimon deserves more love and people are wayyyy to forgiving on yo kai watch

what about the many recolors or the fact the dub has alittle to much toilet humor in it or how some of the designs and names are lazy and unoriginal

OR WHAT ABOUT DANDOODLE OH GOD DANDOODLE LOOKS WRONG ON SO MANY LEVELS
Reply

Digimon is better, but Yo-Kai Watch is good too!

I will admit, the recolors are a bit bothersome and I do FREAKING HATE Dandoodle.
Reply

At least they don't show the recolors as much in the anime. I don't actually mind them that much. I find Dandoodle to be FABULOOOOOUS! I hate the Nosirs though, fuck those guys. Fuck them for inspiriting the Watch!
Reply

Sorry Regulas, but Kyubi >>>>>>>>>>>>>> Dandoodle.

And I don't mind the Nosirs.
Where would we be during Babblong's episode if one of the Nosirs didn't inspirit the watch?

It's in the toy too. It lets you know you put it in wrong
Reply
(1 Reply)

oh and lets not forget theres a yokai called noway YEAH REAL ORIGINAL GUYS >>
Reply

Oh I know there's better written Mon shows, I just don't wanna watch it.
Reply

I actually like Grimm Job, and that was me mocking Mr. Enter's stupid standards. I didn't actually care about the ending.
Reply

ohhhhh u could have made that cleerer >>

yeah and i loved into harmonys way and i dont care how many people hate me for that
Reply

Me too. Vinnie was great for what he was. Yes he's a stereotype, so are most of the Family Guy Characters! At least he ain't a political mouthpiece!
Reply
(2 Replies)