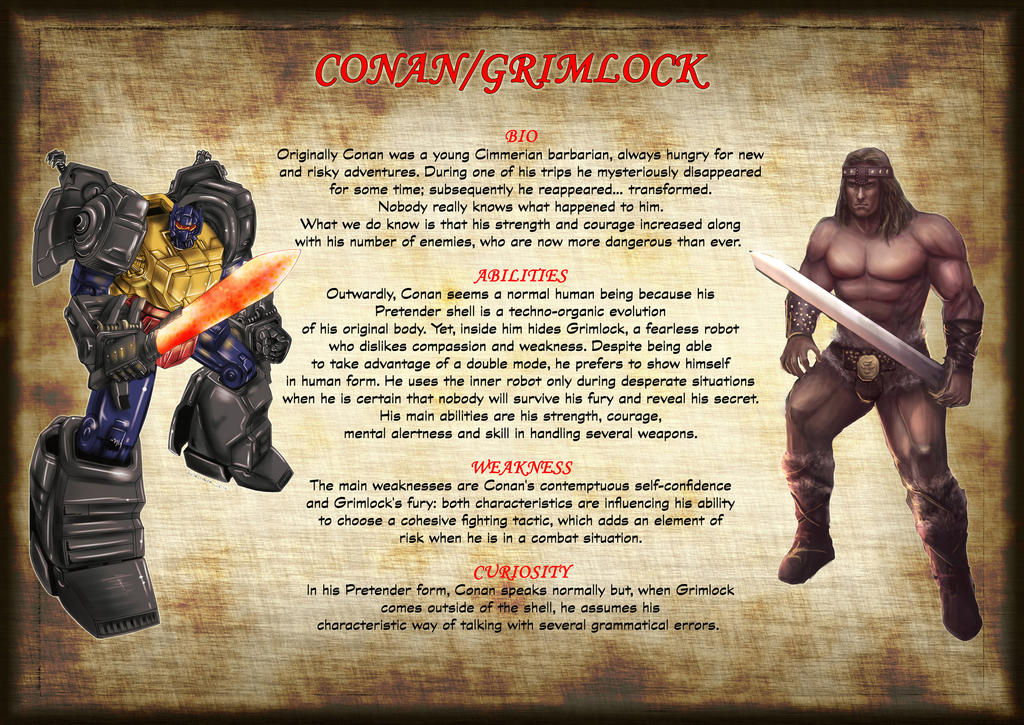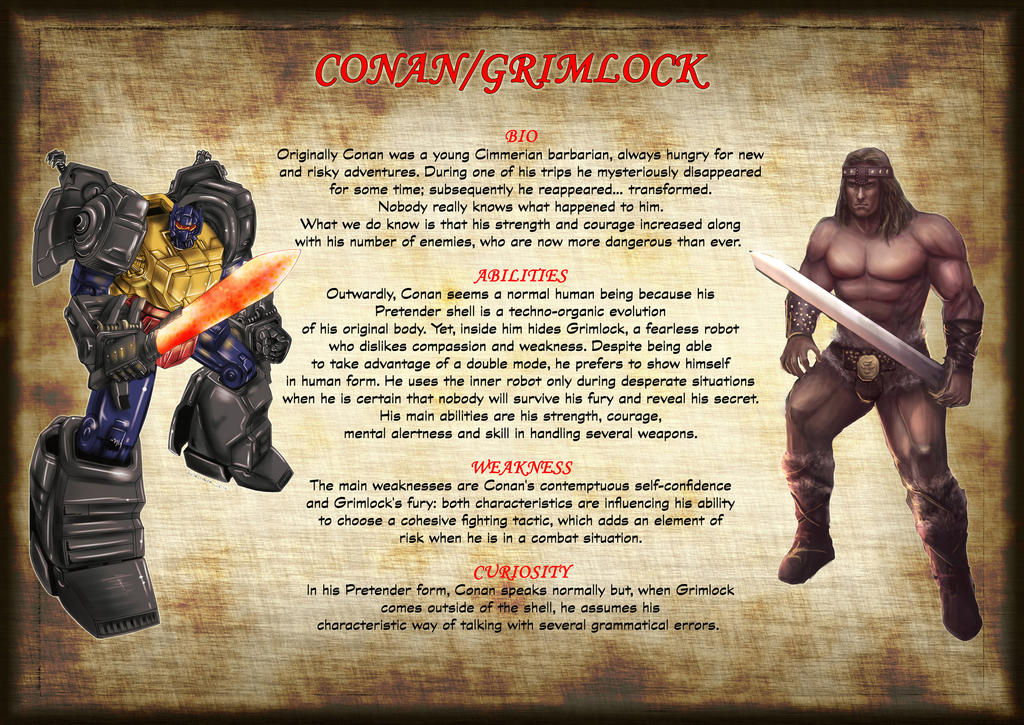 Conan/Grimlock
's bio for this alternate universe.
<<
Transformers Tales Conan page 3

Nicola Balocca
- Texts, graphics

Joe Teanby
- Edits
Claudia Raciti
- Grimlock's lineart

Elisabetta Palmeri
- Grimlock's colors

Thong Nguyen
- Conan's art

So Grimlock grew inside Conan?
Reply

Or someone used Conan's body in order to make a techno-organic shell for (a small) Grimlock?
Who knows? Maybe in the future I'll make a Conan/Grimlock Origins.

Reply

I don't know. The combination is so over the top that any attempt of explanation seems likely to fall flat on the nose. Seems better to me to keep the combination unexplained.
Reply

I understand.

I've always thought that some origins have to remain undiscover.
For example I've loved when Marvel never revealed too much of Wolverine and all the recent "origins" miniseries and revelations seems to me something not necessary who only cause loss on character's fascination.
Reply

Doesn't Wolverine now have more backstory than he had years to actually live it? Respectively isn't now more known about him with his mysterious past than about other characters who have a "regular" past (as far as the expression "regual past" can be applied to comic book superheroes)?
I have to admit, I'm kinda intrigued by this Hyboria-Transformers crossover. Some two-three years ago I read all the
Conan stories that are public domain
, and what caught my eye (besides strange word choices like "presently" and "ejaculated" (for "said") and many words for weapons ("dirk") and clothing ("breeches")) was the rampant racism and sexism. If I were to work in Hyboria, there would be some things I'd like to address.
Reply

I must admit that I've never read Howard stories so you make me inquiring with your words.

I've only had a read on 1970s Marvel comics and watched Schwarzy's movies.
Reply

The Marvel comics might be partially true to the short stories, the first movie definitely isn't (haven't seen the second).

I personally like to go back to the original sources and form my own opinion from them. Everyone has an idea what Conan might be like, but how does the conception of Conan today realte to his original self?
Reply

I think is something associating all the characters with such a long "life".

The original idea is continuously twisted by new creatives for a lot of reasons. For example, I own almost all the issues of "The Amazing Spider-Man". If I think about the actual Peter Parker, I ask myself: what he shares with the one created by Lee and Ditko?
Reply

Hawksaber,you might wanna learn a few things from this guy.
Reply

Idea carinissima!
A quando un seguito con He-Man e Skeletor? :-D
Anch'io avrei un paio di crossover cross-franchise in mente... ma difetto sempre del tempo per realizzarli.
Reply

Ti ringrazio!

In effetti i MOTU da bambino mi piacevano per cui non mi dispiacerebbe omaggiarli prima o poi... Ma ci vogliono delle belle idee per il racconto!
E anche io ho molte idee ma il tempo disponibile è sempre tiranno.
Reply

Interessante e ben fatto, davvero.
Reply