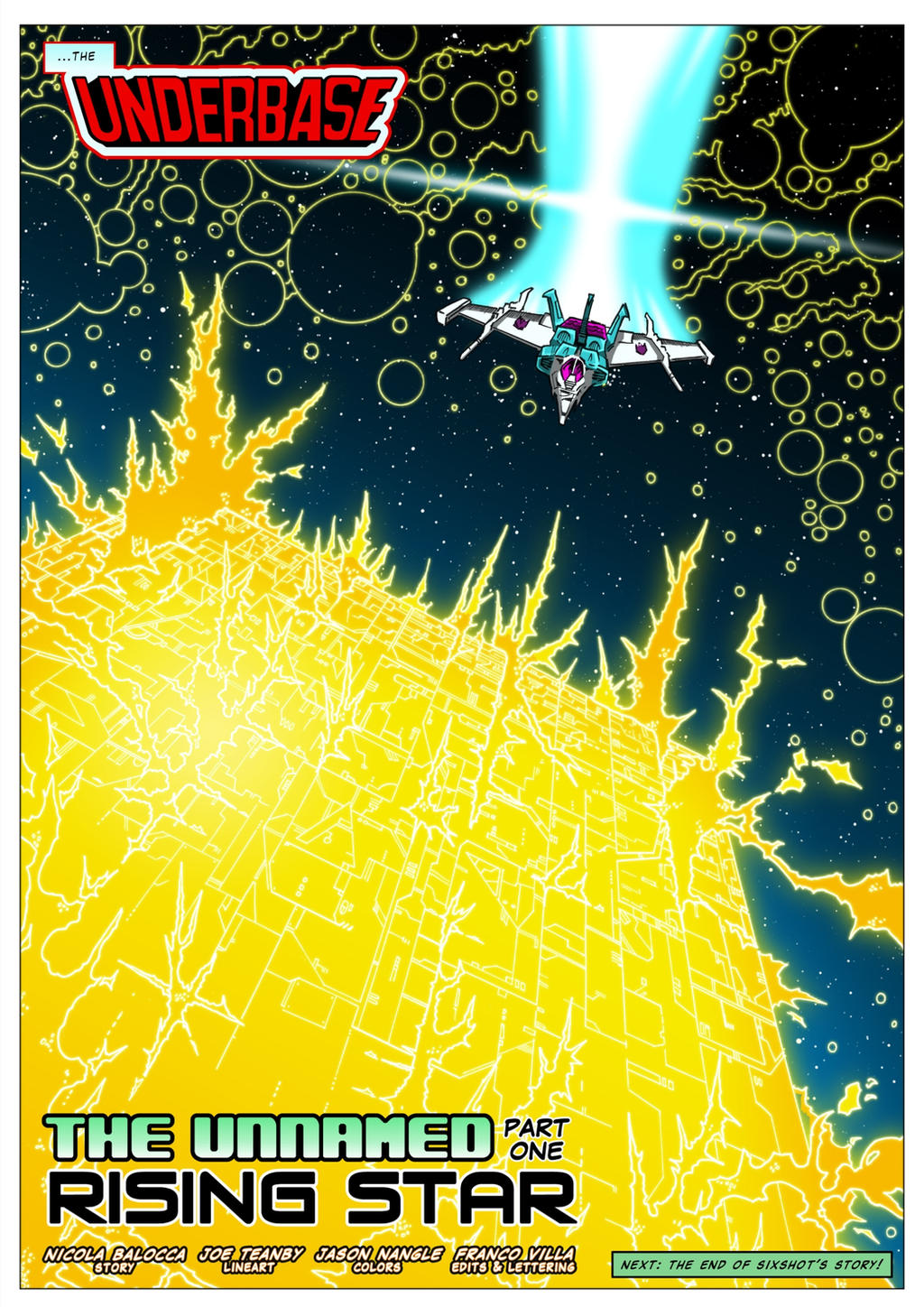 Watch
<<Page 4
R+04 p06 TUp1 RS p04 eng
Page 6>> fav.me/da0jbq1




Nicola Balocca - Story


Joe Teanby - Line art


Jason Nangle - Colors


Franco Villa - Edits & lettering


- The Underbase is a "collection of knowledge that underlies all Transformers databases," or rather the combined knowledge of the whole race. It's curated by Boltax and is not accessible to the Autobots or Decepticons.

- For further information you can read the Underbase saga in US #47-50.


And then he went on to kill Chromedome's best friend.
Reply

You have entered my hard disk and found the files of the next chapter!
Reply

Well,I watched Transformers Headmasters when I was young and it wasn't that hard to follow.

I always thought that part of Chromedome in the japanese version was much interesting compared to the American iterations ESPECIALLY the cartoon where he was like..'Hey,me and the HMs are Hot Rod's friends.'

It was going the right direction in the japanese version until some idiot writer decided to make a killer like Sixshot,who killed not only Chromedome's 2 friends but also Ultra Magnus and became friends with Danny...that's pretty ****ed up.

Why not have Skullcruncher or Mindwipe be the victims since they have failed Scorponock a dozen times and Weirdwold did kill a dog-alien dude but not those 2. They didn't kill Wheelie on the spot when the kidnapped him so it must account for something,right? Why not have Snapdragon or Apeface be friends than Sixshot? Sixshot has been successful than the others. Gaaah..X_X
Reply

I've watched only a part of the japanese Headmasters show so I'm not able to judge it completely.

But I've always tought the writers are adapting their scripts to the target of the show, so in this case they opted for something simple in order to let the boys understend it better.
Reply

Yeah but having Sixshot,a murderer who killed Ultra Magnus who was close to Daniel,be a friend to the same freakin' kid who is friends with Magnus for countless of years? That sounds messed up.

That's like if Carnage killed Venom and is a friend to Parker's child,May Parker. It doesn't make a lick of sense,man.
Reply

I usually avoid to comment comics that I have edited/lettered, as I might be quite partial. But this time I need to say that I truly love this Headmasters "backstory" that does a great work in handling a character that was mysteriously ignored by Bob Budiansky, and intertwines it with another great saga such as the Underbase's... still written by the same Budiansky. How I wish we could get this sort of ideas in official comics.
Reply

Thanks very much, Maestro.

Unfortunately the original comics are for a very different kind of people.
Reply

This is a great story. Very cool to see the Headmaster series revisited and I loved drawing it. The colours by Jason look awesome, especially on this page. Looking forward to seeing where this goes next. The Underbase can only be trouble...
Reply

Obviously I agree. The Unnamed, after the conctatct with the Underbase, will became... Sixshot!


Reply

That came good

Reply

Wow! Awesome looking splash page. Nice alt mode for early Sixshot too.
Reply