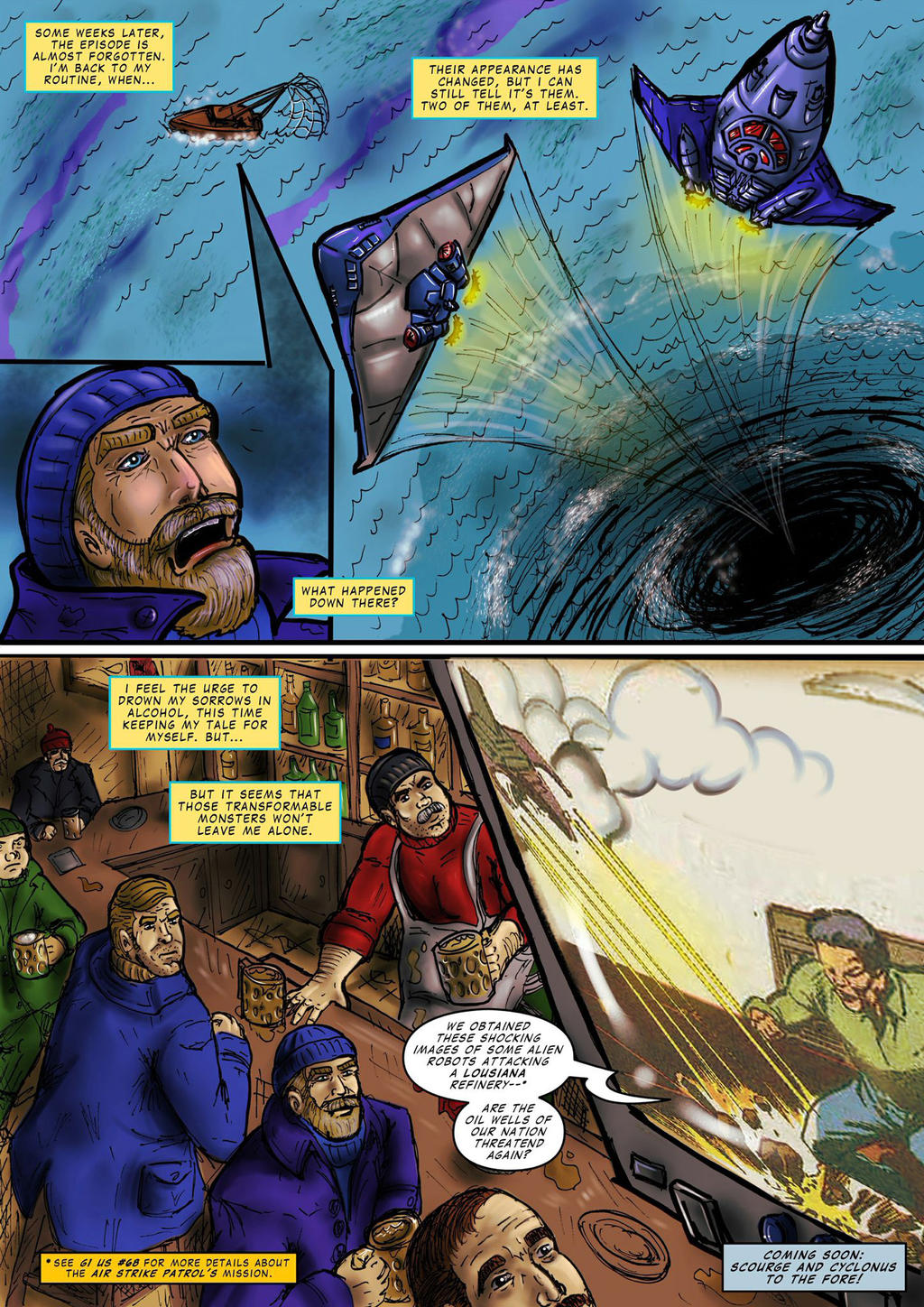 Watch
Page 9<<Page 8:
R+02 p08 AFITM p03 eng
Intro 2>>
-
Scourge
is now looking like his
Generations/United
toys version (2011);
Cyclonus
looks like his
Universe/Henkei
incarnation (2008).
- Next chapter of this storyline:
R+03 p00a Renegades Cover

Nicola Balocca
- Story

Gianluca Gamba
- Lineart

Elisabetta Palmeri
- Colors

Franco Villa
- Edits and lettering

Even the people look different in America

Reply

They're supposed to be Norwegian guys.

Reply

Fascinating!! Great job to everyone involved! That tv image turned out great!

Reply

Thanks for the comment and your support.

The TV image is taken from an original issue and have been fixed by Elisabetta: it's great.

Reply

That last panel with the tv, is really done great!!!

Reply

Great team effort once again. The cover gives away Scourge's reformatting; I've seen those cool looking toys before. I can't imagine how Sixshot's going to turn out though
Reply

Thank you for the comment.

Surely I'll explain everything about Scourge and Cyclonus reformatting, as well as Sixshot's abilities and purposes, in the next stories. Probably in R+ #4 or #5.

Reply

The story is fantastic. Really fresh and inventive, and the artwork is so cool!
Where is the tv image in the last panel from?
Reply

Thank you Joe! 😉 And i have a lot of ideas for other stories... Hoping they're good.

The panel is taken from one of the first pages of Transformers US 68.
Reply

Glad to hear you have more stories coming.

I need to seek out that panel - I can't remember who the purple jet is supposed to be...
Reply

One of the Micromaster of the Air Strike Patrol, I guess!
Reply

Reply

I'm really interested in critiques concerning my work as a writer of this story (and all the R+ stories, to be honest) and the dialogues.
Reply