I've been tagged by

to do some random Q and A. My usual M.O is to lurk/comment rather than contribute, but, what the hell. I'll give it a shot.
Here are the questions.
1. Do you do art, Literature or both?
Does
anything
about this image...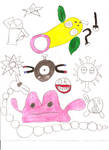 ...look like the work of someone who dedicates his life to the brush? (Oh, Onix, Solrock, what have I done to you?!) Having that said, I'm not much of a writer either. All I've written so far is fan fiction, an ecchi Legend of Zelda piece, and Pokémon FemSlash that didn't even make it to three chapters.
2. Who is your favorite deviant (Not you)?
Hmm... That's a tough one. It used to be

but he's been MIA since 2014. Plus, a
loooot
of his ecchi stuff had underaged characters
and he didn't offer commissions, so screw him and the panther he rode in on
. So, my favorite
active
deviant would have to be

. Looking past the cheep ecchi and the low hanging fruit, I think he's a good artist.
3. If you could meet a character from a story you've written who would it be?
Again, all I've done is fan fiction, so this doesn't really apply to my situation. Granted, I have some OC's, but they haven't gone public yet. So... next question.
4. What would you do with them?
...
.....
.......
5. What is your favorite piece of art/literature on DeviantArt that is not your work?
There's so many to choose from, so I'll just pick one at random: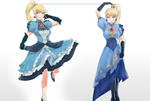 Classy princess Samus is best Samus.
6. What is your favorite pic by

and why?
Again, there's so many to choose from, so I'll use his most recent pic
and not just because he commissioned it for me
: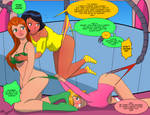 I will not be tagging anyone to do this.
THE CYCLE ENDS HERE!!!
... Ahem...