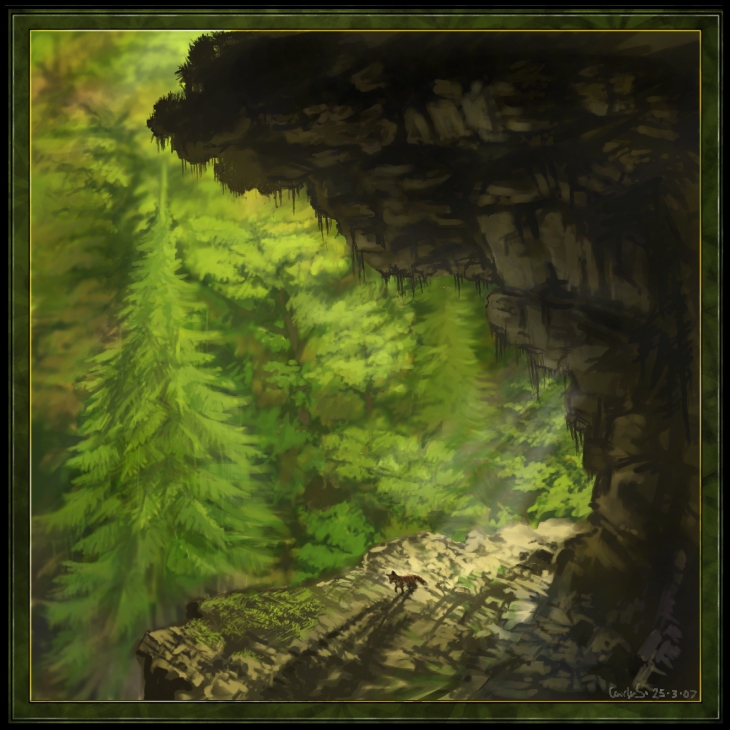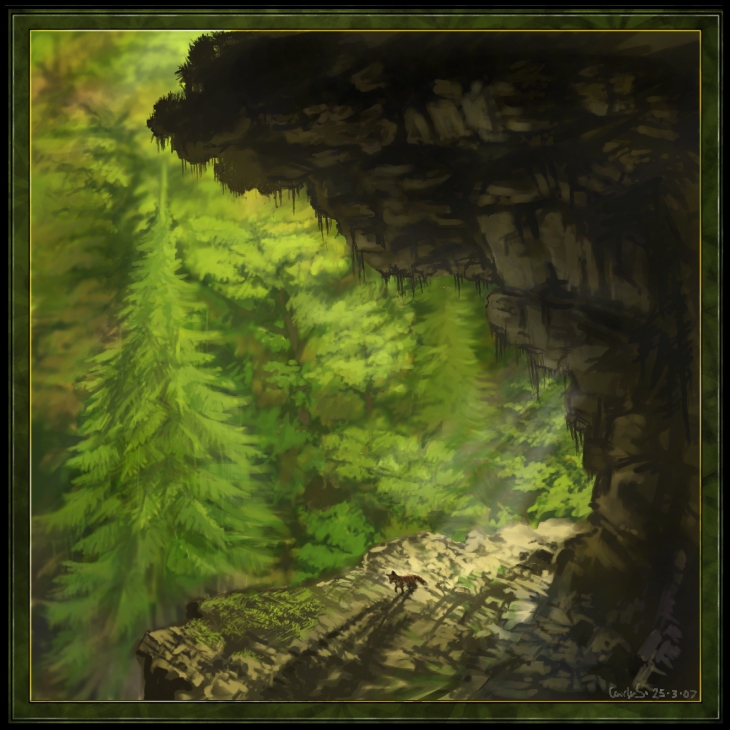 Watch
FULL VIEW or you won't see my fox!!
(closeup of fox
here
)
Paint Shop Pro 7 + tablet
Round about 10 hours
and several run-throughs of my Rachmaninov CDs.
Yup, more HP fan art. But it's more of a landscapey painting... so I put it in that category. I wanted the cliff and the trees behind to be huge and imposing, making the fox look insignificant by comparison. And easily overlooked. He (or she)'s been silhouetted for a dramatic and somewhat cliche "mysterious" effect.
I've been pretty excited about a clue that there'll be a fox animagus coming in the next - and final - Harry Potter book. Bellatrix Lestrange kills a fox at the start of HBP, then comments that she had "thought [it was] perhaps an Auror", which would either mean that Bellatrix is blind and can't tell the difference between a fox and a human, OR Bellatrix knows there is an auror out there who can turn into a fox!
It's great. Fox would be an awesome creature to turn into and animagus forms always say something about the witch or wizard's personality. So now I'm just narrowing down the suspects list to who this could be...
Short version: Williamson is the most likely.
Long version:
------------------------------------------------------------

Here's a list of the Aurors we've met so far:

- Dawlish
- Alastor "Mad-eye" Moody
- Kingsley Shacklebolt
- Nymphadora Tonks
- Williamson, AKA "the scarlet robed wizard with a long ponytail"
- Unnamed witch with an eyepatch

This much we know:

1. Bellatrix had to walk up to and nudge the dead fox with her foot in order to see that it was just a fox. Therefore, it's unlikely that it'll be someone who's missing limbs or eyes or has anything else especially distinctive about them... so that rules out Mad-eye moody and (to a lesser extent) the witch with an eyepatch.

2. Can't be Tonks because she's only been an auror for like a year or so, which doesn't give much time for learning to be an animagus. Though, I admit it would be cute that she'd adopt a canine form and accompany Lupin on a stroll around the full moon... but it just doesn't seem likely given the puny amount of time she has to spare

3. Kinglsey Shacklebolt is continually described as slow and calm, and has never been given any characteristics that could resemble a fox's. And neither is Dawlish; he's come across as a bit thick when it comes to decision-making. So that's them off the list.

So all we're left with is... Williamson!

He saw Voldemort in person on the night the prophecy smashed, and his description does vaguely fit the picture.

Williamson was last seen heading to the department of mysteries with Dawlish, to collect the trapped Death Eaters for Fudge. And the next time we hear of Dawlish, he's in the Order of the Phoenix! He might even have become a member that same night, when he was in a room with about five order members, five kids from the DA and nine subdued Death Eaters. If so, then it follows that Williamson might be a member of the Order of the Phoenix too.

And now this is stretching it just a tad, but at the start of HBP, Tonks gives us three names of people who were helping guard Hogwarts; "Proudfoot, Savage and Dawlish". What struck me the first time was how much Proudfoot sounded like Padfoot... and whether it could be a nickname used for similar purposes. By another canine animagus.
------------------------------------------------------------------
Back to the painting itself... it almost became a study on trees. I think I made the forest too lush... looks almost tropical, but for the pine trees. Ooohh and I just realised, it almost looks like there's a huge shadow of a fox inbetween the trees when I zoom out - purely coincidental, but still cool

Probably the saddest thing about this piece though was that it took over an hour just to add a border and think of a name for it. lol. Maybe my creativity ran out at the end of it.