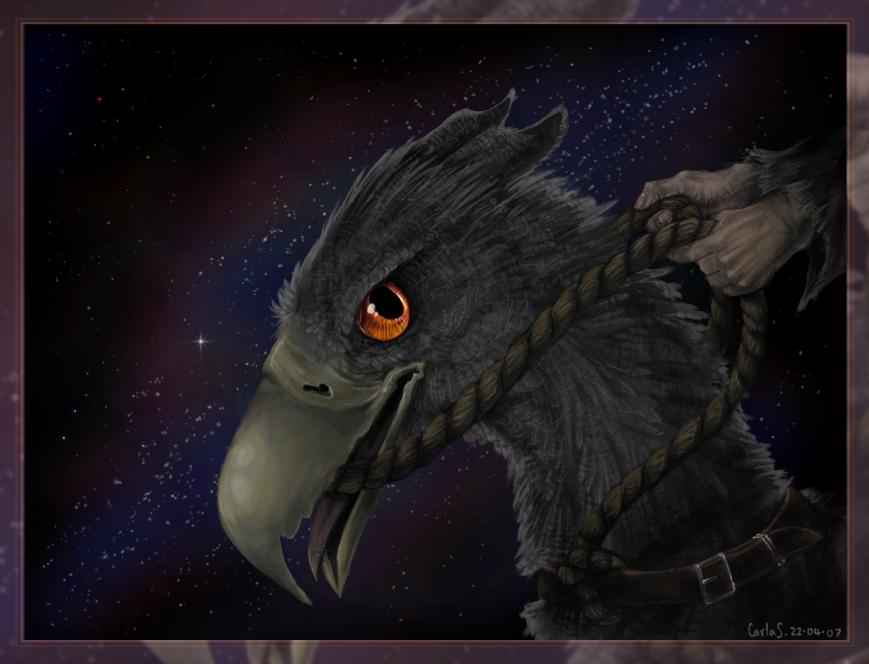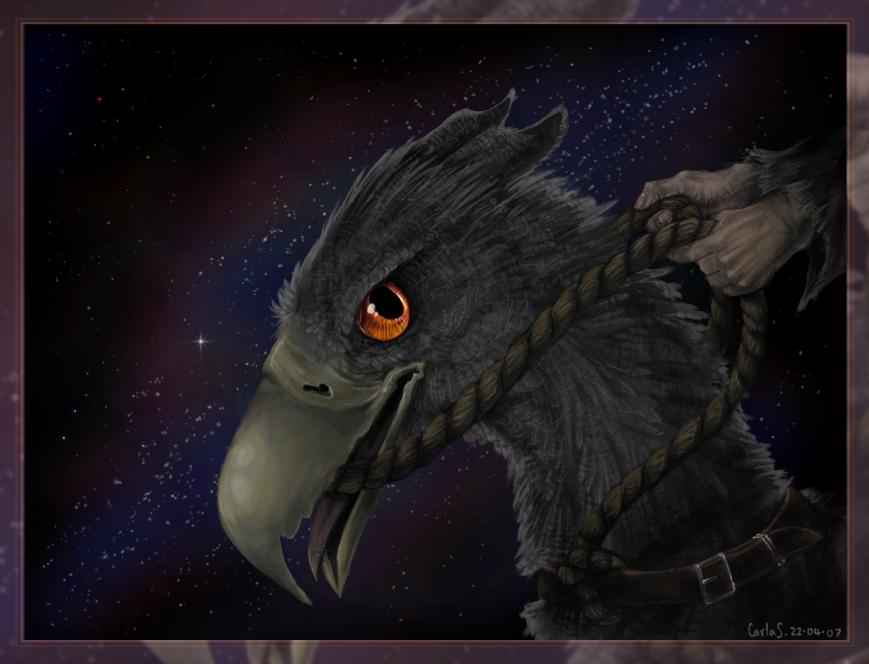 Watch
Yerse, the usual classical music + wacom tablet fo' the weekend combo. I really hope it's not too dark for your screens.
12 hours
PSP 7
+ one VERY obsessed HP fan
Buckbeak the Hippogriff and Sirius ('s hands), and the extra-bright star in the sky is a Sirius too

or meant to be. I'm not an astrologer... I can't determine the exact positioning of star constellations and such, obviously.
Yah, yah, I know the composition is really plain and the side profile view is so totally overused, but still, I'm pretty proud of the result

Basically at the end of the third book, Harry travels back in time three hours to rescue Buckbeak from his beheading and hand him to Sirius as a means of escape. I found it interesting the first time I read it that Harry tied the rope buckbeak was tethered with around on the other side of his collar like reins... I dunno why I did, just did.
Uh-huh, and the collar looks more like a belt. Shaddup.
I'm particularly proud of those hands - sorry Sirius, no manacures in Azkaban. Drawing people isn't my strong point, so I used my power of laziness to have most of him off-screen. Take that, human anatomy. But I think the hands are a bit too small anyway... bah, just pretend they aren't, and it'll all be right and well. Peaceful.
That rope in Beaky's mouth really bothered me, and the fact that Hippogriffs don't have lips and that the rope didn't come with a bit attached, didn't help. Eh... I still don't think it's quite right. But at least it looks kinda fantasy-y if things don't look quite right. *cough*
I think I overdid my shading of that orange eye, making it stand out just a bit too much... but other than that, I really like how the eye turned out. Really.
And one last thing -- those ears are like horse ears with feathers covering them. Buckbeak just didn't look like what I'd imagined if I didn't put pointed ears of some sort on it, but no eagle photo I could find actually had them, so I used a pony's (after all, according to legend a hippogriff is what you get when griffins are mated with horses). I've just noticed that a lot of people put long pointed ears more on the sides of a griffin/hippogriff's head, and that's fine, I'm just telling you so you can't tell me off for my ones being anatomically incorrect (which, on second thoughts, is crazy because legendary animals have no fixed right and wrong in anatomy anyway. Uh-huh.).