Current commission status: OPEN!

Commissions are open! A few slots are open here and on my site, with some additional (but separate) ones are available on my Patreon page. I hesitate to give an exact number of slots, but I would think around five at a time; not counting the Patreon slots. (Depending on customer response time/my work load, these should go semi-fast.)


Payments for commissions here must be made in advance, either via paypal or using points here on DA; if you decide to add to/change your original commission plan midway in and/or want more renders of it, the difference must also be paid for before I start the commission/additional renders. (There are some limited commission bundles on my Patreon page as well.)

Examples of my work: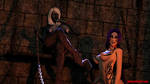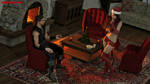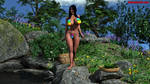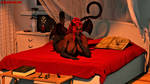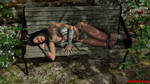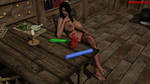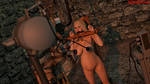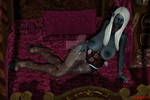 ---
General Rules/Guidelines:
In case you don't already know, I make 3D renders. You can make fantasy scene requests, sci-fi scene requests, or even modern scene requests! I can do SFW as well as NSFW renders; it is up to you! Any fetish/scene type that I have done/mentioned doing is fair game. However, I do reserve the right to refuse any commission request at my discretion; but generally I would only do so if it crossed a line somewhere or was far too demanding/specific. As this commission section is on DA and will accept points early on, all commissions made with points must adhere to DA standards and be postable on DA. There is a list of some things I don't do on the commissions page on my site, but some of the more relevant ones for DA are: all characters must be over 18, no guro, no lolis, no male/male stuff, and no furries. (This list is not all inclusive, but meant to be a guide.) If in doubt whether or not I can/will do a particular scene/fetish, feel free to ask; and if you want top commission something... 'more' than what can be posted here, check my site/patreon page!

I also reserve the right to post a normal quality copy of the commission on my assorted pages with whatever name the commissioner wants attached to it. (You can choose to have it be anonymous.) I do retain all rights to any images made and/or the characters depicted if they are mine; so you cannot sell created images and/or claim them as your own work. Private commissions are available at additional cost; but I have always felt that sharing the commission is one of the best parts of having them made.
If you are interested in a commission, please send me a note here on DA or an email at support@redleatherart.com with the following information: (Be aware I check my email far more than I check notes here but I will try to check this more often.)

Type of commission you want.
Number and identities of characters desired as well as reference images if a custom character is involved.
Details of what scene you want depicted in the commission: be as specific or as vague as you want, but know that extremely specific requests are hard to do.
Basic or detailed scenery preference and details.
Add-ons desired/under consideration.
Once I have this information from you, I will look it over and reply to any questions and/or ask about things I am uncertain of regarding your request. Once the details are set, and if there is a slot open, I will put you in the next open commission slot. (If all slots are full, there is no wait list barring a mistake on my part; so you will need to wait until the slots open up again.) If anything needs to be worked out/clarified I will do that before officially accepting the commission. Once your request is accepted, I will send you payment instructions, and after I receive your payment I will begin work on your commission. (Please only ask for a commission if you have the payment ready to go; if an unreasonable amount of time passes and you do not pay, I will have to kick you from the slot.) After a period of time, I will send you marked preview renders of either your scene and/or custom characters if needed; and you will have the chance to give feedback and request changes within reason. Once that is all situated, I will make and then send you the high quality PNGs of the final renders and everything should be done!
Keep in mind that I am limited to including things that I have access to; if you wonder whether or not I can do a specific scene and/or have a specific item, feel free to ask.
Please also bear in mind that I am limited by what I can technically put in one scene with my one machine; so more than three detailed characters in a basic scene and/or more than two detailed characters in a detailed scene is probably too much.
---
Price Guide: Below are my current offers on commissions, be aware that these may be added to or changed; there may even be new types of commissions offered. (All prices directly translate into DA points, just add two zeroes; yes, I know this isn't an exact exchange, but DA takes a bit if you cash out and points can only be used for so much.)

Standard commission: $30 base
This commission level is if you simply want a custom image of one or two of my characters in a simple scene and up to two renders of that scene. This could also include nondescript males/basic monsters; more complex ones and/or more than two characters total will cost extra.

Custom commission: $55 base
This commission level is if you want a custom (presumably new - reused ones get a small discount) character in your commission; be it one of your OCs, or something else you have permission to use. I cannot guarantee an exact likeness, but I will do the best I can - and you will have the opportunity to suggest edits. Again, this base price is for one or two characters, (only one of them custom - the other included one can be generic or one of mine, others increase the cost) in a simple scene; and one or two renders of that scene. Be aware that very complex/specific requests (characters or scenes) will likely cost extra.
Add-Ons:
Additional, specific angle/close up - or nude version of existing scene: $5
Additional basic monster and/or generic male/female character (or one of my characters): $15 each ($5 each if additional copies of the same one are added.)

Additional custom character: $35
Re-use of a previously done custom character: $25
Very detailed/specific scenery: $15
Additional scene/pose for existing commission: $20 for one character, $10 for each additional character.
Private commission fee: $10 for standard, $25 for custom
If you want something else that I didn't list here, feel free to ask about it; but the more NSFW options are on my main commission page on my site.

--------------------------------------------------------------
(Site/slushe NSFW and such.)

Site: redleatherart.com/
Patreon: www.patreon.com/redleatherart
Gumroad: gumroad.com/redleatherart
Slushe: slushe.com/RedLeatherArt
Pixiv: www.pixiv.net/member.php?id=39…
Twitter: twitter.com/RedLeatherArt
Redbubble: www.redbubble.com/people/RedLe…
Tumblr: redleatherart.tumblr.com