Tagged Pokémon Meme


I got tagged by strikerprime.deviantart.com/ into making a Pokemon Meme.

To those who I shall tag, just follow this link: randompokemon.com/

Even if you don't know every single Pokemon out there, that's totally fine. Just set the randomizer so that it only generates 1 pokemon, all regions, all types!



*Please note, none of this stuff is or has to be true, it's all just for fun! XD

0. This Pokémon is you.

Flareon
- TuT I'm allowed to be a fluffy adorable eeveelution?? *dies*

1. This Pokémon is your best friend: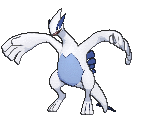 Lugia-
*-* let's fly around the world!

2. This Pokémon is your boss that you need to impress for a promotion:


Golduck
-
I'm totally fine with that :3

3. This Pokémon is your partner for your science project:

Steelix-
STRONG!
(4 is missing I don't know. xD)


5. This Pokémon is your mother-in-law:

Magby
-
well ... xD

6. This Pokémon is your boyfriend/girlfriend: (even if you don't have one)

Staraptor
- nooo q.q my boyfriend is ugly! xD

7. This Pokémon is your ex: (even if you don't have one)

Abra
- not fair I like Abra but not my ex xD

8. This Pokémon stalks your every waking moment:

Houndoom
- *________* I would cuddle it to death!
no worry Houndoom, you can stalk me like whenever you want <3


9. This Pokémon likes to snuggle with you:

Spheal
- >/////////////< *squeak! it's sooooo cute!

10. This Pokémon ate all your cake:

Corphish
- haha silly Corphish xD

11. This Pokémon is what you felt in bed last night:

Sandshrew
- °-° s-sandy??


12. This Pokémon punched your mom:

Durant
- How dare you little peace of shit >.< fu**ing ant

13. This Pokémon will do anything to steal your shoes:

Slurpuff
- Bet it pranks me filling my shoes with sweet cakes <,< <3

14. This Pokémon died by your own hands:
Wailmer
- H-HOWWWW



15. This Pokémon is your loyal companion for life:

Bonsly
- euuugh. Can't wait until it evolves >.<' like Sudowoodo much more

16. This Pokémon reads you bedtime stories:

Girafarig
- ._. hmm .. don't really know how to feel about

17. This Pokémon is your loving pet:

Braviary
- *_______* exactly, an eagle! my favourite animals! I'm so happy



18. This Pokémon is your creepy dentist:

Slurpuff
- Really ... not enough that it appeared the second time, THIS SUGAR CARIES MONSTER THING SHALL BE MY DENTIST?! yeah, right. fu** u too random Pokémon generator


19. This Pokémon is what you dream about every night:

Marshtomp
- Nightmares ._. It stares at me every night in my dreams.

20. This Pokémon is what you found in your basement when you moved into your new house:

Ariados
- ARE YOU SQUIDDING ME A DAMN HUGE NOPE!!

21. This Pokémon plays with you in an alternate universe:

Octillery
- what's it playing with me xD


22. This Pokémon is your guardian angel:

Groudon
- Watch out fellows, here comes the king
!

23. This Pokémon wants to draw with you:

Klink
- wonder how it's able to draw with ouo


24. This Pokémon is the first you will encounter:
Wynaut
- why not ..



25. This Pokémon will come take care of you when you can't:

Drowzee
- I'm not sure if I'm safe with it ..

26. This Pokémon will be the cause of your death:

Ninjask
- but .. I don't want to die from a silly insect.


27. This Pokémon loves to steal your hats:

Rampardos
- I'm imagine how cute it would looks with hats xD


28. This Pokémon always borrows money from you:

Barboach
- what the hell is it doing with all the money?!

29. This Pokémon loves to play video games with you:

Steelix
- seriously. there are more then 600 different Pokémon and I always get them twice! but I would really love to play with Steelix xD


30. This Pokémon is in charge of tagging people:

Probopass
- can you ever say no to a jewish Pokémon?! xD
Probopass taggs:






It was surprised how much fun this makes, hope you are enjoying it that much, too