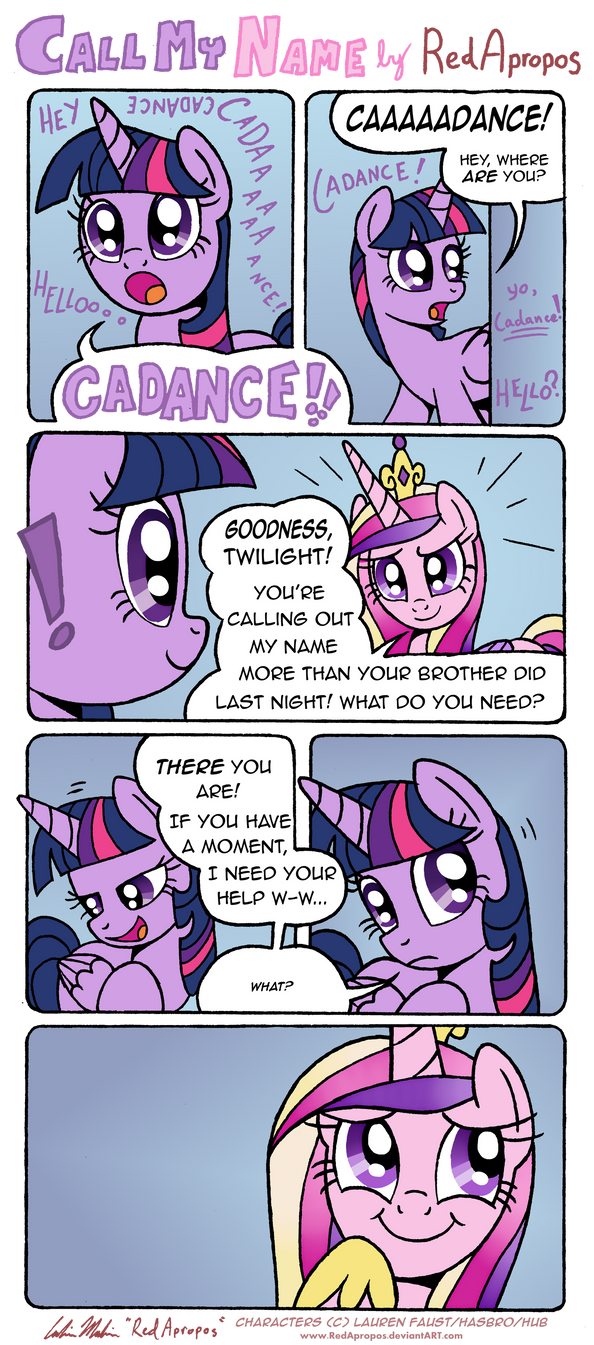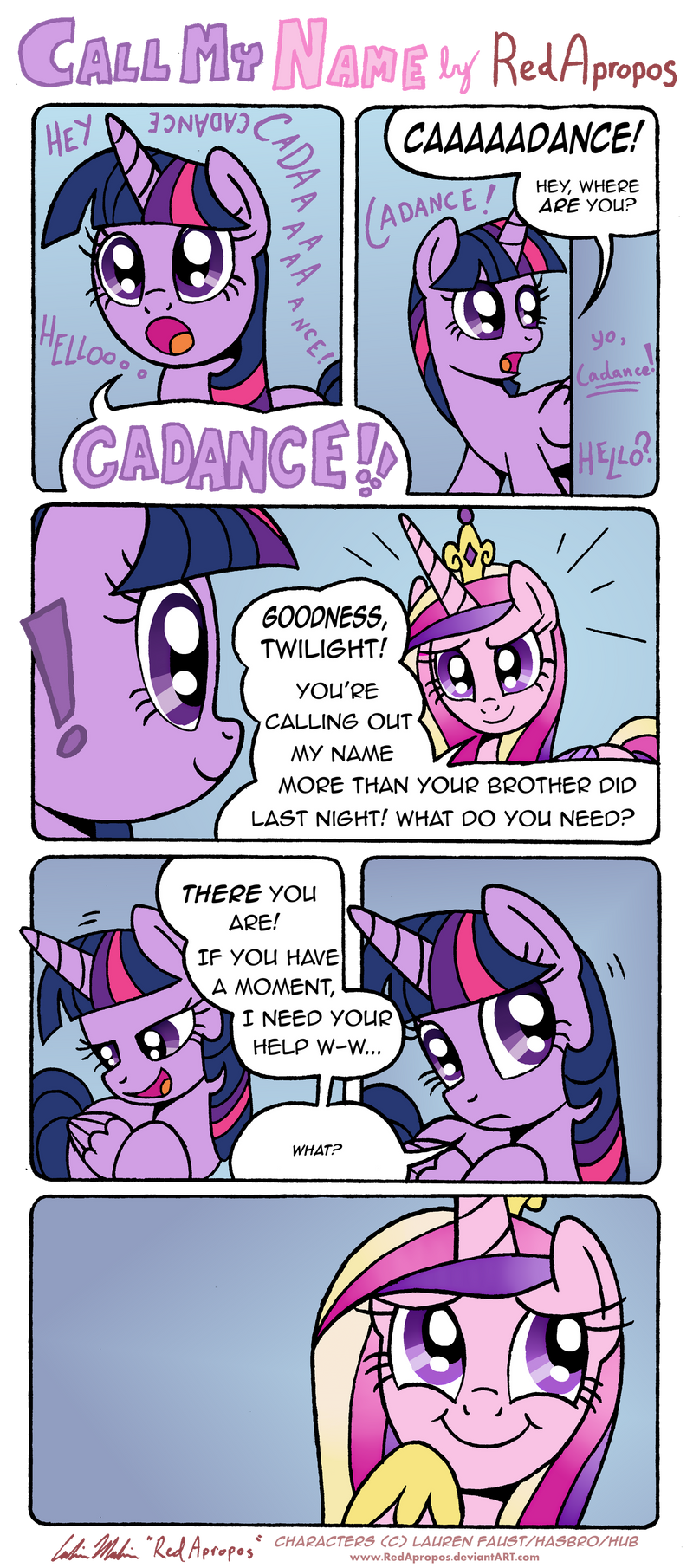 Watch
You are now imagining Shining Armor shouting "Cadance!" repeatedly.
Maybe an occasional "OH Cadance!!"

....Yeah okay, I'll shut up now.

One of my friends saw me drawing this, and said he didn't understand the joke.

The only way it could have been more obvious is if Cadance leant in and said, "Hey Twilight, I'm f**cking your big brother."

...But that would have been weird...

...I wonder what Twilight needed Cadance's help with?

Enjoy. :3
I'm not gonna lie. I enjoyed the artwork, I liked the reaction on Twilight's face to what Cadence said and then Cadence's little smirk. However I think that the joke is a little cliche. I mean I get it, I still giggled, however I feel as though this sort of joke has been done too much so I'm not really impressed with the originality. Bear in mind however that I still enjoyed this little comic strip and I do like the art style but the joke was a little too dry and I feel like it could have been worded different perhaps so it'd feel like more thought was put into the joke.
The Artist thought this was FAIR
310 out of 501 deviants thought this was fair.
As with many MLP fan-art, I give a great deal of credit to those who are able to make their work look and feel like the style of the source material. And this comic manages to do that well, getting very close to the original designs of the show, with the exception of the black outline. As such the style and technique in the art itself is both colourful and nice to look at. The only criticism being the backgrounds, which aren't particularly interesting, but since comedy is the main focus of this comic, I can overlook that.

And speaking of comedy, the actual central joke of the piece was actually very amusing. Adult jokes in MLP art is not a new thing, so on those grounds I can't say it's original, but I will give praise where it's due for making me laugh quite hard. I will say though that it took me a couple of reads to really get what was being said, but to the comic's credit, that does at least make the portrayal of Twilight much more realistic, as she too took a while to take in what Cadence was saying to her.

What really makes this comic work however are the facial expressions. From Twilight's confused expression to Cadence's rather mischievous grin, it's clear that this artist knows how to perfectly get down expressions and looks that are perfect for the situation they're in, and they do well in conveying the tone and mood of this comic to it's readers.

Overall, while I can't say this is the funniest MLP comic I've seen, it's still a very amusing creation that does well in framing it's joke in such a way that it might just slip past people the first time around, which is always a mark of a good comedian. Couple that to the faithful artwork and this is a comic I recommend.
The Artist thought this was FAIR
322 out of 347 deviants thought this was fair.