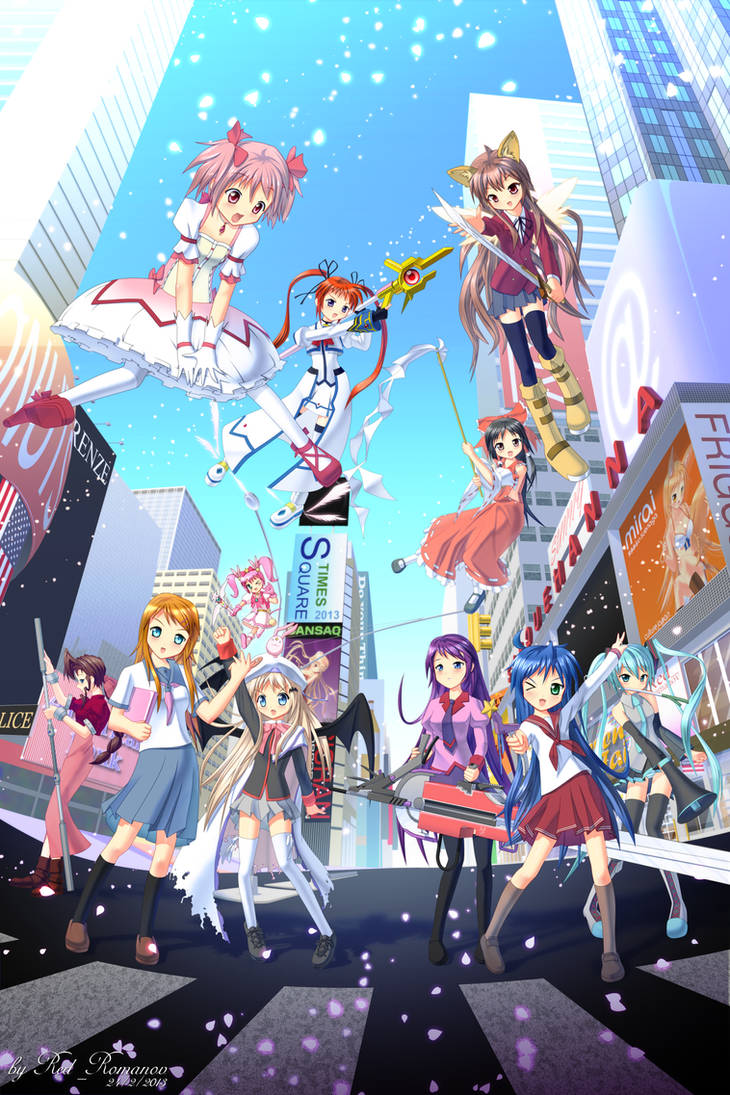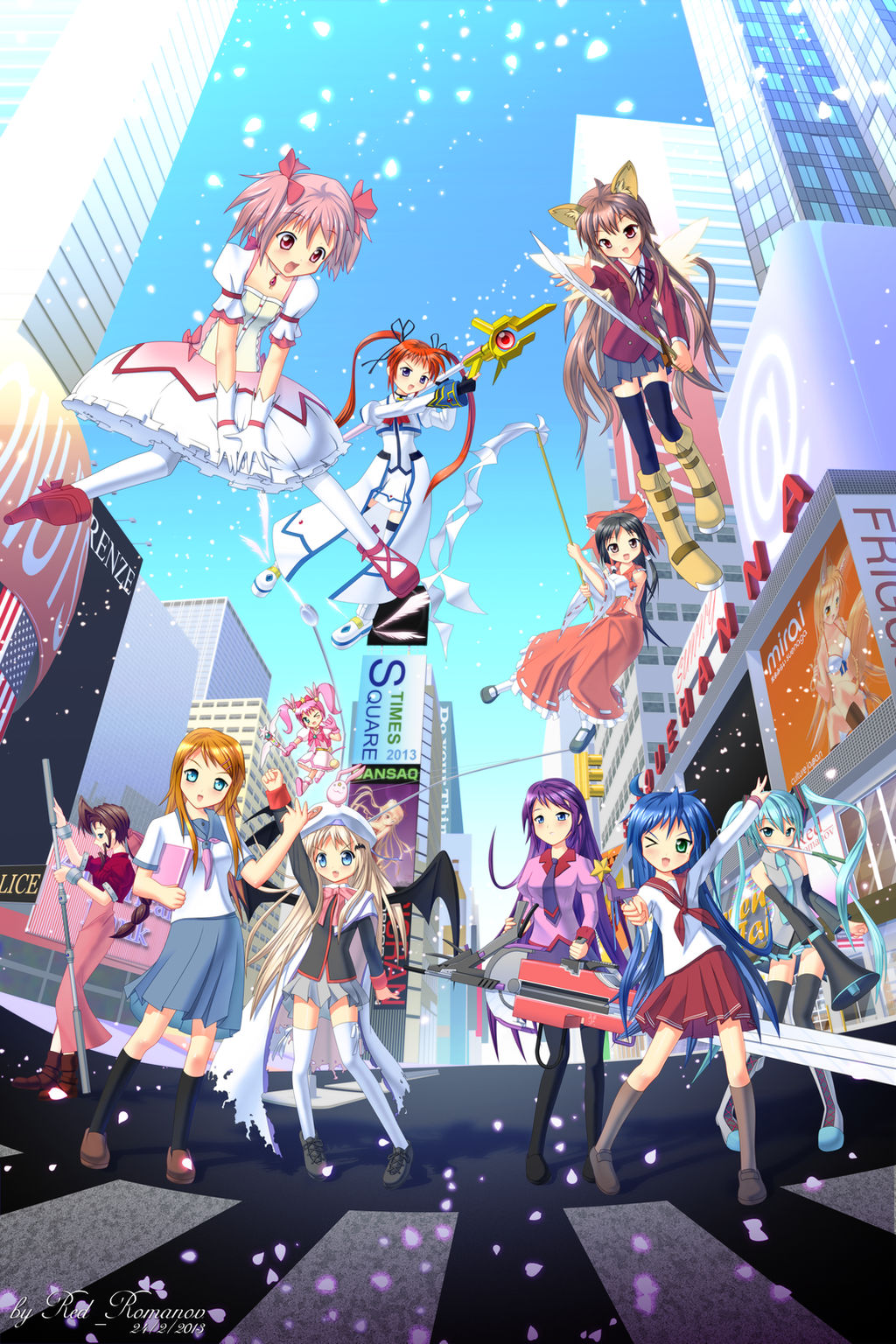 for each characters:
Started: July 2nd, 2012
Completed: February 25, 2013
Time used in Photoshop: 230 hours 32 minutes
Total PSD files size: 1.63 GB
Total number of layers: 1,218 layers (Not counting inside smart layers for banners and windows)
Here it is, a super-large picture which takes really long time to finish. The size is 6264x9396px (around 1 meter tall if printed in 300DPI). I really hope it is worth the long time ><''' Sometime I even think how lost I am making this kind of picture...
I was thinking of the theme about otaku culture which is spreading throughout the world. I came up with this picture of invasion by popular characters being capable of fighting.
In fact I can do better than this but it will never be released, with this image size, outdated laptop, and my main job...
But the biggest disadvantage is, this is all colored
by a computer mouse, no graphic pen
. I think it can be a challenge that if I cannot use my mouse to make one as beautiful as graphic pen works, I will not buy graphic pen.
I leave so many layers without merging because I can make changes better using a mouse. And there are times when I forget how to color some part.
Reasons of my selection:
-
Aerith Gainsborough
(Final Fantasy VII, Square Enix)
One of best girl from the world of video games. (Well I count her because she was designed in the anime style.)
-
Hatsune Miku
(Vocaloid, Yamaha)
Possible a mascot of Vocaloid technology. She is well-known of course.
-
Takamichi Nanoha
(Mahou Shoujo Lyrical Nanoha, Seven Arcs)
Earliest Magical Girl anime which focuses on combat, and on otaku population.
-
Aisaka Taiga
(Toradora!, ASCII Media Works)
Now dangerously armed >< She is a legend of love story.
-
Noumi Kudryavka
(Little Busters!, Key)
Everyone who plays Visual Novels knows her (and knows that her story is so much different from what many people think, often mistaken her as a cute vampire-like character).
-
Izumi Konata
(Lucky Star, Kyoto Animation)
Otaku character with really unique personality =w=.
-
Senjougahara Hitagi
(Bakemonogatari, Shaft)
For unique picture sequences or something. At least I designed that awesome weapon myself. It was inspired by scissors, stapler, and compass.
-
Kirino Kousaka
(Ore no Imouto ga Konna ni Kawaii Wake ga nai!, AIC Build)
An idol for siscon. And it is the first anime I saw to be really detailed at background scenes (and to have that long name ><).
-
Kaname Madoka
(Puella Magi Madoka Magika, Shaft)
She sacrifices her identity for the universe. Her story is completely different from the rest of Magical Girl anime. Watch the anime and you'll know why...
-
Hakurei Reimu
(Touhou Project, ZUN)
For the one-man-made game which becomes popular and admired all over the anime culture.
Choices of characters are personal. And they are selected in July 2012 when types of anime I saw is narrow, but I hope your most favorite character is in it ^^
Check out this file if you want to see how it looks like in progress:
and some of my artworks are used in the background:
[link]
[link]
Other Hi-Res works :
[link]
commission currently open ([link])