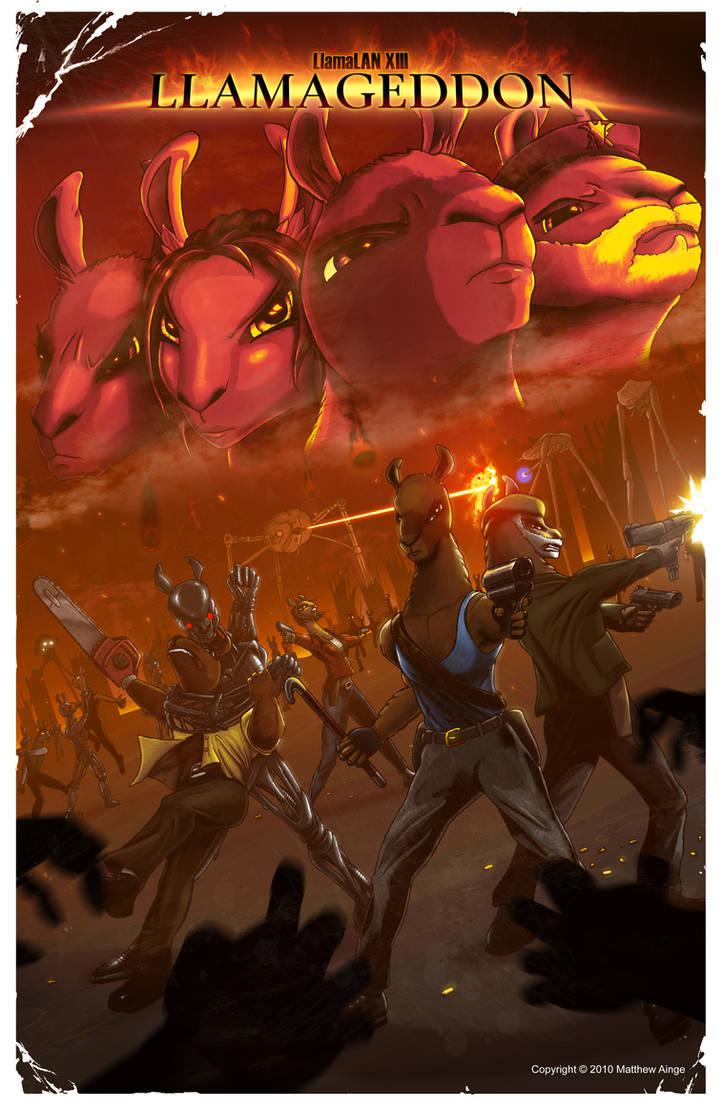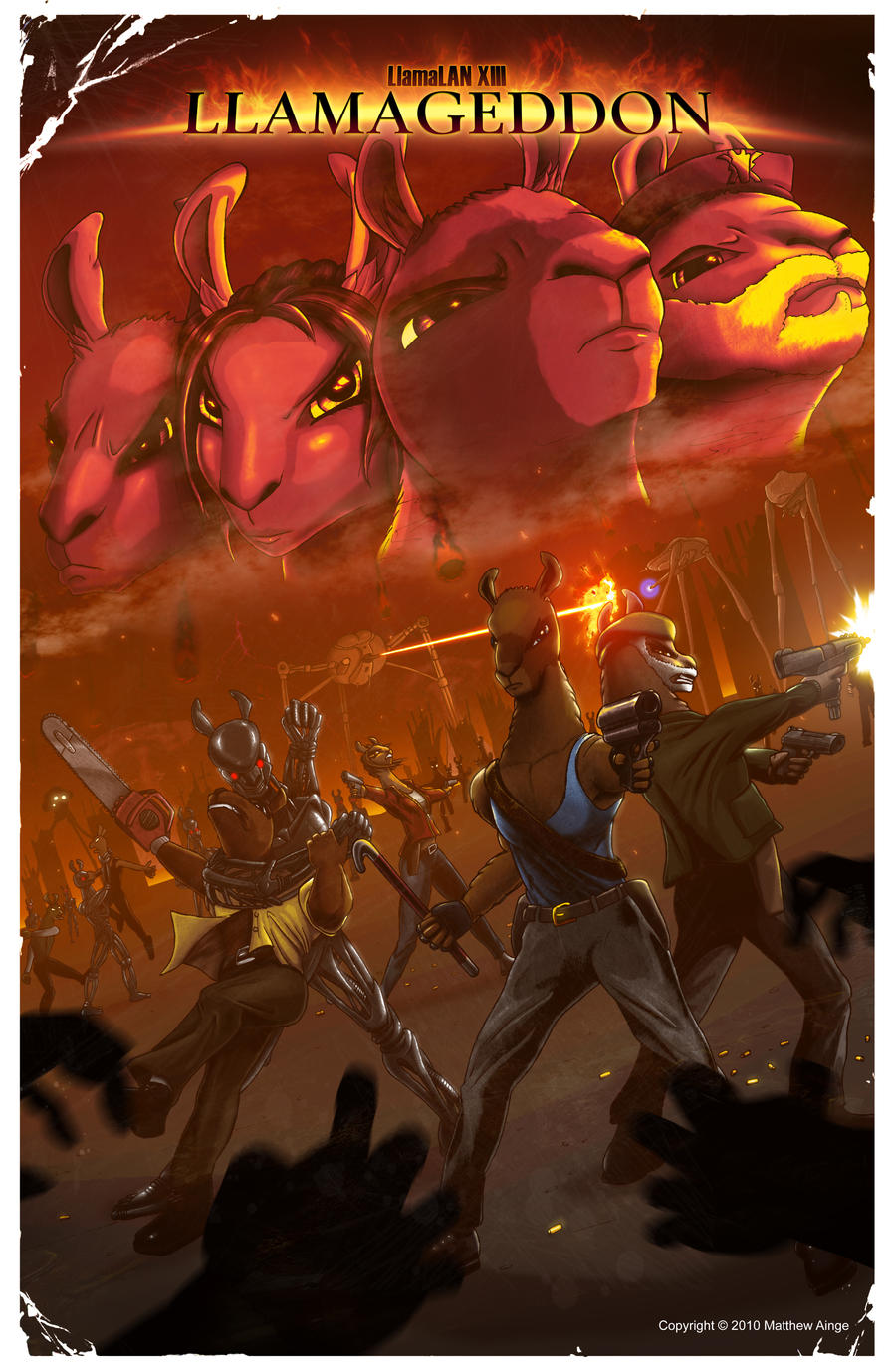 Watch
This one took me DAYS of work. I honestly believe I worked enough hours on this to make up a handful of full days. I've never worked on something requiring so much attention, but at the same time I've never worked on something that I am this happy with.

LLAMAGEDDON is here, thanks to those meddling Pirates and Ninjas. Now is unleashed practically any kind of apocolypse possible - Alien subjugation, AI self-preservation, natural, and viral. And it's up to our heroic LlamaLANers to save the day. Somehow.
This one gave me scope to refer to several popular cultural icons.

Before now I've used cell-shading style. In more recent posters I've complimented the cell-shading with subtle gradients and smoother highlighting/shading in some places, but not all. With this one, I'm going much further, steering clear from a very definite cell-shading style.
The quality poster effects (scratches, torn edges, etc) came from Adam 'Supernorn' Riches. The PSD can be found here:
[link]
Closeups:
[link]
With footer titles:
[link]

Something tells me this a left 4 dead parody, judging by the llama bill. Not sure i like the idea of left 4 Llamas. EH still epic
Reply

Well you'd be right, there are a few nods towards Left 4 Dead here.

Though there's a lot more than just zombie apocalypse rolled in, L4D is certainly a massive influence. You spotted the characters after all.

Reply

is that a martin fighting machine in the background?
Reply

It is a Martian Fighting Machine.

Can't end the world without those bad boys turning up.
Reply

My this is one excellent piece, you definitely know your way around digital media and several techniques. I really like the movie poster theme, you worked nicely with the colour so that the piece still looks like a whole. furthermore I really like the action on the lower part of the piece, it shows that you can work in a challeging perspective and are not affraid to provide your piece with a lot of detail

Furthermore I enjoyed the parody theme in your piece, quite clever I must admit


Reply

Took me a while to reply to this sorry... because this is a really nice review to read, thanks for all the encouragement

The techniques have come from several tutorials on dA that I've been trying out.

Ta!
Reply

this is really original and very well done, very professional work
Reply

Very many thanks wilnius! I'm getting there, now I just have to learn how to speed up a bit and not spend two weeks on one image!

Reply

Reply

hahahhaha really funny this parody xDDD I like the idea of llamas instead of humans hahaha Anyway, the colouring, the way you've drawn llamas,the guns, in general, the composition of the poster, is great. Really well done.
Reply

I'm glad you saw the funny side.

There's this style I employ on all these... the posters and whoever is in them take themselves very seriously, but the image is totally ridiculous.
Thanks for taking the time to grant me your positive comments. See you around.

Reply